The Strut Report: Giambattista Valli Fall Couture 2011
Since his debut six years ago, Giambattista Valli has been making his way onto the lust list with his towering platforms and sophisticated high fashion. This season, the talented designer takes on the couture runway with a dramatic collection, reported WWD.
For his first couture collection, Valli mixed classic pieces with modern articles and embellishments. The line focused on reds, whites, corals, blacks and prints, using leopard touches to create stylish knee-length and floor-length gowns.
via Giambattista Valli, WWD
He took the classic silhouettes of A-line, flared baby-dolls and asymmetrical ruched dresses, then adorned them with ostrich feathers, individually hand-stitched pearls, and floral appliqués, taking them from basic to glamorous.
Valli's long, flowing gowns and skirts swayed down the runway with incredible amounts of volume. Capes and trains added another dimension, playing up the dramatic effect. Some notable pieces included a leopard gown with matching leopard cape; a long, black ostrich feather gown with lace veil; and a strapless, short coral dress complete with a grand train.
For his modern looks, Valli styled with oversized, gold leaf motif chokers, cuffs and belts, and chunky statement pieces crafted with white rocks. To keep the classic articles polished, a simple strand of pearls completed each ensemble.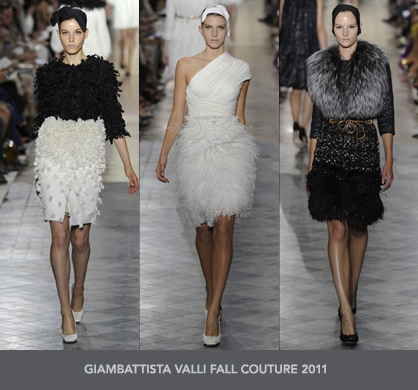 via Giambattista Valli, WWD
Valli kept his footwear choices simple, selecting almond toe pumps and slingbacks or single sole sandals. The looks were made cohesive with the couture dresses by using the same embellishments of pearls, beads and mix of colors.
All in all, Valli's first couture collection definitely didn't lack details.
This article was contributed by Annette Tang of the VersaStyle. You can follow Annette and her fashion adventures on Twitter at @theversastyle.

Tagged in: paris, fashion week, runway, giambattista valli, couture, fall 2011, fall couture, valli,