Wellness Wednesday: Heart Healthy Foods & Recipes
Did you know that heart disease is the leading cause of death for both men and women in the United States? Heart disease includes several types of serious conditions, but can be prevented and controlled with proper diet and exercise. In honor of American Heart Month, we bring you these heart healthy foods and recipes to start incorporating into your diet now for a healthy heart to last you a lifetime.
Quinoa
One of the only plant foods that's a complete protein, quinoa provides heart-healthy fats, omega-3 fatty acids and anti-inflammatory phytonutrients to keep your ticker healthy and prevent cardiovascular disease. A healthy alternative to meat protein sources, its high fiber content also works to lower cholesterol.
Kale
When it comes to leafy greens, kale is king. A super food in its own right, kale boasts a slew of heart healthy vitamins and minerals to keep you healthy and disease free. It also activates a protective protein to prevent plaque from adhering to your arteries. Use a dehydrator to make delicious kale chips as an afternoon snack.
Almonds
Full of heart-healthy monounsaturated fats, research suggests that people who regulary eat nuts, such as almonds, have lower incidences of heart disease. The vitamin E found in almonds also helps destroy free radicals that lead to stress and contribute to heart disease. Aim for a handful two to four days per week.
Mixed Berries
Chock-full of antioxidants and polyphenols, a study concluded that eating a cup of mixed berries every day for eight weeks was associated with lower blood pressure along with increased level of "good" cholesterol, HDL. Known for their anti-inflammatory properties, they help reduce your risk for heart disease and cancer.
Lentils
A lean source of vegetable protein and full of fiber, lentils help keep blood pressure under control and fight hypertension. Results of an international study conclude that a diet rich in legumes was associated with a reduction in the risk of death from heart disease.
Salmon
Oily fish, such as salmon, contain omega-3 fatty acids, which help lower blood pressure and help prevent irregular heart rhythms. Eating two servings per week can help lower your risk of developing coronary heart disease over time. Not a fish fan? Try adding ground flaxseed or walnuts into your diet.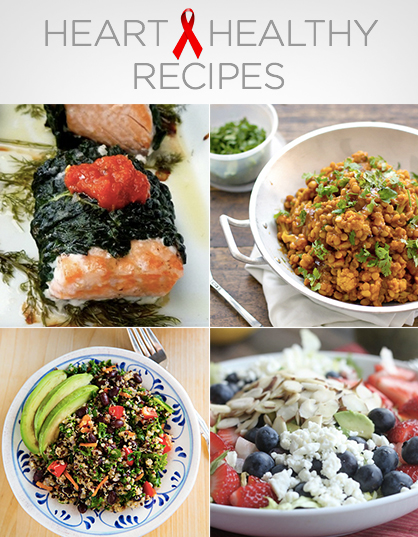 Kale and Quinoa Salad with Black Beans
Leafy greens, protein-packed quinoa, plus fiber-filled beans make this salad a superstar when it comes to fighting heart disease. Garlic, flax seeds and chopped veggies add an extra dose of heart healthy properties.
Cauliflower Yellow Lentil Curry
For the exotic food lovers out there, keep your blood pressure under control to prevent heart disease with this cauliflower lentil curry recipe. Anti-inflammatory turmeric and garlic boost this dishes this recipe's rating on the healthy scale.
Berry Almond Chopped Salad
Get your daily dose of antioxidants, polyphenols and monounsaturated fats with this berry almond chopped salad and kick heart disease in the butt. Topped with a lemon poppy seed dressing and healthy avocado, this will be your go-to summertime salad.
Baked Salmon and Kale Wraps
Give your baked salmon a spicy makeover with these baked salmon wraps. Bundled together with large kale leaves, your heart with thank you for this healthy dose of omega-3s. Top with Sriracha hot sauce and serve over a bed of quinoa for added protein and fiber.
Read more Wellness Wednesday
Tagged in: wellness, food, wellness wednesday, recipes, nutrition, health, heart health,