HelloFresh Delivers Convenience to Your Door
Say hello to convenience with HelloFresh. Instead of the hassle of grocery shopping and meal planning, this recipe kit service delivers recipes and their corresponding ingredients to your door weekly. Your taste buds will thank you as you discover new culinary delights, your pocketbook will thank you for not wasting extra ingredients, and your loved ones will thank you for the extra time you saved.
"HelloFresh helps Americans feel liberated from the weekly routine of unhealthy takeaway and time-consuming grocery shopping, relaxed about the cooking experience and proud of the delicious meals they cook for themselves and their partners, spouses and families," Marushka Bland, chief cooking officer at HelloFresh, said.
A new box arrives weekly, with new meal options each week, packed with the exact fresh, restaurant-quality makings you need for three meals for two, four or six people. Insulated in biodegradable packaging to keep ingredients fresh, the box contains easy-to-follow recipes cards with visual, step-by-step instructions. The produce, meat, fish and other food items are clearly labeled for easy reference.
The recipes aren't just tasty; they are simple to prepare. Each dish takes less than 30 minutes to make and usually uses only one pot and pan. Each week customers are able to select three meals from a choice of five, concocted by nutritionists and an award-winning chef.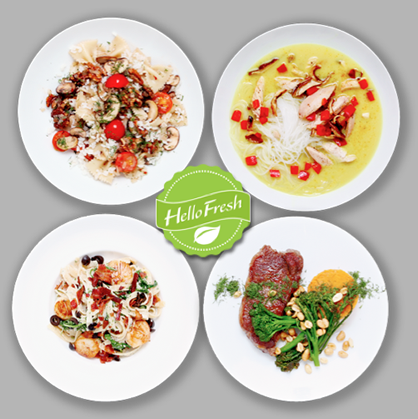 "I co-founded HelloFresh in New York with the aim of providing a healthy, waste-free alternative to grocery shopping and unhealthy, expensive takeaway food. HelloFresh enables American consumers to discover new ingredients and recipes that are easy to prepare … Our customers love the choice and flexibility that the HelloFresh system and recipe kits provide … customers try different foods and cook exciting options each and every week," Bland said.
The service claims to expand its customers' food horizons, with new ways of cooking and new ingredients an option each week. HelloFresh pair convenience with gastronomical delights for a program that is carefully designed to meet the nutritional and financial needs of families and singles, whether a busy professional or a senior who likes to cook.
Meal choices are designed for both meat eaters and vegetarians, with options such as Spicy Shrimp Linguine, Warm Goat's Cheese Salad with Pan-fried Chicken and Avocado, Lamb Kebabs with Lima Bean Salad, Edamame Beef Stir-fry and Portobello Mushroom Burger.
"Eventually, we see ourselves as a big part of a health-conscious, convenient meal scene in America where consumers are empowered to cook for themselves and turn to HelloFresh as a way to complement their meal planning and save money from over-buying at the grocery store," Bland asserted. "One of the best things we hear from our customers is that our recipes have inspired them to try new things they never would have thought of before, and they can't wait to see what arrives next in the HelloFresh box!"
The service has plans to ship to all continental 48 states. Check it out at www.hellofresh.com.
Tagged in: food, recipes, nutrition, cooking, hello fresh,