Holiday 2012 Trends: Clutches and Miniaudieres
The perfect holiday ensemble isn't just made up of a festive cocktail dress and cheerful pumps. Complete your holiday look with a clutch or miniaudiere and the endless options of different fabrics, colors, sizes and shapes of these pretty little purses. Reminiscent of the recent runway trends, a simple black clutch, bright red bag or mirrored miniaudiere can tie your holiday collaboration together. Use this awesome accessory to your advantage when tossing your phone, lipstick and keys in any of these cute clutches and merry miniaudieres.
Play up your holiday color scheme with this Michael Kors purse in an unconventional light emerald green. The ostrich-embossed leather clutch displays a silver lock that doubles as extra security and a shining accent. Toss the detachable leather strap over your LBD or keep it close in hand while flaunting a winter white mini dress and glittery heels.
Pump up the edginess this holiday season when taking the Lauren Merkin Tatum stamped snake clutch out for the evening. Its chic texture of snake-embossed leather adds a wild take to this soft clutch, while angled seams give a paneled effect. For a sophisticated, structured outfit, pair with a tailored black blazer, white collared men's shirt and cropped slacks. Don't forget to add a radiant red lip for a pop of color!
A classic black purse like the Rebecca Minkoff skinny MAC wristlet is a staple piece for an evening out or just on the go. Designed with black wrinkled leather and silver polished hardware, the wristlet lets you keep the strap around your wrist or detach it for a more sleek appearance. Couple this softer style with a chiffon shirt, billowing trousers and stiletto boots.
Michael Kors offers you the gift of lux with this oversize Sloan studded and quilted clutch. Boasting a Christmas red color, silver square studs and gold accents, this clutch embodies the ultimate holiday handbag, perfect for any holiday soiree or get-together. Sling it over your shoulder when stepping out in a fit and flare dress or to dress up a white suit.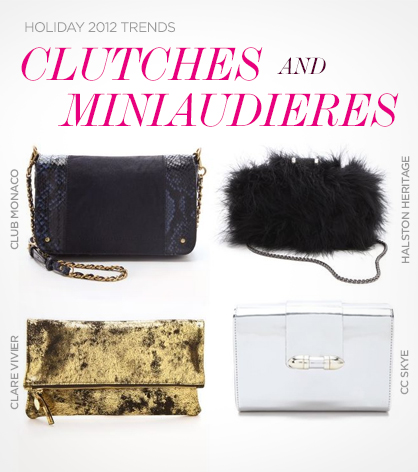 Both playful and elegant, the Halston Heritage ostrich feather oblong miniaudiere lends a vibrant appeal to your next holiday look. Fluffy yet glamorous, the soft black plumes lend a wild appeal to this petite, structured clutch with a gusseted, lined interior. The polished gunmetal chain strap will look pretty over your shoulder when adorning a sequined dress and chic strappy heels.
Rendered in mirrored leather, the CC SKYE mirror clutch lends a refined finish to a structured silhouette. This shining silver handbag conceals a magnetic-snap closure with a sleek bullet.
Rocking a futuristic and modern vibe, play up the metallic look by joining it with gold and red.
Every girl could use a little bit of rock-n-roll with the Clare Vivier fold-over clutch. This slim purse is styled in glittering metallic suede for a touch of edgy glam. Decorated in black and gold, carry it out to a winter party while wearing a leather skirt and opaque tights.
Try a jewel tone clutch like the navy blue Club Monaco Rochelle bag featuring snake-embossed and sleek haircalf material. Holiday gold embellishes the clutch with two studs and a detachable chain strap. This purse will pump up a cable knit sweater and oxfords or complement an adorable shift dress just right.
Read more Holiday 2012 trends.
Tagged in: trends, michael kors, what to wear, holiday 2012, rebecca minkoff, clutches, holiday 2012 trends, cc skye, outfit inspiration, minaudiere, club monaco, lauren merkin, clare vivier,