Holiday Hair Accessories
Let your hair be the belle of the ball with stand out accessories such as headbands, jeweled clips and embellished hair ties. This season in beauty trends, it seems as if the glamour and glitz of the roaring 20s, the Great Gatsby era, has translated into designers making beautifully crafted and ornate hair accessories.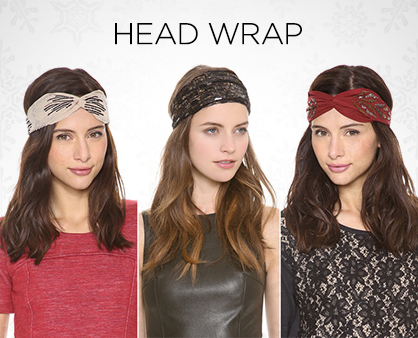 Namrata Joshipura: Turban Headband
Eugenia Kim: Daniella Headband
Namrata Joshipura: Pattern Turban Headband
Who doesn't love a bit of glitz? We like the mix of metallic beading and intricate designs with wide, turban-inspired headbands. Wear it across your forehead with your hair in curls (for short hair) or curls and fastened into a low bun embodying that flapper girl look. Or wear your hair down for a boho-chic look. Our favorites include Eugenia Kim's Daniella Headband, Namrata Joshipura's Sequin and Bead embellished turban headband, and the sequined patterned turban headband in maroon or navy.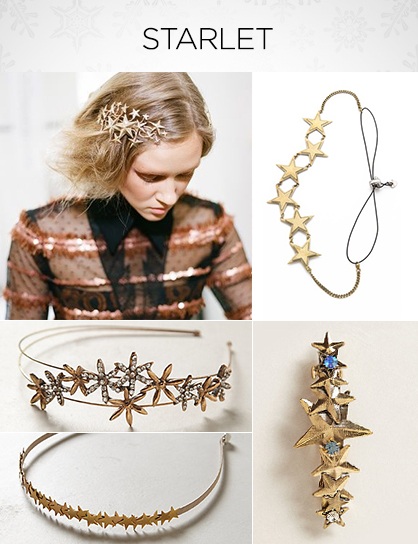 Lelet NY: Star Power Chain Headband
Anthropologie: Starburst Headband
Anthropologie: Orta Headband
Anthropologie: Stargazing Barrette
Transform into a starlet by capturing the starry night sky in your hair. We love how the sprawling star hair clips looked on the runway models in Rodarte's Fall 2012 show. Wear this celestial style with Lelet's Star Power Headband, or Anthropologie's Starburst and Orta Headbands or Stargazing Barrette.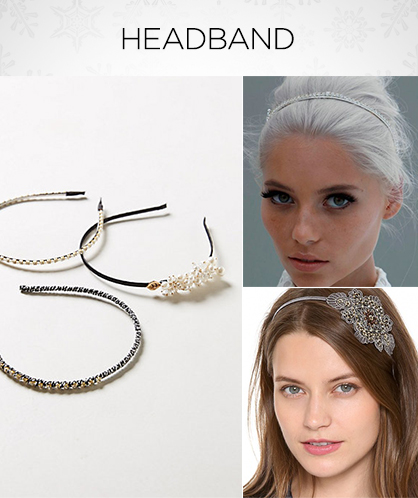 Anthropologie: Charmed Headband Set
Marie Hayden: Side Applique Headband
Although the television series Gossip Girl has ended, pay homage to the headband-wearing ladies of the show by styling a sparkly headband, simple or extravagant, with any hairstyle. We especially like how the headband looks with a simple hairstyle or teased up pony tail or updo. From rhinestones to beaded appliqué headbands, you are sure to find a style that you love. Try this Marie Hayden Side Applique headband, or Anthropologie's Charmed Headband Set or Bowpleat Velvet Headband.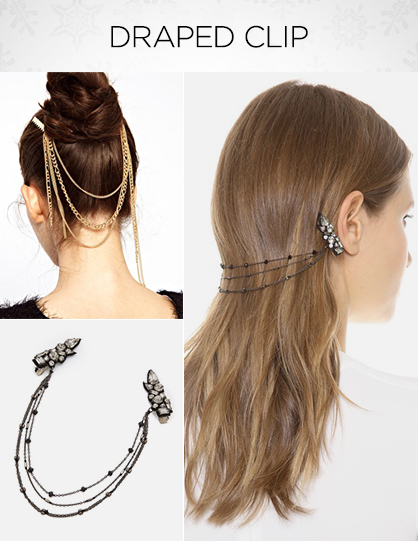 Deepa Gurnani: Draped Hair Clip
Get romantic with your hair worn down or in a chignon highlighted by a delicately draped chain or beaded hair clip such as this stunning Deepa Gurnani draped hair clips in Gunmetal. We love how it can instantly add a unique flair to any outfit.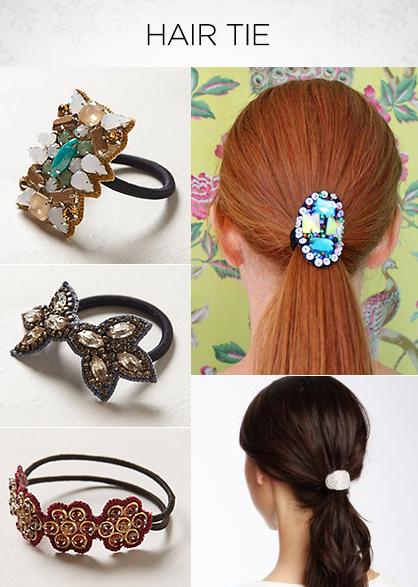 Anthropologie: Alto Pony Holder
Anthropologie: Paseo Pony Holder
If you don't have much time and want an easy fix, pull your hair together into a slicked back high ponytail, side part low ponytail, or into a braid complete with a lavish hair tie. We think the Paseo or Alto Ponytail Holders will do the job.
Read more beauty
Tagged in: accessories, fall 2013, beauty, hair, headbands, turban headwrap,