KNO Clothing: Helping the Homeless One Purchase at a Time
It's no question online retailer KNO Clothing sells sporty clothes. What you may not know is their tremendous help within the homeless community. Every time a customer buys something from KNO, the company donates a new article of clothing to a homeless person. The charitable company donates a total of fifty percent of its profits to non-profit partners in more than 180 different communities in the U.S. Partners include the Bethesda Mission and the 100,000 Homes Campaign.
LadyLUX talked to Stephen Caldwell, who co-founded the company in November 2010 with Anthony Thomas, to find out what inspired the duo to start such a worthwhile endeavor. Caldwell, in his lighthearted manner, calls the company's founding month "KNOvember."
More seriously, since the company began, it's important to note that KNO Clothing's partners have housed over 39,000 people and KNO has hand delivered more than 3,000 articles of clothing to its neighbors in need.
LadyLUX: What inspired the creation of the company?
Caldwell: Living in large cities, we would see people experiencing homelessness on a daily basis. While we never personally experienced homelessness, we knew that we could do more for those who have less. We thought, "what if we could use clothing (fashion) to help those without any?" And that's how we came up with our business model.
LL: What is the mission of KNO Clothing?
C: Our mission is to use fashion to end homelessness. We're a fashion company first and as such, we want to provide the very best fabrics, designs and styles in the marketplace. We're using the proceeds to benefit the lives of people experiencing homelessness. What does this look like? For every purchase, we give away an article of clothing to someone in need and provide funds to organizations across the U.S. that are working to end homelessness.
LL: Do you design the clothing line, or hire designers?
C: We inspire the design and creation of everything that is created. We work with designers to execute on our vision.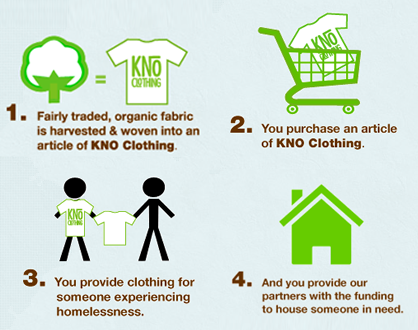 LL: What is your most popular item?
C: Our graphic tees and tanks have been really popular. A well designed T-shirt that gives back combines both of our passions and others have overwhelmingly agreed through their purchases.
LL: Is there anything new in the works?
C: We have some very exciting things planned for this fall. While we can't disclose everything, we can say that we're bringing out some new, made-in-the-USA products that bring our mission full circle.
LL: Are you surprised at how quickly KNO Clothing has gained recognition and popularity?
C: Surprised? Not really. It's been a lot of work, but it's been very rewarding to see so many people wrap around a social issue that is right outside our front doors.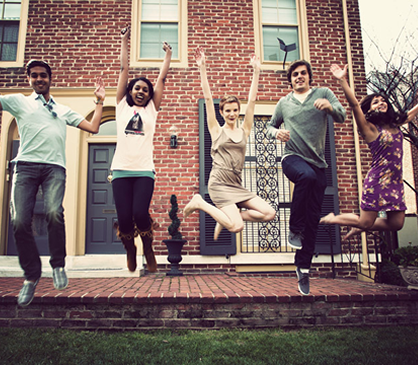 LL: What are you most proud of with KNO Clothing?
C: We're proud of building a movement of individuals that are conscious about their purchasing power and its ability to change lives.
LL: Tell me about your background. Have you always worked in fashion or social justice? Or both?
C: We've always had a passion for both fashion and social justice and approaching both of these from a business perspective made the initial phases of growth easier to manage. We've been mentored by individuals along that way that have helped us fill the gaps where we were once lacking. We're constantly learning and working to bring KNO to the next level.
LL: Who is the typical customer of KNO Clothing?
C: A KNO customer cares about fashion but they also care about the world around them. We're bringing together two ideas that have been counterintuitive in the fashion world.
For anyone who wants to purchase KNO Clothing, it's available at the company's website. Men's and women's clothing are available in a range of sizes and prices. Pricey items, such as a $1,160 T-shirt provides welcome home kits to people who are moving from the street into a home. This provides them all of the basic necessities in their new home.
Tagged in: charity, causes, clothing, lux exclusive,