How to Break the Unhealthy Snack Cycle
Opt for smarter choices
When hunger pangs strike, do you find yourself reaching for the first thing you can find, whether it's a chocolate bar or cheese and crackers? If so, it means that you are on an unhealthy snack cycle, and the good news is that it's easy to break.
Here's how to avoid making bad choices when you're ready for a snack.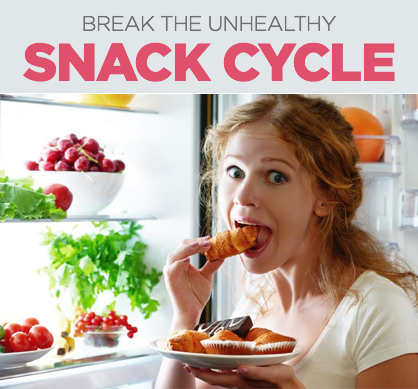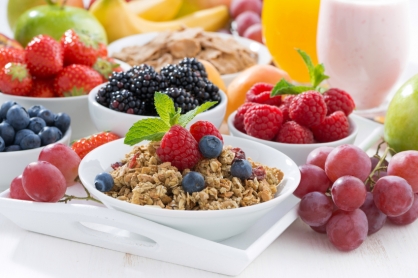 Eat small meals spaced out through the day
One of the easiest ways to avoid pigging out on something unhealthy is to keep yourself from reaching starvation mode in the first place. The best way to accomplish this is to eat 5-6 small meals throughout the day, rather than eating all of your food in 2-3 bigger meals. If you opt to graze on healthy foods throughout the day, you'll keep your metabolism active and you'll avoid feeling deep hunger. And that, in turn, makes it easier to choose healthy foods.
"The habit of snacking exists for a reason: our blood sugar gets low between meals and we feel hungry. Snacking on a small portion (one handful serving size, or 100-200 calories) of healthy food like a piece of fruit, boiled egg, or nuts can actually improved our health, assist in weightmanagement, optimize brain function, and reduce fatigue between meals," said Victoria Brodsky head of nutrition for SugarChecked, an app that can identify the four main types of sugars in a packaged food.
"The problem with snacking is when it becomes a habitual cycle, and you find yourself snacking on food throughout the day instead of sitting down for meals. Although taking a few bites or handfuls of food throughout the day may feel like you're eating less, you'd be surprised how much those little bites can add up, especially when they food has a high caloric density like chips or candy," Brodsky said.
Opt for healthy choices
Rebecca Lee, a registered nurse and founder of the natural health resource, RemediesForMe.com, said she always opts for healthy choices.
"I used to love snacking. I enjoyed chips, popsicles, cookies, candy, and chocolates. I changed my habits and cut out all the junk food," she said.
"The most important and most helpful way to break the snack cycle is to stop buying snacks and junk food while you're at the supermarket. If you don't have snacks at home, you won't be eating snacks at home," she said.
Lee changed her habits and was happy to share her best tips with LadyLUX:
When you're trying to break the snack cycle, start off slow. Start by cutting out one of your favorite types of junk food, one-by-one.
While you're cutting back on snacks, add some healthy treats into your diet at the same time. An example of a healthy snack is apples and peanut butter.
Have an accountability partner. If you're married or living with someone, you already have an advantage. Have them join you on your quest. You can encourage each other to make smarter choices. It's hard to break longtime habits on your own. It's good to have accountability partners that can coach you or be your own personal cheerleader.
Start learning how to read food labels. The more knowledge you have about processed foods, GMOs, MSG, high fructose corn syrup, preservatives, and other chemicals, the less you will want to eat them. Learn about the damage these chemicals can do to your health.
Incorporate a small side of veggies into every meal and whenever possible, opt for healthier meals. The healthier your other meals become, the faster your body can adjust to craving healthier snacks.
There are many yummy and healthy snack options out there. You just have to find ones that fit your palate. Once you find a healthy snack that you really like, you'll be more willing to give up the unhealthy ones.
A few examples of the numerous healthy (and tasty) snacks out there: organic trail mix, apples (or other fruits or vegetables) with peanut butter or almond butter, vegetables and hummus, air-popped popcorn lightly seasoned with freshly grounded peppercorns and himalayan salt, low-fat cottage cheese or other cheeses with fruits, dark chocolate, lightly salted edamame, hard boiled eggs.
Just remember that you have to give your palate some time to change. In the beginning, you may not be craving something like fruits. You'll be surprised to see that the more you keep at it, your palate will grow to enjoy healthy treats.
Healthy treats to try
To get on track with your snacking, Brodsky said it's a good idea to plan your day with mealtimes in mind. Before you go to bed, think about the next day and how you can fit in three 30-60 minute meals. It's also important to listen to your body. If your stomach is growling at 3 p.m., have a snack. Don't push through and ignore those signals. But make sure you snack wisely.
Here are some perfect snack foods to have between meals, according to Brodsky:
One handful of mixed nuts like walnuts, almonds, and cashews (best unsalted)
An apple with a slice of low-fat cheese
Vegetable sticks (carrots, celery, bell peppers) with hummus
A slice of sprouted grain toast with avocado
A hard-boiled egg and a handful of berries
A ½ cup serving of greek yogurt and 1 tbsp of nut butter - add cinnamon and stevia to taste
There are also wonderful packaged foods to try, and that are easy to keep in your desk at work for a quick snack. Try Modern Oats, which is gluten-free, non-GMO verified and 100% whole grain oatmeal that comes in a range of flavors from apple walnut and 5 berry to goji blueberry, mango blackberry, chocolate cherry, Vermont maple and coconut almond.
Another delicious option is Annie Chun's new Seaweed Crisps which are a gluten-free snack that come in three flavors: cinnamon, gochujang and original with only 80 calories per serving, with 0g trans fat and no cholesterol.
And for your sweet tooth, try the Berry Crunch Apple Clusters from Peeled Snack. These clusters are organic apple gently dried and rolled into crunchy, tasty clusters. Each bag contains 5 organic apples — giving a full serving of fruit without any fat or preservatives. Peeled Snacks have no sugar added and are gluten-free, kosher, USDA certified organic, and non-GMO.
Tagged in: nutrition, diet, healthy snacks,