LUX Beauty: How to Get a Winter Glow
The winter months can be grueling on your health, body and especially your skin! No one likes to deal with dry, flaky and tired skin after the cold weather sucks the life and color out of it. Wake up your skin with these tips and picks to create a long lasting winter glow. Farewell dull skin, hello glowing gorgeous!
The best way to obtain a beautiful winter glow is to exfoliate, exfoliate, exfoliate! Polish up your skin with the Pore Perfecting Polish from Bliss as it gently exfoliates and refines skin texture while clearing and minimizing the appearance of pores. Excellent for all skin types, this polishing product will give you more radiant and youthful skin.
To heighten the benefits of your exfoliating experience, apply an exfoliating cleanser onto a facial brush like the Skincare Cleansing Massage facial brush from Shiseido. Massage the silky-soft and finely tapered bristles all over your face in small circles for a more thorough cleansing to offer your skin the radiant glow that it needs.
The next best thing to exfoliation is to generously apply hydrating products. Stock your skin up with plenty of moisture when slathering on the When Hope is Not Enough replenishing cream from Philosophy. This incredibly emollient moisturizer is designed to quench, protect and restore your dry skin and transform the cellular system into a radiantly glowing complexion.
Create smoother, brighter and younger looking skin with a product like the Vinoperfect Radiance Serum from Caudalíe. Correct your skin's complexion with this serum as it enhances the radiance, tone and clarity. Apply morning and night to prompt a winter glow while going about your day or even while getting some shuteye.
If you have a special event at night and a jam-packed day beforehand, wake up your skin cells with a five-step skin-radiating process like the Bio-Performance Hydrate & Refine set by Shiseido. This set will be your go-to at-home facial after using the super revitalizing cream, extra creamy cleansing foam, balancing softener, corrective serum and the eye contour cream. Preventing the first stages of line formation, this glow-inducing facial-in-a-box will surely get your skin prepped for that holiday party in a flash!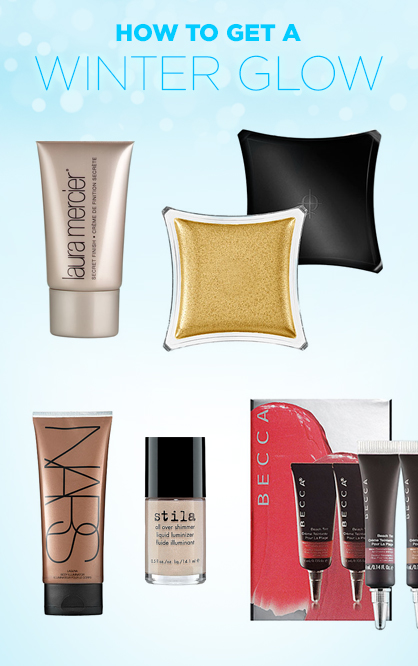 A winter glow does not come easy and a little extra help may be needed to create the illusion of radiant skin. To create beaming skin with a little makeup help, add a few drops of Secret Finish from Laura Mercier into your moisturizer for some extra shimmer or apply it over your foundation for pure brilliance. Containing rice starch, this extremely fine and luxurious powder will soothe and promote youthful looking skin.
Stila offers the All Over Shimmer Liquid Luminizer to add luster to the skin. This iconic liquid luminizer contains soft focus pigments to help diminish the appearance of fine lines and skin imperfections while leaving skin with a dewy, lustrous glow.
To flaunt a luminous glow all over your décolletage and body, a liquid body shimmer like the Body Illuminator by Nars is needed. This shimmering body lotion is infused with exotic Monoï de Tahiti oil in the beauty brand's famous shade, Laguna to achieve a beautiful and bronzed radiance.
When out in the cold, feel the heat while wearing the Liquid Metal eye shadow from Illamasqua. In four metallic shades, these high-pigmented highlighting creams can be applied with fingers or a brush to adorn the eyes or upper cheek area. You won't believe your eyes!
The next best thing to a winter glow is a pinched cheek effect. Create a rosy glow with a cream blush or cheek tint like the Beach Tint from Becca. Featuring pinky shades like Watermelon, this cheek color will add a healthy shade of pink to the apples of your cheeks. These blendable creams enriched with antioxidant vitamin E will look more natural when mixed with a bit of moisturizer.
Tagged in: guides, lux beauty, makeup, cosmetics, beauty, shiseido, skincare products, moisturizer, exfoliator, how to get a winter glow, bliss, winter glow,