How to wear Fall fashion: The latest styling details
It's all in the details. There are myriad trends from the Fall season to choose from, but no matter what you wear, it's the little things that will matter. Inspired by Neiman Marcus fashion, take familiar staple pieces and freshen them up with new styling details. Add some drama to your look with a bold necklace, layered elements, monochrome dressing or unexpected metallic, and take your ensemble to the next level.
Wear red from head to toe. Shades of bordeaux work flawlessly with monocrhome dressing. Layer a coat over a lady chic dress and accessorize with a red clutch and peep-toes. Don't stress about matching the shades perfectly; this trend works best with various tones complementing each other.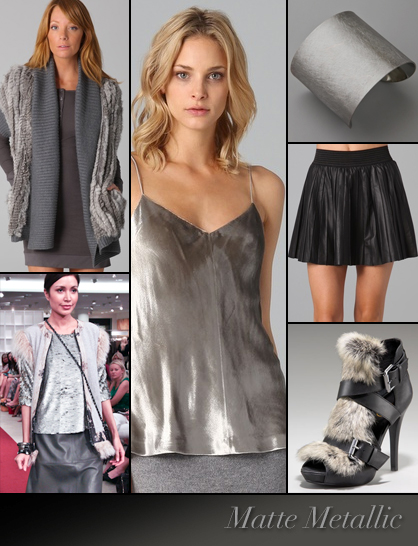 LadyLUX via Neiman Marcus and Shopbop.com
fur jacket, metallic cami, cuff, leather skirt, fur booties
Infuse matte metallic. Women often look to silver, gold and bronze for their jewelry, but this season, stand out by wearing a metallic top. Matte metallic is a great option for a fresh feel without too much flashiness. The palette works well as a neutral to match with black or even with bold jewel For the daring, try silver shorts or a gold motorcycle jacket. And just because there's already metallic in the outfit doesn't mean you must shy away from a catchy cuff or a pair of fur booties.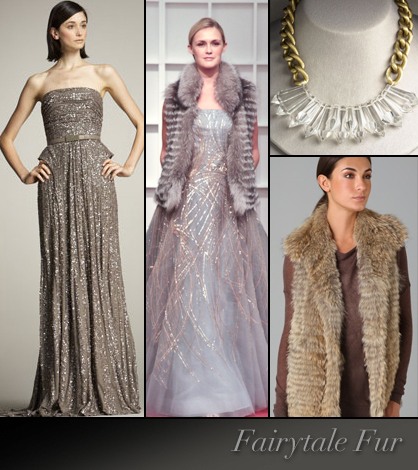 LadyLUX via Neiman Marcus and Shopbop.com
gown, crystal necklace, fur vest
Fairy-tale fur. Fur jackets and vests look effortlessly chic with jeans, but wear fur with an evening gown for the ultimate fairy tale. Contrast or match the fur, but keep the length proportional to avoid overwhelming the gown. Fur also works well with a maxi dress or long skirt for a less formal night out on the town.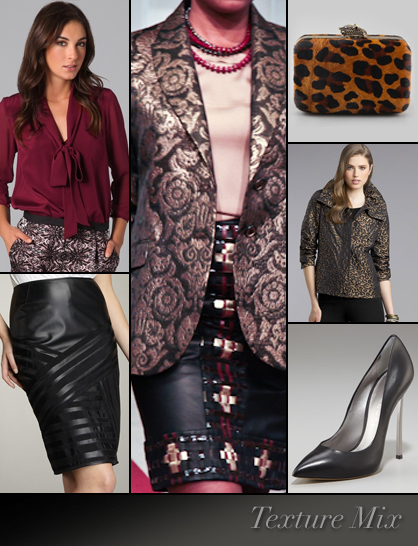 LadyLUX via Neiman Marcus and Shopbop.com
blouse, leather banded skirt, leopard clutch, jacquard jacket, pumps
Texture mix. Patterns and textures can make a statement on their own, but this season, be even more sophisticated when you combine your pieces. Fall runway shows presented an array of leopard prints with jacquard, mixing graphics with stripes and quilting with brocade. Try contrasting textures with a different jacket and skirt, but keep the top neutral to maintain balance.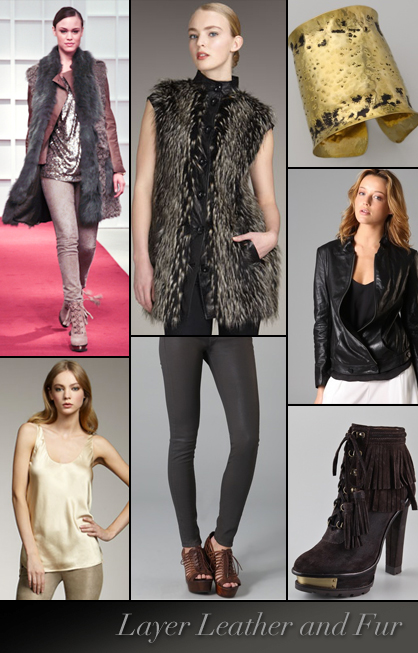 LadyLUX via Neiman Marcus and Shopbop.com
tank, fur vest, cuff, leather jacket, fringe boots
Layer leather and fur. A fur vest and leather jacket go together like white and black. Bundle up by layering the two elements for an edgy style. Furs in all colors are even more luxe when combined with a black or brown leather jacket. Wear with jeans, skirts or dresses – this combo works with any look.
LadyLUX via Neiman Marcus and Shopbop.com
tube necklace, beaded necklace, disc and ribbon necklace
The statement necklace. An outfit is never complete this season without a statement necklace. And when it comes to making a statement, bolder is always better. Wear chunky, colorful pieces or sleek modern chokers with cocktail dresses or over button-up dress shirts. An eye-catching necklace can jazz up any look.

To shop the runway looks, please call Neiman Marcus in Newport Beach. (949) 759-1900
This article was contributed by Annette Tang of the VersaStyle. You can follow Annette and her fashion adventures on Twitter at @theversastyle.
Tagged in: lux exclusives, trends, neiman marcus, shopbop, fall, how to wear, styling details, styling guide,