LUX Style: Celebrating the Year of the Snake
After all the Chinese New Year celebrations around the world, it's safe to say that the fashion industry is celebrating the Year of the Snake by paying homage to the slithery and sexy print. To highlight the scaly skin of this radiant reptile, we nominate four different color schemes so you may flaunt the snake-inspired print with neutral, colored, black and white, and metallic apparel and accessories.
Neutral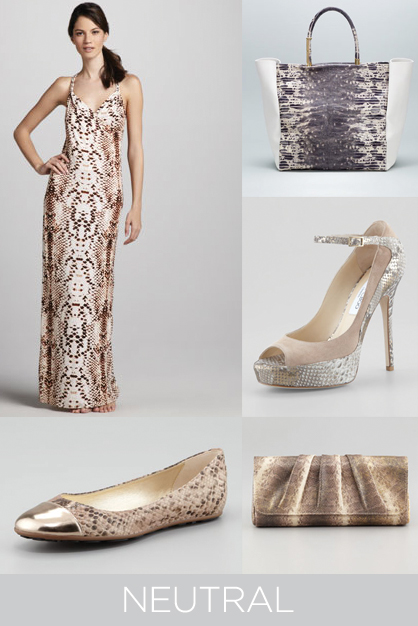 Mara Hoffman/Snake-Print Jersey Dress
Lanvin/Snake-Embossed Tote Bag
Jimmy Choo/Metallic Snake Pump
Jimmy Choo/Snake-Print Ballerina Flat
Lauren Merkin/Snake-Embossed Clutch
Snakeskin looks the most genuine in neutral shades of the color wheel such as white, beige, taupe and brown. Take the wild print to new heights with pieces such as a beige snakeskin maxidress and then pair it with a gray snake-embossed tote bag or clutch. Strut around with snakeskin on your feet by wearing some suede pumps or ballerina flats trimmed with neutral snakeskin.
Bright Colors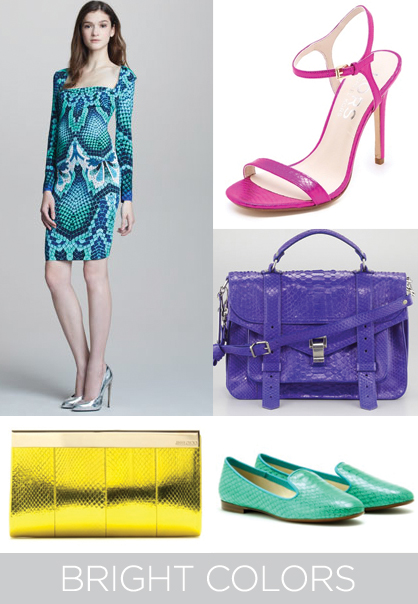 Jimmy Choo/Snakeskin Clutch
Avec Moderation/Snake-Embossed Loafers
Michael Kors/Snakeskin Sandals
Proenza Schouler/Python Shoulder Bag
Just Cavalli/Snake Print Dress
Snakeskin stays stylish even when in any color of the rainbow. Whether on a clutch in an eye-catching metallic shade of yellow or bursting with life in candy colors of aqua flats and magenta heels, snakeskin proves to be versatile. The edgy print can also be added to handbags or a formal sheath dress for a sexy, animalistic twist.
Black and White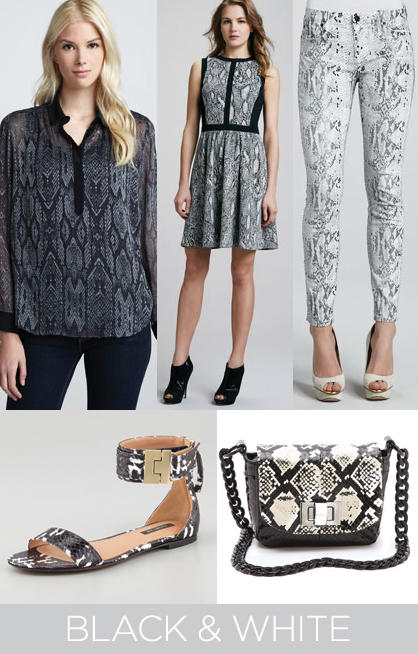 By Malene Birger/Snakeskin Bag
Rebecca Taylor/Python Print Blouse
7 For All Mankind/Snake-Print Skinny Jeans
Rachel Zoe/Watersnake Flat Sandal
Rebecca Taylor/Python-Print Flared Dress
Stand out in snakeskin featuring a black-and-white duo for both edgy and sophisticated looks. Python prints pump up the look of your staple pieces such as a chain strap handbag, soft billowing blouse, skinny jeans, flat sandals, and even a fit-and-flare dress. A black-and-white color scheme outfitted with snakeskin creates an effortless look of beauty and class.
Metallic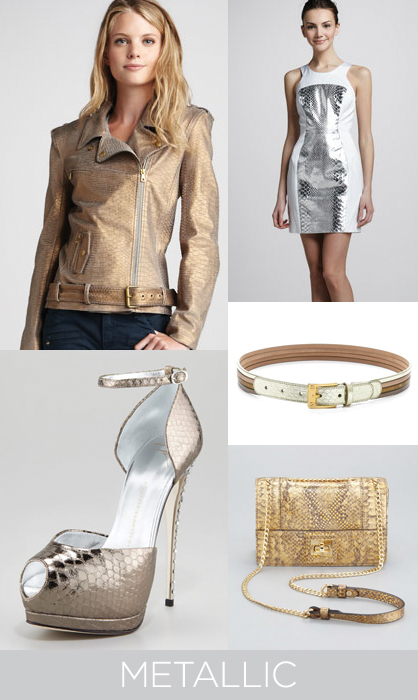 Rachel Zoe/Snakeskin Belt
Skaist Taylor/Snake-Print Jacket
Milly/Snake-Print Panel Dress
Giuseppe Zanotti/Metallic Snake-Print Pump
Milly/Python-Embossed Bag
Snakeskin continues to wow in metallic looks infused with embossed python. In shining shades of gold and silver, accessories such as skinny belts, purses and platform sandals boast both edge and glam. Apparel such as leather jackets and dresses featuring snakeskin panels exhibit knockout touches of python combined with metallic material.
Read more LUX Style
Tagged in: trends, guides, dresses, handbags, shoes, print, snakeskin,