Inside the chic Australian label Antipodium with Geoffrey Finch
Some things are just meant to be – like London-based Australian label Antipodium. The womenswear line began in 2003 as a boutique, public relations and wholesale agency for various Australian brands in London. Even with the array of labels available, founders Geoffrey J. Finch and Ashe Peacock realized there was something missing in the store and in their friends' wardrobes – something witty and versatile yet affordable. To fill the void, they made a few staple pieces for the shop, which soon caught the attention of British Vogue and Liberty London. With the support of these two powerful British influences, the few pieces expanded into a sophisticated collection of dresses, blouses and skirts that launched in September 2006 at London Fashion Week.
Leading the charge, Finch has worked at the label since the beginning of the line. Starting with the company in 2004 as an intern, he worked his way up, becoming creative director in 2006. In fact, the talented creative director never acquired a formal education but instead learned through hands-on experience.
"Prior to working with the company, I've been working for years in wholesale and retail in Australia. I've never trained as a designer, but I think the shopfloor is an exceptional teacher," Finch shared.
Aimed for an eclectic group of heiresses, editors, artists, writers, architects and musicians, Antipodium is inspired by unique women who seek fashions that define their personalities. The confident simplicity and capricious nature of the line easily speaks to these tastemakers.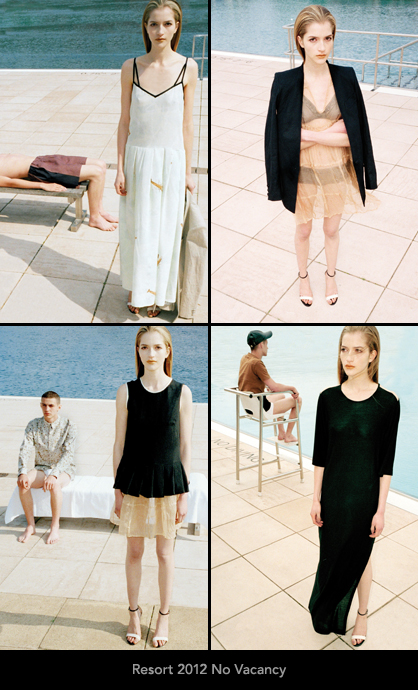 LadyLUX via Antipodium
The creative director described the brand as "the kind of clothes that can get you in and out of all sorts of trouble."
For Fall 2011, Finch drew inspiration from Q Lazzarus's 1988 mellow dramatic song "Goodbye Horses" for a collection that evokes the dark thrill in a big night's sky, the freedom of an open road and the romance of the unknown. He translated these ideas into an adventure story through highway prints, fluid silhouettes, sunset colors and a modern take on Western style.
"The Western was more big rig than bareback. We went with press stud fastenings, collar tips, washed satins and shearling trims," Finch explained.
The story continues into Resort 2012, titled "No Vacancy" as the road trip came to a close at an old cliché California motel with a mint-colored pool surrounded by earthy pebble tones. Finch daydreamed of tanned bodies lounging around, crisp white linens, the staff's uniforms and the opportunity for anonymous adventure. The concepts lead him to create sharp silhouettes with washed fabrics, giving the styles a touch of sexy nonchalance. Finch also teamed up with Australian graphic designer Karl Maier to create a special print named "Crae Crae."
"Everyone has gone bonkers for it! Who doesn't love an institutionalized lobster with buffet leanings?" he exclaimed.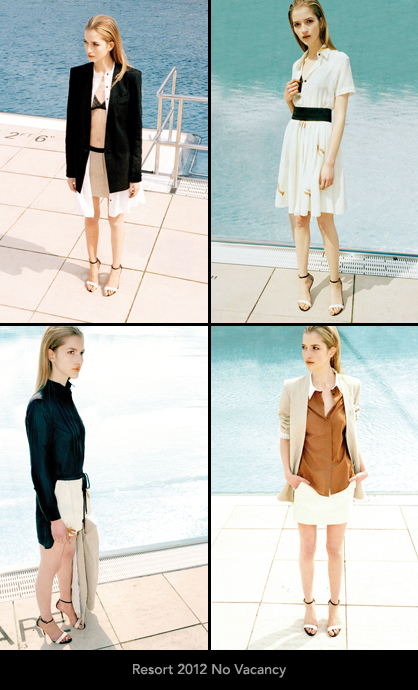 LadyLUX via Antipodium
Finch has clearly found his groove in design and is constantly seeking fresh inspiration to push his limits. He challenges himself each season thorough collaborations on prints and embroideries with other artists. But his biggest inspiration is just steps from his home. Finch's East London neighborhood is bursting with fascinating people and life that change the way he views the world.
"What I love most are people's stories and experiences. Being able to incorporate bits of all those around the brand is enormously satisfying and energizing," Finch said.
To shop Antipodium, please visit Shopbop.com.
This article was contributed Annette Tang of the Versastyle. You can follow Annette and her fashion adventures on Twitter at @theversastyle.
Tagged in: lux exclusives, shopbop, london, spring 2012, australia, fall 2011, creative director, antipodium, geoffrey finch,