Talking Fashion, Family and Fun with BCBGeneration's Joyce Azria
Joyce Azria took a time out at WWDMAGIC at Magic Market Week in Las Vegas to talk to LadyLUX. Azria is not only the creative director of BCBGeneration, but mother to three children: ages 7, 1 and newborn. She's part of a fashion dynasty, as the daughter of BCBGMAXAZRIAGROUP founder, designer, chairman and CEO Max Azria.
LadyLUX: What inspires you in life that you carry over into your design aesthetic?
Joyce Azria: First of all I feel like just socially we're so much more aware as a generation … social happenings are very inspirational. I would say one great example is Coachella, [and] being inspired by music and how that translates into fashion. I know, as designers, a lot of people who design within our generation and within our brands and agencies, we all get inspired by social happenings. The 4th of July is a big BBQ day but it's also a big milestone in terms of what we're delivering in fashion, to have a 4th of July capsule, to have cut-off jeans and those kinds of things. So I guess I'm really socially inspired [by] Instagram and all those things just seeing the way our girl is living which really helps us basically dress her.
LL: What is your current design aesthetic besides what inspires you?
JA: My current design aesthetic I would say is hard meets soft. It's always like that within the house of BCBG. It's kind of edgy but always feminine, it's current but still a little nostalgic. It's really the opposition.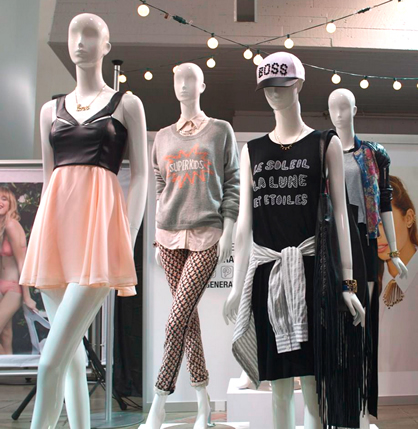 Spring 2014
LL: What is the most important industry lesson that you've learned from your father?
JA: He always tells me, "Prepare for success." A lot of people in their life spend a lot of time working out how they'll be and how they'll react to things not working out and a lot of people spend a lot less energy working out what they'll do if they do become successful. It happens a lot in small businesses too. People are like, "Well, if that doesn't work then we'll figure this and then we'll do [that] rather than saying, "Okay, if we become extremely successful, we might not have enough cash flow to really advance and expand at the right time." He always tells me to plan for success and that's what I think is a really key factor in his success. He can see big and a lot of people see small.
LL: What does the BCBGeneration brand mean to you?
JA: It's my life! It means a lot to me. Designing for this brand… is like a huge opportunity to affect an age that's really about self-discovery and confidence. You know the 20s are a time where you kind of assert yourself and you might be going into your first job… so to be with my client in that time I think is really important. For me it's a responsibility that I don't take lightly, so being the creative director of this house makes me feel very responsible for delivering great fashion at a great price, at the right time, that's relevant in her life.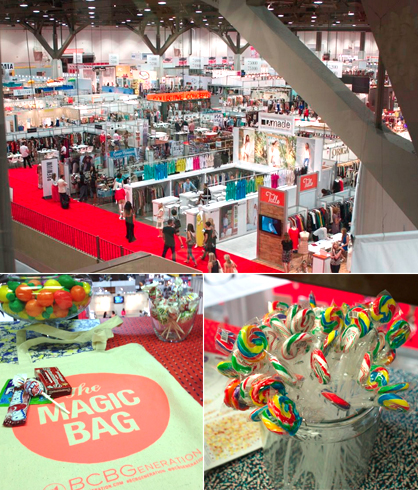 Sky Box, LVCC
LL: What is the legacy you would like to leave within the company?
JA: Good people do good things. I think just being a good person inspires other people around you to come up to that vibration and just be good people. There are a lot of businesses where you change and you kind of lower yourself. I think this is a really great industry and I think if you want to be a positive person and want to affect positive things in this industry you really can.
LL: So what's next for you?
JA: Make more money doing what I'm doing. No, what's next? Well we've grown from two licensees to eight licensees in the past year, so we're now doing footwear, jewelry, swim, intimates, cold weather, hats, scarves. We've added so many classifications. I'd love to do makeup, I'd love to do ath-leisure like real sportswear. There are a lot of classifications that I want to continue to develop through licensing opportunities. International growth is a big one to me and taking the next step with our website [doing] international shipping and making it really available in other foreign countries. Also, just continuing to be successful in apparel.
Spring 2014
LL: Now for a little bit of fun. What would you say is your most coveted possession?
JA: My family, I don't really posses it.
LL: What's the trend you're most obsessed with for Fall 2013?
JA: I like maxis. I think maxis were a huge trend in spring and summer and I like it continuing into fall and winter with little booties. I feel like women look so sexy. There's something sexy about not showing a lot and my girl is a super immodest costumer and I love that she loves all my minis and shorts. This fall I'm feeling like it's this return back to being a girl so dresses are really important to me in fall. I think the maxi dress is a huge statement and it's also so great for her because she can take all her spring and summer maxis and throw a fur vest on top; it's about layering your maxis.
LL: What is your definition of luxury?
JA: I think it would be time. Really, that is something that is so fleeting and something that you're always trying to manage. I definitely have given up that luxury… I have very little time for myself because I have so many kids and work and life and a big family.

Tagged in: designer, interview, bcbg, lux exclusive, wwdmagic,