Jean Paul Gaultier's exhibit makes its way 'From the Sidewalk to the Catwalk'
Currently on display at the de Young Fine Arts Museum of San Francisco is the Jean Paul Gaultier fashion exhibit entitled, "The Fashion World of Jean Paul Gaultier: From the Sidewalk to the Catwalk." Containing 140 of Gaultier's designs, the exhibit also presents sketches, archival documents, fashion photographs and video clips incorporating high-tech and multimedia features.
Known as fashion's enfant terrible, Gaultier has been creating his prêt-à-porter designs since 1976 when he launched his very first collection. Since then, Gaultier has been known for his beautiful yet often controversial exploration of multiculturalism, gender and transgender issues, including the sexual revolution.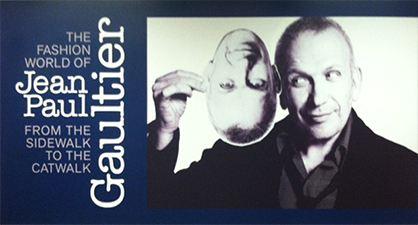 Gaultier's dynamic designs on display were created between the mid-1970s and 2010. Notable pieces include his kilts, codpieces, ornate and revealing gowns, corsets inspired by his grandmother and the infamously iconic Madonna coned bra. Video clips within the exhibit contain footage of Gaultier's collaborations with filmmakers, choreographers and musicians, including the Material Girl.
A fascinating yet haunting portion of the exhibit features a group of 30 animated mannequins that come to life with holograms projected onto their faces. Their facial video projections talk and sing in playful and poetic vignettes, in English and French. Gaultier partnered with the Montreal-based theater company Ubu Compagnie de Création for the design of the innovative mannequins.
Gaultier's exhibit is the latest of a collection of showcases reigniting a national craving for fashion and art. Previous fashion exhibits include de Young's "Balenciaga and Spain," the Alexander McQueen exhibit at the NewYork Museum of Metropolitan Art and de Young's 2008 exhibit, "Yves Saint Laurent."
The Jean Paul Gaultier exhibit runs until August 19. To learn more about the exhibit and to book your tickets, visit www.deyoung.famsf.org.
Read more about Jean Paul Gaultier.

Tagged in: fashion, jean paul gaultier, san francisco, hologram mannequins, fashion desinger, de young fine arts museum, from the sidewalk to the catwalk, madonna coned bra, the fashion world of jean paul gaultier,