Jesse Kamm talks motherhood and Spring 2011
After a year off from the job, Los Angeles-based designer Jesse Kamm is back.
She had a good reason to be gone: Kamm gave birth to her son, Julien, in May, 2009. A fixture in the indie fashion scene in LA since spring 2006, Kamm was known for her handmade designs that featured organic, stenciled shapes on natural fabrics.
No stranger to the fashion scene, Kamm first moved LA in 1999, starting an international career in modeling. After years of traveling the world, Kamm realized she liked the intrigue of the behind-the-scenes work. She started taking sewing classes and making her own clothes. Then, of course, people wanted to buy them.
Now Kamm has jumped back into the game, revealing her line for Spring 2011 this fall. It made its debut today on her website.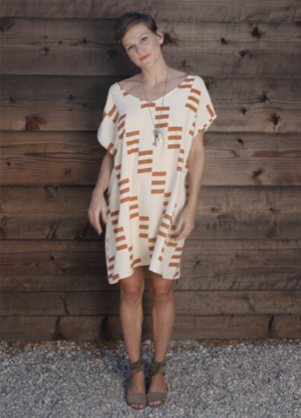 "I had a pretty life-changing year off," Kamm said. "I'm back to work and super excited. I feel like the collection has evolved."
Evolved indeed. The designer said her personal aesthetic and her everyday routine served as muses for the aesthetic changes.
"It's the reaction to that year off that I took," she said. "Eat, play, eat. It's a metaphor for my super basic routine."
Simple geometric shapes replaced the organic ones of her prior collections. She also changed the way she approached the design process, now using a childlike creativity.
"In the past, the designs had been super intricate and hand drawn," she said. "This time, I made it from construction paper that I cut out and arranged. I think it is all affected by the new person I have in my life."
Is it hard to stay on track with a 17-month-old at your side? Interestingly enough, Kamm credits her baby with keeping the creative juices flowing.
"It has made me strangely way more productive. I almost feel like in an attempt to not give into just being a mom, I feel more invigorated to create beautiful things," she said. "I don't want to be put in this box of motherhood."
Jesse Kamm's first collections featured drapey blouses in linenlike fabrics with hand-printed images of palm leaves or animal-inspired designs. Her line for Spring 2011 features boxes, triangles and clean, minimal silhouettes.
"That's just the changing girl that's designing the clothes," she said. "I'm really inspired by architecture and furniture. Before I was spending a lot more time traveling to South America… a lot more nature, plants and animals were influencing my designs."
Now Kamm doesn't have to travel far to get inspiration. Whether it's children's toys or her own backyard, her new simplistic aesthetic offers limitless possibilities.
"Once the sort of fog lifted from the early baby days, I felt more attracted and connected to California than I ever had been," she said. "I feel super invigorated by all of the art, architecture and nature that we're surrounded by in LA."
For more information about Jesse Kamm's collection, visit her website at www.jessekamm.com.
Tagged in: lux exclusives, fashion, california, los angeles, casual, jesse kamm,