Kelly Wearstler breaks into fashion with contemporary line
In Kelly Wearstler's world, creativity fuels creativity. Her well-known interior design projects, such as the glamorous Viceroy Hotel and Resorts chain and the Avalon Beverly Hills Hotel, took nods from the runway. Likewise, the finish of concrete floors at a furniture factory evokes oversized statement rings or the legs of a modern chair. Wearstler's own eclectic style, which has landed her on Vogue's Best Dressed list, is a result of her design aesthetic, which marries progressive elements with classic pieces and vintage touches. With a never-ending fluid circle of her own inspiration, the interior designer is progressing into fashion with an eponymous contemporary line of apparel and accessories this Fall.
On Oct. 12 at Neiman Marcus Fashion Island in Newport Beach, Calif., Wearstler made a special appearance at a private luncheon. The designer displayed her collection on her body, mixing a hand-painted, striped blue button-up and a cream cropped jacket – both from her line – with Isabel Marant leather tuxedo pants, Pierre Hardy platforms, a fistful of oversized rings and several cuff bracelets for some industrial arm candy.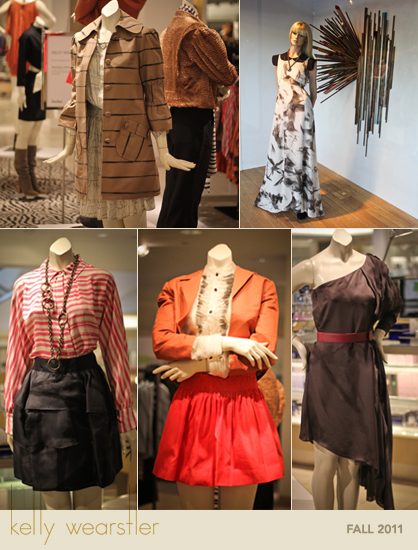 LadyLUX via Annette Tang
Even with her effortless style, Wearstler is the first to say that a fashion line was not part of her plan. "It's been an evolution getting here. Fashion has always been an inspiration, but now it's another medium for me to try," she explained.
Whether working with interiors or fashions, Wearstler can't help take a hands-on approach. In creating her new line, she described her creative process: "I went through thousands of thousands images, studied numerous vintage books and created inspiration boards to present to the design team."
Wearstler sat down with the team for daily four-hour sessions, selecting colors and materials, creating silhouettes and prints, and reviewing samples until perfection was achieved.
The result: A collection of hand-painted, striped blouses and tops; sleeveless, pleated velvet dresses; wallpaper graphic caftans; two-tone, black-and-white trench coats; perforated, wide bracelet cuffs; colorful silk scarves; and boxy clutches with sculptural hardware clasps. The interior design influence appeared in the mix of patterns, textural elements and architectural inspiration. Somehow, Wearstler magically fused it all together.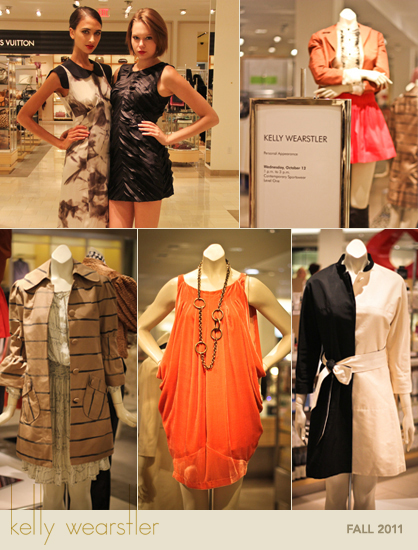 LadyLUX via Annette Tang
After the success of her Fall 2011 collection and Spring 2012 line – which was just showcased at New York Fashion Week and received a great review from the head editor at Style.com– Wearstler is cutting back on interior projects to find a balance. While juggling her different creative avenues is difficult, stepping back doesn't mean she loves one project more than another.
"Each is challenging and I love being challenged. I love it all equally," the designer confessed.
She plans to take on a few more challenges to grow the Kelly Wearstler brand. Handbags will soon round out her offerings, and footwear will be added down the road. She daydreams of purses that would be easy yet stylish, with bold hardware.
Wearstler finds the thought of designing footwear so exciting that she has already selected some pairs of shoes and reinvented them for the runway by applying paint and roughening them up. For the collection, though, she describes her ideal heels as "little sculptures with hardware, of course."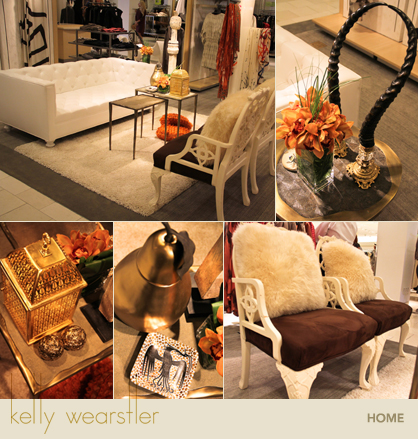 LadyLUX via Annette Tang
To present all her creations as one voice, Wearstler will be opening a store on Melrose Avenue in Los Angeles. Inspired by the California mentality, the store will promote a glamorous yet relaxed vibe.
"It's chic and sophisticated. A cool Cali with lots of wood, stone, metal and ceramic columns," she said.
Opening the beginning of November, the Kelly Wearstler lifestyle flagship store will sell scarves, apparel, accessories, cashmere throws and even beach towels. The furniture and rugs – all designed by Wearstler – will be for sale in a subliminal manner: Customers may not realize the store décor is available for purchase.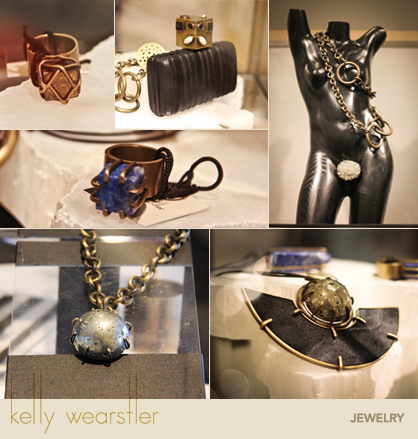 LadyLUX via Annette Tang
Brand expansion may fill up her workday, but Wearstler, in keeping with the times, still finds a moment to work on her blog, My Vibe My Life. Adding content two to three times a week, she personally creates each post. She uses the blog to share trips of inspirational shopping, discuss shapes that influence her designs and even support Breast Cancer Awareness Month with statues of bosoms.
"Blogging helps sharpen your eye. It's another form of inspiration," she explained. "When I shop and take photos now, I take it in a different way. It makes you see things in a clearer light."
She doesn't stop at posting either. The designer recently threw a dinner party at her home for a handful of her favorite bloggers, including Jane Aldridge from Sea of Shoes and Emily Schuman from Cupcakes and Cashmere.
It appears little can faze Wearstler. She is intensely calm, seemingly failing to realize how difficult it would be for the average person to handle her multifaceted career. Yet she manages it with ease, finding time for a rigorous workout every morning while still making her family her number one priority – she is always home by dinnertime.
"To do all of this, you have to be confident and know what you want and what you like," she declared. "You also have to be extremely focused. During my work time, I don't talk to friends or anyone and eat lunch standing up."

This article was contributed and photographed by Annette Tang of the Versastyle. You can follow Annette and her fashion adventures on Twitter at @theversastyle.
Tagged in: lux exclusives, neiman marcus, fashion island, newport beach, kelly wearstler, fashion designer, interior designer,