Kimberly Ovitz Infuses Technology into Jewelry Line
Designer Kimberly Ovitz has become tech savvy to market her brand new line of jewelry. Debuting her Fall 2013 ready-to-wear "With Shapeways" collection on Feb. 7 during New York Fashion Week, she took to non-traditional 3-D designing and printing as her go-to creative process for her alternative accessory line, reported WWD.
Ovitz and her 3-D printing marketplace partner Shapeways designed and produced pieces via 3-D printing. Together, they digitally manipulated materials of structured, lightweight nylon in non-traditional design processes. Ovitz's designs were originally produced on white nylon and then dyed the desired color of black, dove grey, cobalt blue or stainless steel with an antique finish.
"It's revolutionizing the immediacy of fashion. I want to infuse technology into what I do. It's the future," said Ovitz to WWD.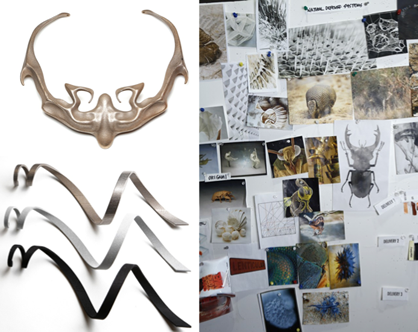 LadyLUX via WWD
Comprised of a collar, different-sized ear cuffs, rings and bracelets, her alternative jewelry takes on a contemporary feel. Ovitz's inspiration for her five-piece jewelry collection came from animal and insect natural defense mechanisms: "I looked at animals and insects and how they have innate protection systems. I saw a lot of armor, camouflage and colors I would expect to be synthetic but you actually see in nature," Ovitz told WWD.
Ovitz is tech savvy through her sales, too. Consumers can buy her jewelry through her website directly after it premieres on the runway. Providing for the immediacy now needed in the fashion industry, another attraction of this online sales method is the quick turnaround time of two to three weeks for products. She now plans to make accessories a permanent category of her four-year-old design business.
To learn more about Ovitz and her new jewelry line, visit www.KimberlyOvitz.com
Tagged in: tech, jewelry, accessories, radar, technology, nyfw 2013, kimberly ovitz, tech-infused fashion,