London Fashion Week Fall 2012: Mulberry
Mulberry may be known for its classically shaped handbags like the Alexa and Lily, but ready-to-wear is developing into quite the assortment. For Fall 2012, Emma Hill looked to "Where the Wild Things Are" for inspiration and illustrated the children's book on the runway with a compelling selection of fur. The presentation at London Fashion Week immediately kicked off in high-gear, opening with bold shaggy looks. This seems to be Hill's favored strategy as she did the same for Spring's collection of bright pastels.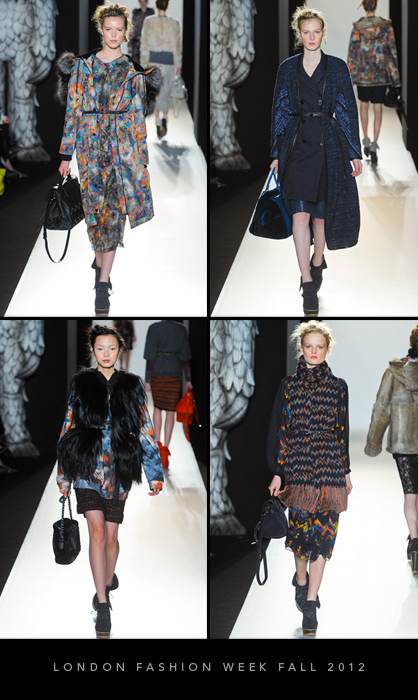 LadyLUX via Style.com
If it could be made in fur, chances are, it was. Hill went all out with luxe chestnut shaggy coats; rabbit-trimmed hooded coats, vests, pencil skirts and zipped hoods; and even a shaved fur dress. The unconventional garments were a fresh take on the material and maintained a casual ease through styling with everyday pieces. Fur vests were cinched at the waist and paired with leather pencil skirts or wide-leg trousers. Boxy fur pencil skirts combined with a simple space-dyed knit turtleneck and a hooded coat. The knee-length, half-length sleeved fur dress was layered over a long-sleeved knit and laced up booties, creating a balance that didn't seem overdone.
The collection relaxed – by Hill's standards – into mini series of animal prints, chevrons, abstract splatters, black lace and a punch of tangerine. The ensembles had a boxy yet relaxed silhouette that was created from layering pieces of outerwear and oversize knit scarves. Mulberry's creative director included splattered print anoraks layered over monochrome dresses; blanket coats combined with trenches; and wrapped cardigans teamed up with chevron knee-length dresses. The various prints and colors were intermixed with the layers for a patchwork effect.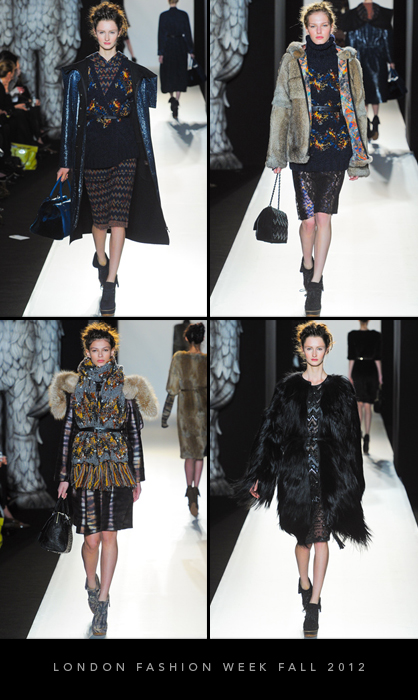 LadyLUX via Style.com
The London brand also introduced a new handbag to join the other two classics on the runway. The Del Rey was interestingly simple and came in a sparkly blue embossed crocodile and a gold snake print. The new bag was inspired by the much-discussed singer Lana Del Rey.
Between the new handbag and the creative fur outing, Hill seems to be on a roll, which could mean very exciting things for this brand.
This article was contributed by Annette Tang of the VersaStyle. You can follow Annette and her fashion adventures on Twitter at @theversastyle.
Tagged in: london, runway, fall 2012, london fashion week, mulberry, ready-to-wear, london fashion week fall 2012, emma hill,