London Fashion Week Fall 2012: Topshop Unique
After the Spring 2012 Topshop Unique show, it was clear change was needed. The collection looked like a low budget junior's line with an Egyptian theme that lacked sophistication and was clearly over-thought and over-designed. Luckily, the British retail mogul recognized its weakness and wisely brought on Kate Phelan as the new creative director. Phelan joined the team last June after leaving her 18-year tenure as British Vogue's fashion editor and she's already made all the difference. Under her direction, the design team pulled back, learned a lesson in refinement and actually had a focus this season.
The Fall 2012 collection presented at London Fashion Week left behind all the fussy frills and zoomed in on the utility theme with a heavy military foundation that capitalized on a sweet spot landing between structured and slouchy. And, as Phelan would have it, the series of separates, dresses and outerwear maintained a controlled palette of black, army green, gray, deep red and orange.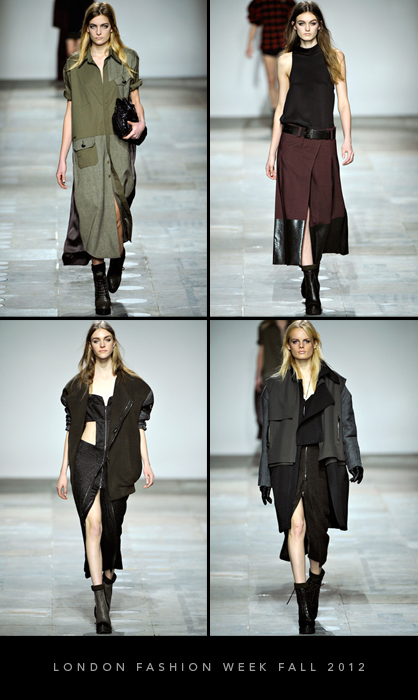 LadyLUX via Style.com
The collection's outerwear immediately stole the spotlight and rightfully so considering the weather in London. An impressive floor-length officer's coat started off the show with excitement. The caped silhouette had a flow to it and was paired with a bandeau top, high-waist trousers and laced up army boots that clearly demonstrated Phelan's expert styling. The range of oversized outerwear continued with vests that featured exaggerated lapels and contrasting materials, a felt motorcycle jacket that was lengthened and loosened up, printed wool coats and varsity jackets detailed with two-toned sleeves.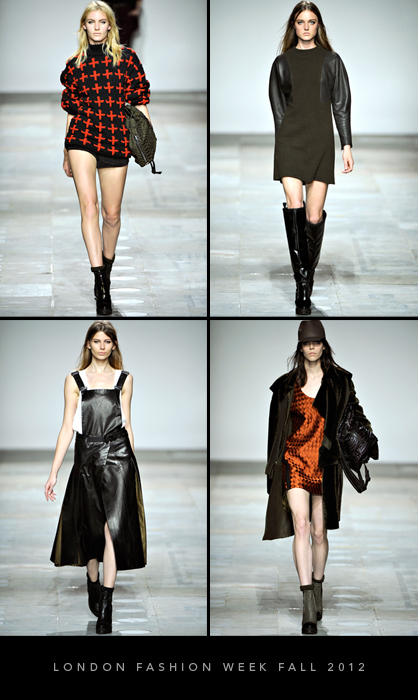 LadyLUX via Style.com
The detailing notes of oversized silhouettes and contrasting colors and materials were also worked into the dresses, hip-slung skirts, sweaters, blouses and trousers in a very wearable fashion. T-shirt dresses were perfectly draped, minidresses featured pleated long sleeves and calf-length fitted styles had waist cutouts and were toughened up with the dramatic outerwear. The most noteworthy dress was a mid-calf loose military shirt-dress with dual-tone panels, patch pockets and a silky backside. Edgy separates included hip-slung skirts, puffy sweaters, play shorts, leather trousers and relaxed-fitted overall dresses.
In only one season, Phelan has reinvented the brand into a desirable offering. As she gets more comfortable in her position and adds more collections under her belt, it will be exciting to see how Topshop Unique develops. Keep your eyes on this brand.
This article was contributed by Annette Tang of the VersaStyle. You can follow Annette and her fashion adventures on Twitter at @theversastyle.
Tagged in: london, runway, topshop unique, ready-to-wear, london fashion week 2012, london fashion week fall 2012, kate phelan,