L'Oreal Melbourne Fashion Festival: Karen Walker
While Karen Walker regularly showcases her collection at New York Fashion Week, she lives in New Zealand and doesn't forget about the Down Under, hence her participation at L'Oreal Melbourne Fashion Festival. Walker is an established brand known for its original, effortless and unpretentious style. She teeters between extremes of tailored and street wear, masculine and feminine and dark and cute. Yet, these vibes come together for an easy coolness that she's got nailed down.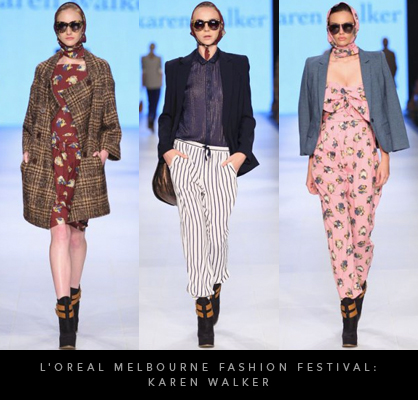 LadyLUX via LMFF
Walker's collection presented at L'Oreal Melbourne Fashion Festival took inspiration from "Taxi Driver," the film that portrayed the 1970s grimness of New York City. While the ensembles were not grimy, they boasted a menswear look with boyfriend blazers and slouchy trousers but remained fresh with Walker's array of fun patterns. With her signature style, she mixed and matched the different elements. Tan jackets were paired with sea foam green printed loose pants, tactile wool coats combined with ladylike graphic dresses, striped trousers were styled with sheer blouses and blazers and monochrome suits received fun pops of color with tops.
The designer included jumpsuits in the lineup that suggested her contrasting nature. A semi-sheer Klein blue piece showed subtle texture, a drawstring waistband and a sharp collar. The sleek masculine note was further punctuated with a strong shoulder gray blazer. Contradicting the menswear, a light pink patterned jumpsuit embraced femininity. The style played up the sweetness with an unstructured bow at the strapless neckline.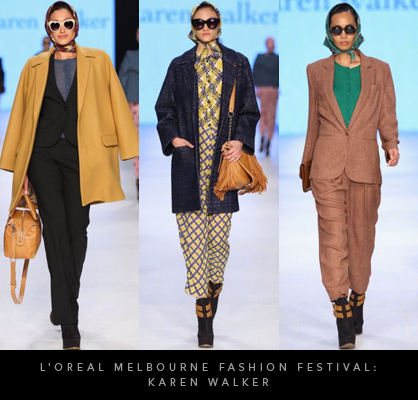 LadyLUX via LMFF
To complete the looks, Walker styled the models with oversized sunglasses and printed headscarves, embodying a bit of retro glam.
Walker's collections are always chalk-full of details, prints, shapes and colors that could cause confusion with other designers, but she pulls it off with ease time and time again. This collection was no different.
Tagged in: runway, australia, karen walker, ready-to-wear, melbourne, australia fashion, l'oreal melbourne fashion festival,