Love Your Partner, But Dislike His Friends?
It's a common problem
Dislike your partner's friends? You're not alone. It's common for women to not be fond of their boyfriend's buddies, often because they drink too much, stay out too late and, frankly, take time away from their dating life.
But face it. This isn't a healthy way to live. Your mom was right. Your friends are a reflection of who you are. If you like your boyfriend, but dislike his friends, there's a problem brewing.
Our experts share their suggestions on how to overcome this potential relationship landmine.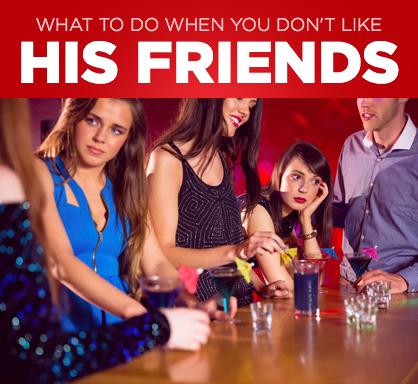 Acceptance is key
"Be willing to learn how to accept him and his friends, without overdoing it," said Lisa Bahar, a relationship therapist. "Setting healthy boundaries with your partner, if he is acting like a single guy while in a relationship with you, might required you to get some counseling if you are unable to communicate."
It's important to note that one of the challenges of being in a relationship with a man that values his "bros" is that you'll need to help him balance the reality of being in a relationship with his needs for guy time.
Avoid trying to fit in too much, but also make efforts to know his friends and their girlfriends. You want to be yourself, but also open to getting to know these people better. After all, they matter to your guy, and that should matter to you.
Check yourself first
Tamaa Suttle, a licensed professional counselor, said that her first response to clients with this problem is "check yourself."
"Many times your initial knee-jerk responses are triggered by others who are simply reflecting a trait or characteristic that you possess and don't like. By taking the time to reflect on what those traits are and how you manifest those in your own life, those triggers can actually help you clean up / change your own life," Suttle said.
"However, if the dislike does not stem from your own need to clean up, and, instead it relates to safety concerns about your partner, yourself, or others, I would encourage you to pay attention and share your concern. Any loving partner will be able to hear your concerns, weigh the risks and benefits, and make a better informed choice because you have expressed your concern," Suttle said.
Samantha Rodman, a licensed psychologist, agrees with this concept.
"If you dislike your partner's friends, you need to think deeply about why they affect you. Most of the time, when you feel intense dislike for someone, it is because they are triggering a fear or insecurity. It is possible that the most unlikable of your partner's friends make you wonder if he is secretly more like this friend than you'd like to admit, or you worry that this friend might encourage your partner's infidelity or dissatisfaction with the relationship, or that this friend seems to dislike you," Rodman said.
"Overall, try to be warm and friendly to your partner's friends, but also don't allow anyone to be disrespectful or rude to you. If friends do act rudely to you, speak to your partner about it and express that you are upset. Usually, unless you are always disparaging his friends, your partner will feel protective of you and will speak to his friend about treating you better," she said.
Whatever you do, give your partner's friends a chance, and you might just end up making some new friends yourself. At the very least, you'll have more fun at group gatherings and feel more comfortable when he hangs out with his guys without you present.
Tagged in: relationships, boyfriend, friends, dating issues,