Lucchese boots: Discover your inner cowboy
Lucchese Boot Co. may have its roots in making boots for cowboys, but today the company produces stylish options any gal would be excited to add to her footwear collection.
In 1883 an Italian family – named Lucchese, of course -- came to Texas to found the boot business; the brand originally focused on producing boots for ranchers and cavalry. As the cavalry customers traversed around the nation, they spread word of the shoemakers. Soon Lucchese boots attracted the attention of several movie stars, and business soared.
Still entirely handcrafted, their boots nowadays are both fashionable and versatile – and incredibly comfortable.
Founder Sam Lucchese was fascinated by how the human foot functions. He developed a "last" (the mold that forms the shape of the boot) that successfully mimics the way the human foot works. The result? Blissful comfort.
"We're well-known for you putting on a pair of our boots and them being the most comfortable pair of boots you'll ever wear," Mario Vega, director of marketing, reported. "And that's why people will be in our boots for 8, 10, 12 hours a day and not complain about it, because they are extremely comfortable because of the last we use." (Imagine wearing a stylish boot for hours without your feet feeling a thing!)
Once the designers have crafted the look, the boot design is sent to the cutting area where the skin is selected then cut according to the customer's specifications. The parts are stitched together to build the boot.
From there the boot goes to quality control to determine if the leather is good and that there are no scratches or tears. The boots are turned inside out, a last is inserted, and the handtooled leather is hammered around the last.
The boots are "lemon wood pegged," which means that the worker does not stitch all the way to the heel, giving your foot the flexibility it needs when you walk.
Faithful to the Lucchese tradition, the entire process is done by hand in Texas, and the boots are an all-leather product, crafted with premium leathers and skins only. The boots also stay true to their Western roots, still having a cowboy look.
"Our company was founded on the Western heritage so we definitely have a lot of market share in the Western arena – ranchers and cowboys and cowgirls and riders – but we also have a large celebrity following and we have a lot of people who just want a fashion boot, something that looks cool but not necessarily has a Western feel to it," Vega explained.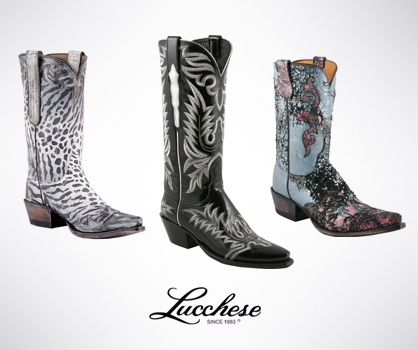 Each Lucchese boot is created exactly as the customer desires, which could include imprinting a name on the boot, customizing colors and using select skins.
"Some people just want something unique and different that they're not going to pick up off the shelves," Vega said. "Like 'I like the top of that boot' and 'I like the bottom of that boot' and 'I want it to be this color stitching instead of that color stitching.'"
Walk into a Lucchese outlet, make your own design and have it shipped to you within a few weeks. Customers can also be confident that every pair is built to last for decades.
Vega pointed out that boots are no ordinary shoe: They come with attitude. "When people put on a pair of boots, they kind of get this swagger about them for some reason. You get this really cool pair of boots on, and they don't fit like a regular pair of tennis shoe or dress shoe, (giving) this notion that you can be a little different or (that the boot) brings out the personality in you," he said.
With a range of styles, Lucchese offers something for practically any boot lover. Its exclusive, high-fashion line Diva features 125 pairs of handmade boots with exquisite details such as studs and unique leathers. The collection is limited-edition—only one pair is offered for each style – but is affordably priced at $400 to $700.
For those searching for something truly special, Lucchese offers a top-of-the-line classic collection priced from $700 up to around $25,000, with many choices falling in between $5,000 to $8,000.
And new ideas are constantly in the pipeline. "Just like any artists, (our designers) can get their inspiration from the littlest, most mundane things they see and it will spark a new design for a boot," Vega said. "We're a very open factory. Anybody who has a unique idea can put their own mark on a boot and make it up."
Lucchese is expanding into new markets with its edgy, contemporary collection Spirit, a completely new venture for the company.
"We have a large share of the Western market, and we know that there are a lot of other markets out there that are non-Western as far as footwear is concerned," Vega explained. "We want to expose ourself to people who may not even know who we are." The company is hoping to launch in doors such as Neiman Marcus and Bloomingdales.
While Vega says the label will never stray too far from its Western heritage, the company is excited to be branching out.
"Obviously we've been around for over a 125 years, so our business platform has been working well for us, and we are ready to now venture out and show the world who we really are and what we can do and (that) we're really not just about cowboy boots anymore," Vega said.
Check out all the styles at www.lucchese.com.
Tagged in: lux exclusives, boots, lucchese, lucchese boot co,