The largely ignored face of lung cancer
Diane Legg was a social smoker for only a few years during her youth. So imagine her surprise when she was diagnosed with lung cancer at the age of 42. Her case is far more typical than one may imagine. Sixty percent of lung cancer patients are former smokers who may have quit decades ago, 18 percent are never smokers and only 20 percent are current smokers.
This Lung Cancer Awareness Month, learn the surprising face of the largely ignored disease that kills almost twice as many women as breast cancer and more than three times as many men as prostate cancer.
Legg began smoking in late adolescence, somewhat unaware of how unhealthy the habit was. A casual smoker, she was not labeled high risk for lung cancer because she did not have a "pack history."
"I was a kid, in my late teens. Back then, a lot of people smoked. It was a social thing. I don't remember what was in my head back then. I was 17 years old. It probably was a little (glamour)," she explained.
She "didn't really smoke all that much" and wasn't concerned. She quit in her twenties. But perhaps it was too late.
Legg stumbled upon her diagnosis by accident. While picking up her toddler son, she pulled a back muscle. A doctor performed a CAT scan and found a nodule on her left lung.
"They said it was nothing to worry about, that you don't have the risk factors for the disease, that we will monitor it," Legg said.
Another CAT scan a month and half later revealed the lump had not changed, so her doctor ordered a biopsy. Going into the biopsy, the doctors reassured her: They were certain it wasn't lung cancer.
That's when it happened. "We got the call, my husband and I, the call that we never expected to get that I did, in fact, have lung cancer," Legg said. She was floored. Just a few months ago, a close friend had also been diagnosed – despite being a nonsmoker.
"I had never heard of a young, healthy, nonsmoking person getting lung cancer. So I thought it was a fluke … there's no way," Legg said of the diagnosis.
Like many, she did not know the statistics of whom lung cancer affects and why.
"Lung cancer was not on my radar. It is a disease that has not been in the public. Not talked about. So yes, I was shocked. And I was extremely scared, because what I did know about lung cancer was that it was a very bad cancer to get and that the cure rates for lung cancer (are) not very high," she explained.
Unfortunately, she was right. Eighty-five percent of people diagnosed with lung cancer die within five years.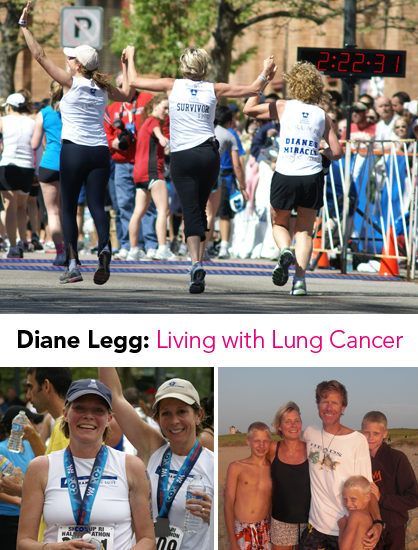 via Diane Legg
From the numbers, it is clear that factors other than tobacco are at work. Both genetic and environmental factors have been found to play a part in causing the disease.
"We know tobacco is the underbelly of lung cancer, but there's just so much more to the disease than that," Kay Cofrancesco, director of advocacy relations at the Lung Cancer Alliance, said. "About 10 percent of smokers get lung cancer. That's it."
Yet the public and the medical community persist in viewing lung cancer through the lens of smoking.
"The public health establishment has virtually ignored lung cancer in terms of looking at it in its entirety … It's only been looked at as tobacco cessation and prevention and not through the continuum of early detection and treatment," Cofrancesco said.
One big battle of lung cancer is overcoming the stigma that causes the disease to be less talked about and less researched.
"Lung cancer has a very high stigma associated with it because of the smoking connection," Legg said. "But it is something, quite frankly, that our society has put on this disease. And many people diagnosed with lung cancer are embarrassed by it because if they did smoke at some point in their history, in their life, even if it was decades ago, society has put a blame on them and they have carried that blame." Tolerance and compassion are the keys.
"It doesn't matter if (patients) smoked or not. They need to be treated with the same compassion and support no different from any other disease," Cofrancesco said.
Legg's treatment included a lobectomy, in which the upper lobe of her lung was removed, and several rounds of chemotherapy. But the disease returned, and she now has nodules on both lungs that are slowly growing.
She is asymptomatic and living with lung cancer, trying to buy more time before going on a new therapy. All she can do is wait and watch the tumor grow.
Through it all, Legg keeps a positive attitude: "I'm looking forward in my life and not backwards."
"Nothing in life is guaranteed," the lung cancer survivor said. "But there are a lot of people today living very well with a chronic illness and that is the way I look at it myself. Instead of being afraid of having lung cancer, I'm trying to be very proactive … If anything, it has helped me with a much better life because I really do feel I am giving back and giving a voice to this disease."
She has dedicated the past six years to advocating for those with lung cancer, starting a Shine a Light vigil in Boston, running marathons, organizing awareness events and more. Her message: Get screened. CAT scans can pick up cancer at the earlier stages.
"Even though it came back, we caught it early and I had options to choose from," Legg said. "That's something late-stage lung patients do not get. If you are at risk, talk to your doctor. The sooner you can catch lung cancer, the higher probability that you can be cured from it."
The experience, of course, has changed her life. "Every day is a gift. I live more in the present than I ever did," she declared. She refuses to let the disease define her.
The Lung Cancer Alliance is the only national nonprofit providing support and advocacy for those living with lung cancer. Combining awareness building, advocacy and outreach, its programs include peer-to-peer phone support, an information line, a website full of educational materials, publications, clinical trials matching services and more.
The important thing, Cofrancesco said: "There is hope, there are survivors, and we need people to come together and take action."
For more information about lung cancer, visit www.lungcanceralliance.org.
Tagged in: lux exclusives, nonprofit, philanthropy, cancer, lung cancer, lung cancer alliance,