LUX Astrology: Aquarius
A new year and a new birthday are both great ways to have a fresh start. Lucky for Aquarius, your birthday celebrations begin now, January 20 - February 18, and we've got your fashion and predictive horoscope for you.To celebrate your birthday month, take a look at our fashion picks for your sign and read what astrologer and psychic Tara of Intuitive Tara said is in store for Aquarius.
Fashion-Scope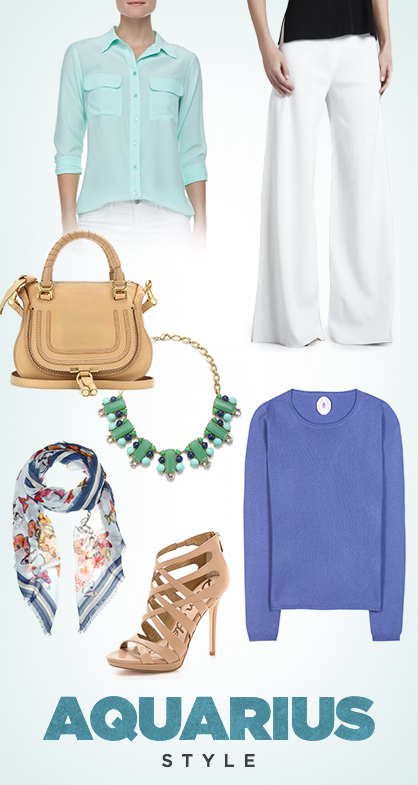 Alexander McQueen/ Butterfly Scarf
Jardin des Orangers / Cashmere Sweater
Misook / Wide Leg Pants
Equipment / SeaFoam Blouse
Sam Edelman / Strappy Sandals
Chloe / Nude Bag
Gerad Yosca / Green & Blue Necklace
If you've always been drawn towards blues and greens, chances are you might be an Aquarius. This pastel blue sweater would be the perfect piece for this sign who loves light colors and knows how to rock anything from a formal look to a laid-back outfit. She's known for loving patterns and unique pieces, so this Alexander McQueen butterfly scarf would satisfy any Aquarius. To play on the love of green hues, add this statement necklace featuring sea foam green pendants. Tie the whole look together with a classic Aquarius look by adding a pair of nude strappy heels and a satchel.
Predictive-scope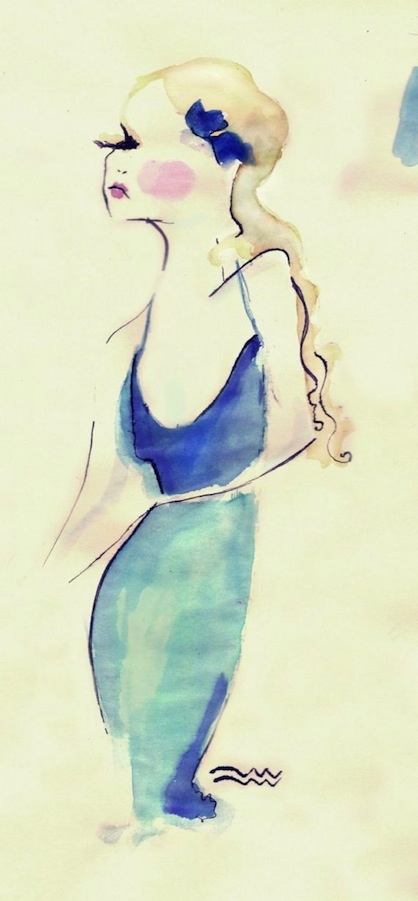 Now is the time for Aquarius to discover new opportunities. Beginning this month, you're going to be on an event trend going out and about attending weddings, baby showers and graduations galore. Who knows you might even meet someone between February 15-17. Get ready for all the action by putting good food into your body, because you're going to be more aware of your body than ever before. Aquarius better be prepared to wear their foodie badge with pride since this month in particular you'll be drawn towards good eats. Who knows, it may be time to start your foodie blog.
You may begin to redirect and prioritize your goals. Begin thinking about what you want and how you want to achieve your goals. If you feel a stronge urge to learn something new, now is the time to do so. Toward the end of February, into April, take a class or attend a seminar on a new subject. Reward yourself by taking a getaway, because the time to travel for Aquarius is from February to March.
Read more Lifestyle.