LUX Beauty: 5 Fall 2012 beauty trends
After Summer's sheer complexions, light colors and metallic shades, it's time to take a go at some of the new Fall beauty trends. From deep red lip shades and rosy nail tones to wing tip eyes and amethyst and gold color combos, there is a special trend for every girl to make her own. Here are five Fall 2012 beauty trends that will have you excited to take on the new season in a very pretty and very modern fashion.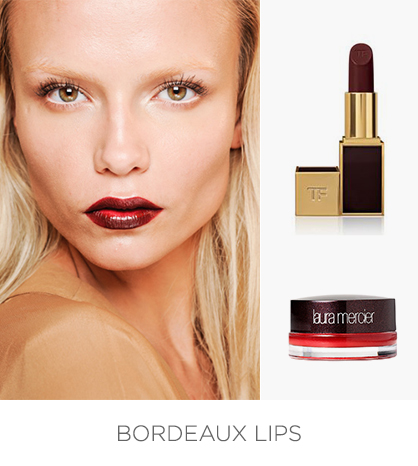 The Fall season always calls for a bold lip. Make your lips bolder than ever with a modern lip color in Bordeaux or oxblood shades. These wine and burgundy shades work with any skin tone and call for attention any time of the day. Keep this lip color one shade lighter during the day and slick on the glossiest of clear lip gloss over your lipstick for an extra oomph of glamour at night. The silky consistency of the Dior Addict Golden Jungle lipstick in Daring is a great daytime Bordeaux shade while the oxblood shade of the Tom Ford lip color in Black Orchid has the power to define your entire Fall ensemble. Still too afraid to take on such an out-there color? The Laura Mercier Lip Stain in Mulberry is your perfect product to try a berry-red color in baby steps.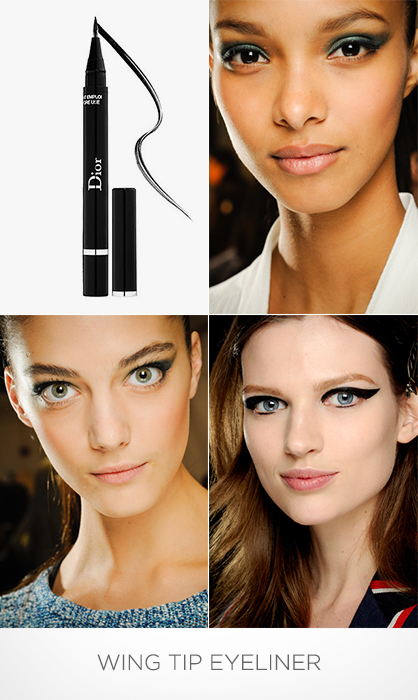 Wing tip eyeliner is flattering every season of the year. But Fall is the time to use this trend to your advantage. Eye shadows in dusky shades can be used to create the cool cat-eye with extra contouring and shading, while jet black liquid eyeliner is the focal point. The Dior Liquid Eyeliner will give you total control over how dramatic you want your wing tip to be. It also delivers precise contouring and a flawless line every time. For a shaded effect to add to your feline eyes, use a long-lasting cream liner to spread out beyond the main line. The Sephora Waterproof Smoky Cream Eyeliner in Made in Manhattan is a smoky sapphire shade with a blue shimmer effect.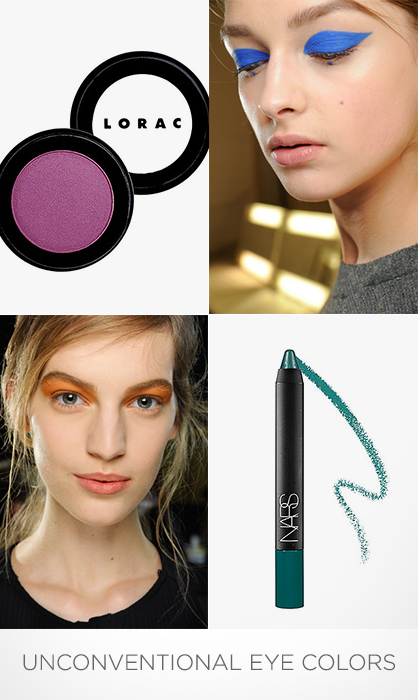 The runway has produced some loud and look-at-me eye shadows in audacious colors like tangerine, neon blue and lime green. Take a different approach by trying one of these unconventional colors with high pigments. Lorac's eye shadow in Shimmering Fuchsia is a bright and glittering shade sure to brighten your eyes. Another cool way to put a daring color spin on your eyes is with the Nars Soft Touch Shadow Pencil in Heat and Celebrate.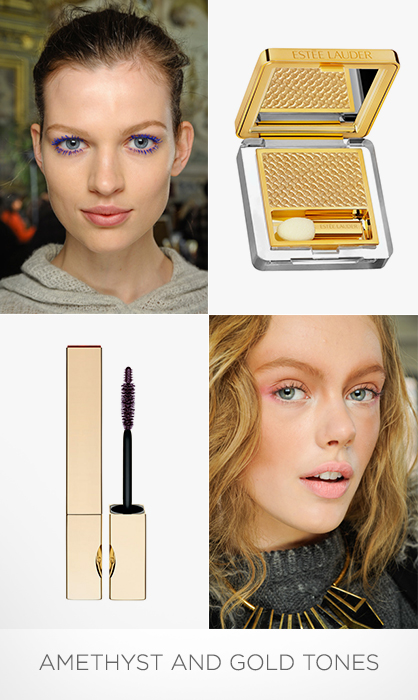 The new color duo for Fall, amethyst and gold, is so rich that it can easily be worn all the way into the holiday season. Take this duo to new heights by using the entire spectrum of purples and golds from gold eyes and mauve lips, bronze eyes and rose lips, plum eyes and bronze lips or by mixing gold and purple eye shadows and mascara. The Estée Lauder Pure Color Gelee Powder Eye Shadow in Cyber Gold and Electric Orchid are the perfect shadows to master this color combination. For amethyst lashes with definition, volume and intense color, use the limited edition Clarins Instant Definition Mascara in Intense Plum.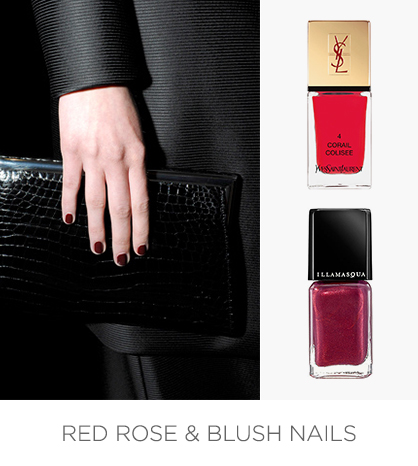 Red nails are every girl's glam nail color. Spice up your nails or soften them by using colors within the entire red spectrum. From pinky-nude nails and rosy-red nails to blood-red nails and Bordeaux nails, all shades of red and pink are the must-have shades for the Fall season. The Yves Saint Laurent La Laque Couture Nail Lacquer in Corail Colisee and Corail Divin are shiny and fainter red shades for a softer effect. For a dazzling nail color with cabernet coloring, try the Llamasqua Nail Varnish in Scarab for a metallic and ruby effect.
Tagged in: trends, guides, lux beauty, makeup, beauty, fall 2012, oxblood, bordeaux, red rose nails, fall 2012 beauty trends, amethyst and gold, unconventional eye shadows, wing tip,