LUX Beauty: 5 Wild Beauty Trends
If your summer beauty routine revolves around the "less is more" look, it never hurts to spice it up with one or two eye-catching trends. You don't have to be wearing a costume to wear wild makeup. LadyLUX gives you five bold beauty trends to help bring out your inner wild child. Whether you want to bring some attention to your brows or add a cool color to your locks, play up any of your features with some beauty trends that are totally out-there!
Bold Brows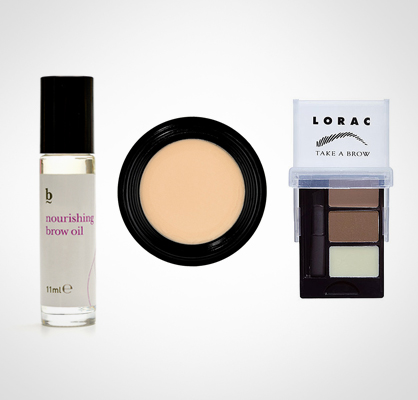 via Blink, Smashbox, Lorac

Eyebrows aren't the first facial feature that come to mind when you want to accentuate something, but there are ways to emphasize your brows in a shocking manner. Try a heavy coating of a brow tint to add color dimension to your natural brow hairs. Brows one shade darker will give your face definition and create a bolder look. Use a pencil to structure the brow shape, then fill in with powder brow shadow. You can even add in some shimmer for a dazzling effect. For more control over color depth of your brows, use the Lorac Take a Brow kit with two shades of brow colors and a wax for all of your on-the-go brow essentials. The Blink Brow Bar Nourishing Brow Oil and the Smashbox Brow Tech Wax are great options for setting your brows into place for the day. Brush your brows upward for a textured and attentive look.
Luminated Lips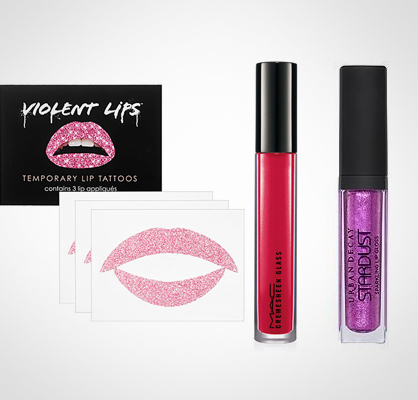 via Violent Lips, MAC, Urban Decay

Your lips can be just as much of an attention getter as your eyes. Use them to your advantage by wearing some popping lip colors. Lather your lips with unconventional shades for an eccentric appearance then add extra sparkly gloss like the Urban Decay Stardust Sparkling Lip Gloss in Glitter Rock. The iridescent dark purple color will definitely steal the show and make your lips look luscious and wild. For high impact color, try the MAC Heavenly Creature Crème Sheen Lipglass in Astral. For the ultimate wild lips, go all the way with some temporary lip tattoos by Violent Lips in Pink Glitterati. You will surely make a grand entrance to that summer soirée.
Nail Art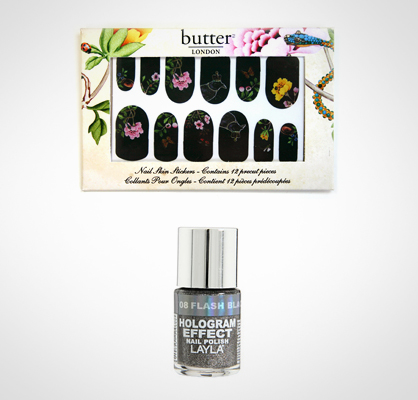 via Butter London, Layla

Nail art has become a big business with the numerous DIY tutorials and at-home products. Try all the different nails art trends to see how creative your digits can become whether its rhinestones, beads or studs. Explore interesting nail polishes with textures and multiples colors like the Nails, Inc. Special Effects Sprinkles Nail Polish in Sweets Away that features pastel pink, blue, white and silver sprinkles. Or check out the Layla Hologram Effect Nail Polish in Mercury Twilight that captures light and transforms it into liquid swirls and rainbows. Nail polish decal strips have also become popular because of their convenience. Just peel them off and stick them to your nails for instant results. Try the Sally Hansen Salon Effects Nail Polish Strips that come in 24 wild colors, prints and styles. Butter London also has their own version of the nail polish strip called the Wallpaper Nail Skins featuring cheery flowers and birds.

Eye-Catching Eyes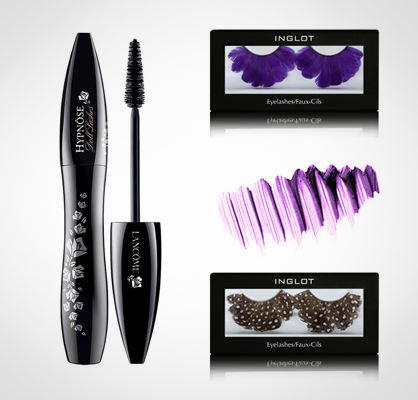 via Inglot, Lancome

There are endless ways that you can add wild colors and creative accents to play up your eyes. Use fake lashes made of different materials for added drama on that extra special occasion of the summer. Fake lashes boasting feathers, tinsel or glitter, instantly add some flavor and bring attention to your face. Eyeshadow is unnecessary because the lashes speak for themselves. Try the Inglot Faux Eyelashes featuring purple and natural brown feathers as an exotic way to spice up your beauty routine. Not one to wear false lashes? Play it a bit safer with some brightly colored mascara. Try the Lancôme Hypnôse Doll Lashes Mascara in So Purple! Cake it on your lashes for maxed out color and an edgy look.
Haute Hair & Fierce Facial Accents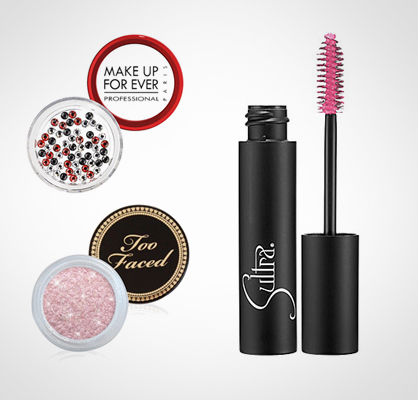 via Too Faced, Sultra, Make Up For Ever

What better way to show your wild side than with some sparkling effects? Bedazzle yourself by adding some jeweled facial accents around your eyes, as alternate eyeliner on your lash line, on your cheeks, or by creating an intricate design on your back or arm. Use the Make Up For Ever Strass Jewels to provide drama to your makeup. Everyone loves glitter! So make everyone happier by incorporating colored glitter or heavy shimmer on your eyes, cheeks, décolletage or hair. Use the Too Faced Glamour Dust Glitter Pigment for high impact sparkle and extra oomph. Brightly colored locks of hair never cease to amuse people. Use the Sultra Color Hair Mascara in shades of Ultra Pink, Capri Coral, Lapis Blue and Royal Velvet to kick up your beauty a notch or two! This temporary, lightweight hair color has the power to stay in for up to two days. It is easy to apply and easy to wash out with shampoo.


Read more LUX Beauty.
Tagged in: lux beauty, makeup, nail art, 5 wild beauty trends, bold brows, eye catching eyes, fierce facial accents, luminated lips, haute hair,