LUX Beauty: Spring & Summer 2012 Cosmetic Collections
We have all been waiting for the new cosmetic collections of the sunny seasons and they are finally here! LadyLUX has found the best Spring and Summer make-up to help kick-start your beach beauty routine. With so many sparkling and glittering shades, you won't know where to begin!
Spring 2012 by Tom Ford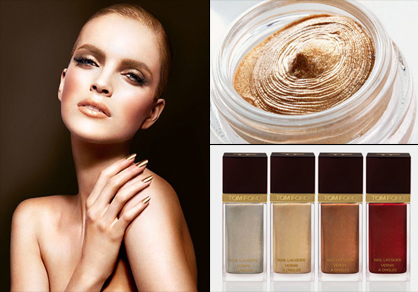 via Stylesight
Tom Ford's Spring 2012 cosmetic collection steers clear of the season's usual brights and pastels by introducing shades of molten metallics like silvery smoke, burnished gold and shimmering copper. The collection creates a look of sensual radiance with the smooth and long-wearing Cream Color for Eyes, metallic nail polishes with unique mirror pearls and the Gold Dust lip lacquer infused with gold-pearl particles.
Khol Collection by Dolce & Gabbana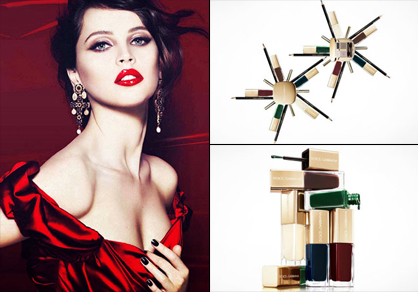 via Stylesight

Inspired by aristocratic wildness but geared towards the young and adventurous D&G lover, the new Dolce & Gabbana Khol Collection consists of bold and dramatic colors. Five new khol eye pencils headline the launch and emphasize the look of a sultry and smoky eye. Deep shades of shimmering black, chocolate, teal, taupe, navy and burgundy are also available for your nails and eyes.
Summertime 2012 Collection by Yves Saint Laurent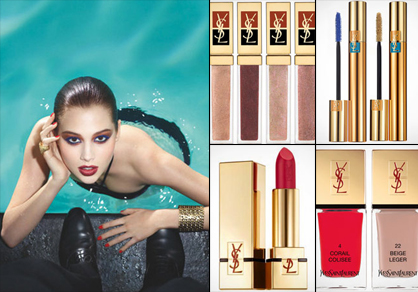 via Stylesight

Inspired by the idea of a chic YSL woman lounging by the swimming pool, the Summer 2012 Collection features several new technologies. For instance, the "Sun Radiance" pigments in the Terre Saharienne Collector bronzing powder capture light for a golden reflection on the skin, while a water-process technology in the Pure Chromatics eyeshadow provides dramatic shades ranging from cool colors to warm pinks. For intense eye color impact, use the bright blue waterproof mascara and define your eyes with a pop of blue eyeliner. Compliment your eyes with a wild red or coral lip color.
Beach Lover Set by NARS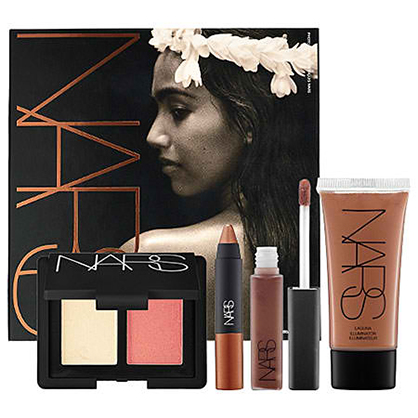 via Sephora

The NARS Beach Lover Summer set contains travel sizes of five iconic shades that will leave you feeling tropical. Begin your Summer look with the Illuminator in Laguna for a golden-brown glow and continue with a duo blush set of Orgasm and Hungry Heat for a peach and golden glimmer. Top it off with the iridescent copper shade of the Soft Touch Shadow Pencil in Skorpios and the limited-edition Laguna lip gloss.
Chen Man Love & Water by MAC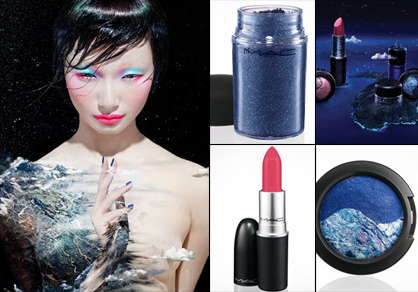 via Stylesight

The latest MAC collaboration with Chen Man is entitled Love & Water and displays a true East-meets-West make-up collection. The color palette features a sea of blues with aqua, cobalt and navy, inspired by the Mandarin blue found on Chinoiserie plates. Adding dimension to the blue hues are marbled accents of violet, bronze and peony pink, which signifies love.
Mad Men Collection by Estée Lauder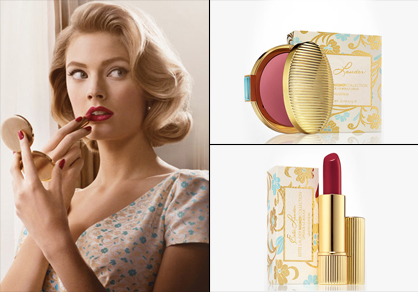 via Stylesight

Estée Lauder has introduced its first limited edition make-up collection in partnership with the Emmy and Golden Globe-award winning drama "Mad Men." Premiering with season five of the show, the Mad Men collection includes a cherry satin lipstick and a rose crème rouge that displays the sophistication of the era. Both products are packaged in vintage cases and boxes inspired by the legendary 1960s Estée Lauder line.
Croisette Collection by Dior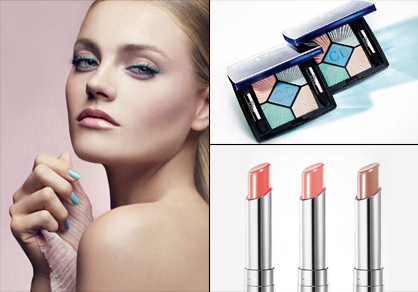 via Stylesight

The Dior Croisette Collection captures the combination of the peaceful French countryside with St. Tropez finery. The Couture Eyeshadow palettes feature sunny and aquatic shades and even sunburst "pleating" mimicking Dior dress pleats. This collection introduces Dior's first eye gloss, which is a gel shadow and gloss in one, in bronze, silver, blue and coral. Nail colors include pink coral and turquoise.
CK One by Calvin Klein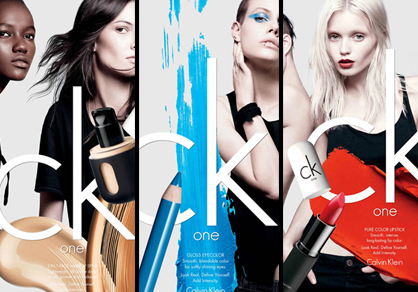 via Stylesight

Calvin Klein's CK One has arrived with a 130-piece cosmetic collection capturing the authentic and cool vibe of the brand. This is the brand's first color collection for men and women since 2008. The line is arranged into three categories of Look Real concealers and foundations; Add Intensity shadows; lipsticks and glosses and Define Yourself blush, bronzer and mascara.
Wanderlust Tropics Collection by bareMinerals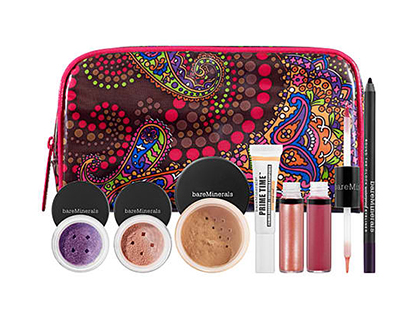 via Sephora


The bareMinerals Wanderlust Tropics Collection will give you a full array of beachy and shimmering colors that get you in the mood for Summer. Inspired by a hot Caribbean night out on the town, these vibrant coral and violet eye colors, fuchsia lip colors and golden face colors will create your perfect exotic look. All of the products can be placed in a festive paisley-print cosmetic bag that will look great with your beach bag.
Summertime de Chanel 2012 Collection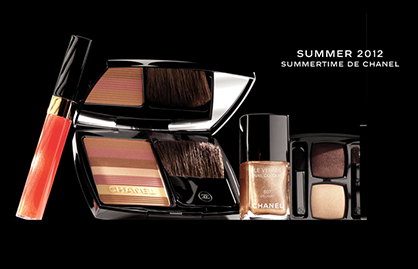 via Chanel


The Summertime de Chanel 2012 Collection is a luminous palette inspired by the warmth of the sun. The collection contains many limited edition products in beautiful sunny and sparkling golden hues. The glossimer in Calypso, bronzing powder in Sable Rose, intense eye pencil in Pêche Cuivré and glittering nail color in Island are the perfect pieces to start your summer make-up collection.

Tagged in: guides, lux beauty, spring, cosmetics, summer, chanel, ysl, 2012, mac, collections, make-up, d&g,