LUX Beauty: Top 10 Sunscreens
No one looks cute with a sun burn! May is Melanoma Awareness Month and it's time to buy the right sunscreen that is perfectly suited for you. Whether you like an all-in-one sunscreen, a facial sunscreen or a sunscreen with some coverage to it, we've found them all. Lather up with one of our top-ranked sunscreens, ban those sunrays and have some fun in the sun!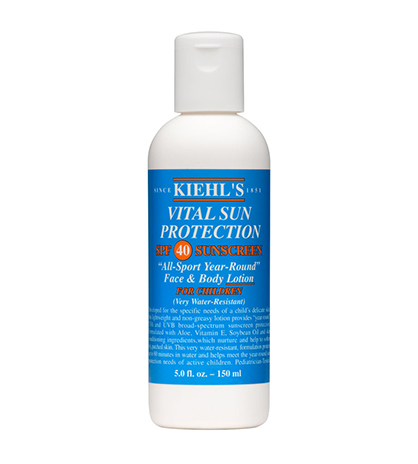 via Kiehl's
Kiehl's Vital Sun Protection Lotion with SPF 40 can be put over your entire body for the perfect lasting sun ray protection. It's delicate enough for a child's skin and formulated with Aloe, Vitamin E, Soybean Oil and skin conditioning ingredients that nurture and soften dry, parched skin. This lightweight, non-greasy formula will protect your skin for up to 80 minutes in the water.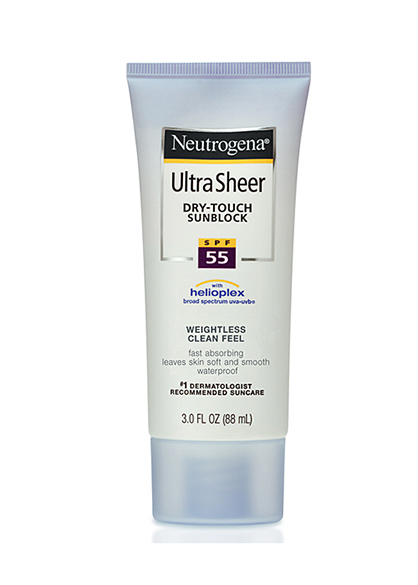 via Neutrogena
It's always a good idea to keep this classic, low-priced sunscreen in your bag. The Neutrogena Ultra Sheer Dry-Touch SPF 55 Sunscreen with Helioplex will always get the job done. It contains the latest in UV technology, delivering unbeatable protection against UVA rays from the deepest part underneath your skin's surface.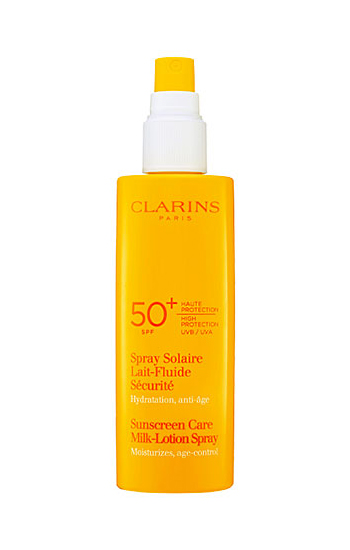 via Clarins
The Clarins Sunscreen Care Milk-Lotion Spray with SPF 50 is a high-protection sunscreen for your body. This lightweight spray is water resistant, perspiration-resistant and formulated for skin that is sensitive to sunburn.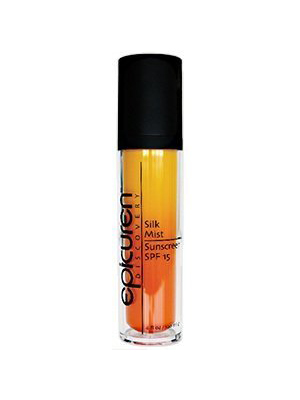 via Epicuren
Mist on some Epicuren Silk Mist Sunscreen with SPF 15 that features an innovative technology that condenses UV absorbers inside a micro-capsule that mimics silk protein. It prevents sunscreen agents from coming in direct contact with your skin.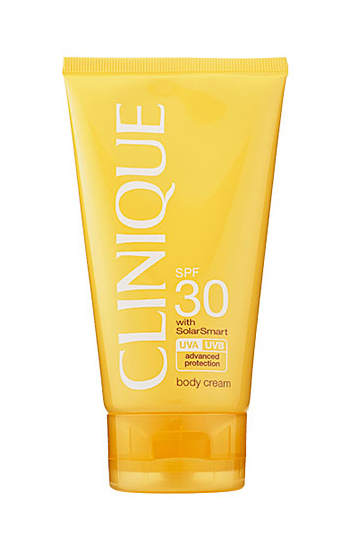 via Clinique
The Clinique Sun SPF 30 Body Cream is a thick sunscreen and contains an innovative Clinique SolarSmart complex that triggers an anti-aging repair process while providing skin with a high level of UVA/UVB defense. There's even a boost of antioxidants to shield skin from environmental aggressors.
via L'oreal
The brand new L'Oreal Sublime Sun Advanced Sunscreen line is an exclusive UV filter patented system that delivers long lasting broad spectrum protection. Use the Sublime Sun Advanced Sunscreen SPF 30 Lotion for a unique and luxuriously sheer skin protector. Infused with powerful antioxidants like white grape seed and Vitamin E, it enhances the sunscreen to keep your skin healthy and beautiful.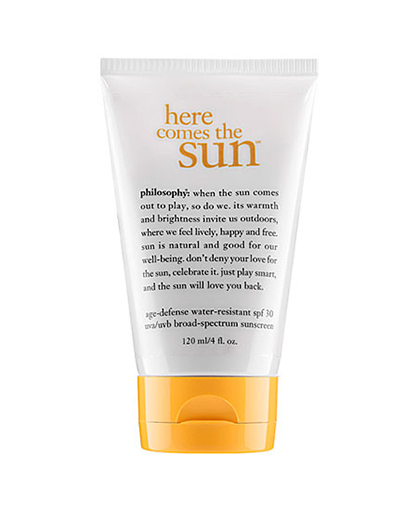 via Philosophy
The Philosophy Here Comes the Sun Age-Defense Water-Resistant SPF 30 Sunscreen has a broad spectrum of sun-filtering protection against all UVA/UVB sunrays. It's oil free, lightweight and non-greasy so it won't rub off quickly. You will also have a lovely experience with this sunscreen because it features a clean, pleasant scent.
via Shiseido
Prevent sunburn, cell damage and premature signs of aging with the Shiseido Ultimate Sun Protection Lotion with SPF 60. This essential UVA/UVB blocking sunscreen is formulated with rose-apple leaf extract, which delivers an antioxidant effect that fortifies skin against UV-caused DNA damage.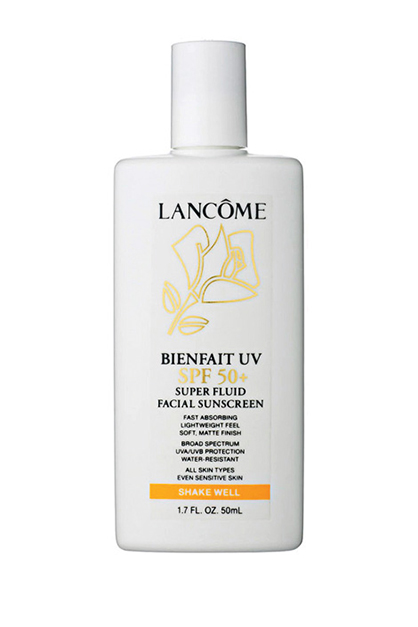 via Lancome
The Lancôme Bienfait UV SPF 50 Facial Sunscreen is good option to wear every day over your moisturizer, under your make-up or by itself. The unique formula retains SPF for up to 40 minutes of activity in the water or perspiring. And best of all, it glides on smoothly and leaves a nice, matte finish.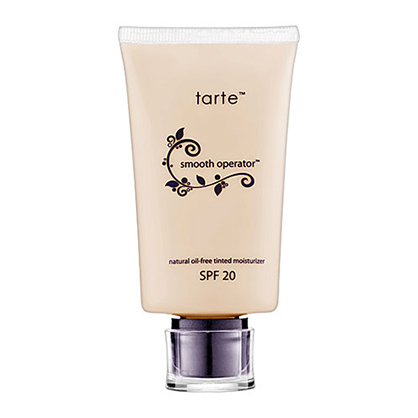 via Tarte
The Tarte Smooth Operator Amazonian Clay Tinted Moisturizer with SPF 20 is a great alternative to wear to the beach. If you won't be wading in the waves all day, why not just look great at the beach? This weightless water-based formula is packed with skin invigorating ingredients. It will keep skin looking and feeling natural and smooth throughout the day.

Tagged in: guides, lux beauty, clinique, shiseido, top ten, spf, clarins, sunscreens, sun, lotions, uvauvb, protections,