LUX Beauty: Top 10 Eyebrow Essentials
To maintain the entire beauty of your face, grooming your eyebrows is a must! Whatever your brow style, LadyLUX gives you ten must-have eyebrow essentials that you need to keep in your beauty bag. From brow pencils, brushes, stencils and on-the-go items, you and especially your eyebrows will be set. Now get going on perfecting those brows!
Brow Pencil
via Sephora
The Givenchy Eyebrow Show Powdery Brow Pencil is a cutting edge beauty tool. The pencil is advantageous in three ways because it glides on gently, has high pigment content and is user-friendly. On one end is the pencil and on the other end is a mini brush to groom your brows into place. Coming in two different shades of Blonde Show or Brunette Show, the pencil caters to your individual brow shade. Apply the pencil dry for a natural finish or damp for a more intense brow shade and definition.
Brow Brush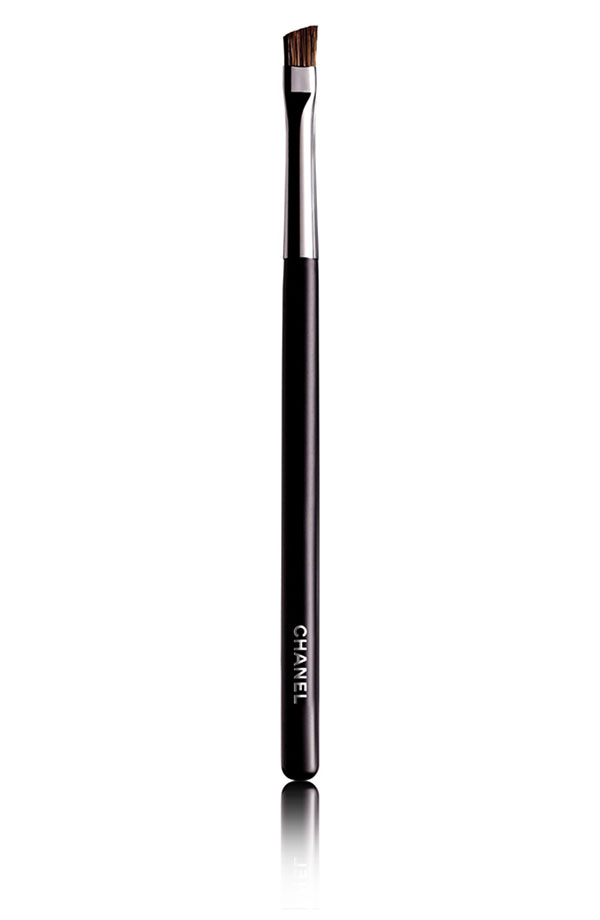 via Nordstrom

Every girl needs the perfect angle brush to give her brows professional-looking results. The Chanel Angled Brow Brush is a professional artistry tool with a slanted shape that is ideal for defining and filling brows with powder shadow. The synthetic-fiber brush has been formed without scissors or razors to give the best of results for your brows.
Brow Gel
via Ulta

If your brows ever look rowdy, set them into place with the Benefit Speed Brow Gel. Tint, tame and set your brows with this brush-on gel that will give you a natural-looking finish with and a color that will compliment all brow shades. Brush the wand onto your brows in light, upward strokes then trace along the contour of your brows with the tip of the wand for a smooth line.
Brow Wax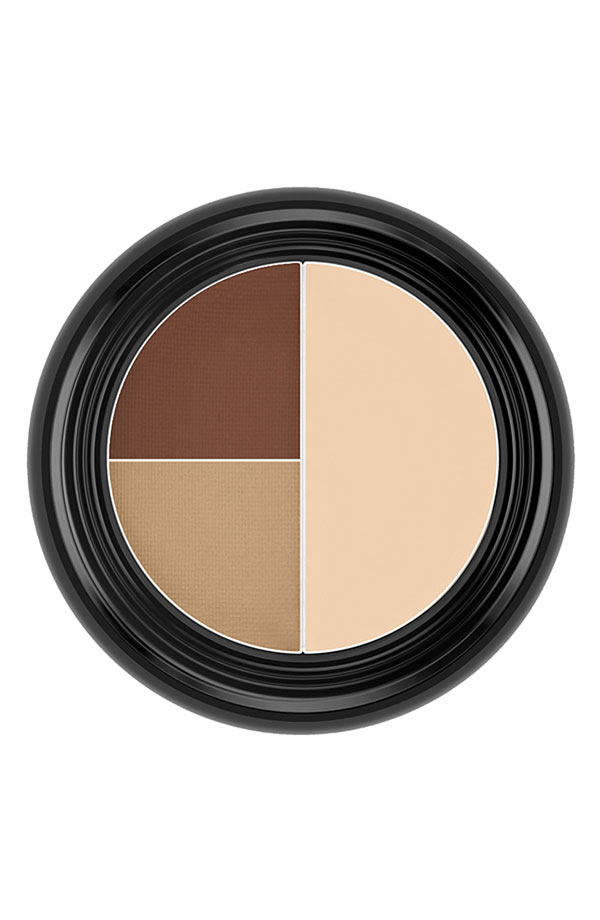 via Nordstrom

More moisturizing and less harsh than a gel, the Smashbox Brow Tech Palette offers your brows a wax instead. Keep your brows perfectly polished with this trio of two shadows and an invisible wax that will define and set your brows for the day. Apply the lighter shade to fill in the entire brow, define with the darker shade and then set in place with the wax. It is available in five different shades so you can match the color to your brows exactly!
Brow Powder Shadow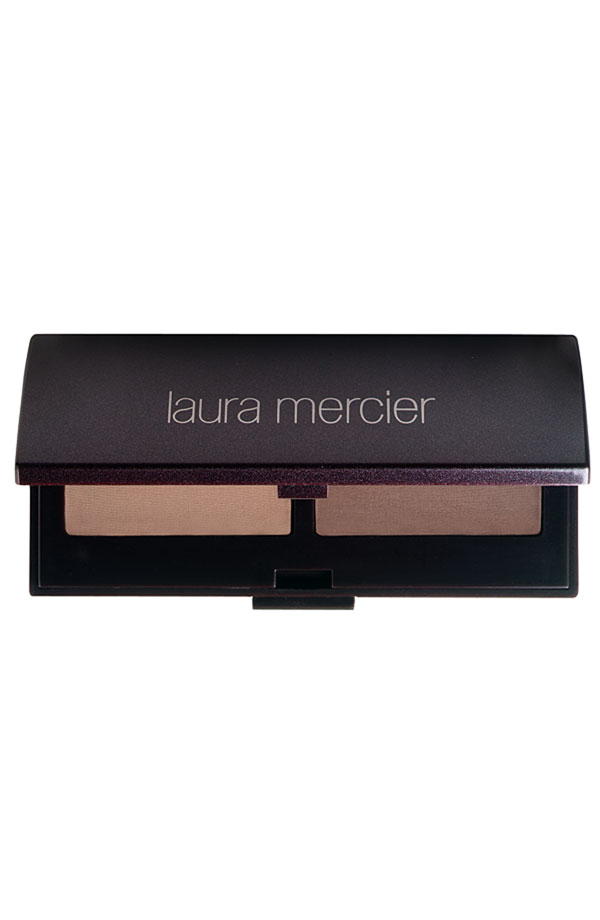 via Nordstrom

For a perfect brow hue, the Laura Mercier Brows Powder Duo can be blended to match your own personal brow color by mixing both shades. Coming in colors of Auburn, Deep Blonde and Soft Blonde, you will be able to create your desired hue wherever you are since it comes with the handy compact mirror.
Brow Stencil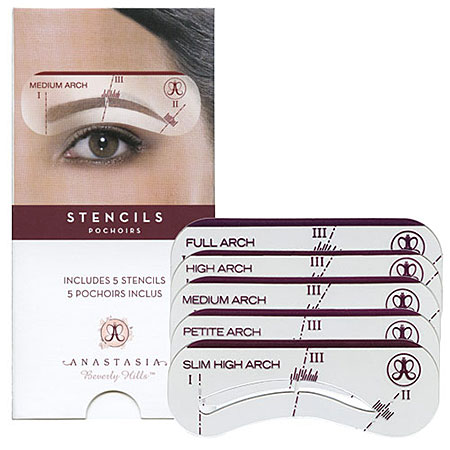 via Ulta

If you have over plucked or grown out your brows, try the Anastasia Beverly Hills Brow Stencils to get them back to their natural shape. These reusable pliable plastic stencils are durable, easy to use and easy to clean. The Stencils will quickly shape and size your brows into a High Arch, Petit Arch, Medium Arch or Slim High Arch. The package even displays illustrated instructions on how to choose the correct brow stencil for you. Use them as a fool-proof guide and simply place the stencil over your brow to outline and fill in with powder shadow.
Brow Enhancer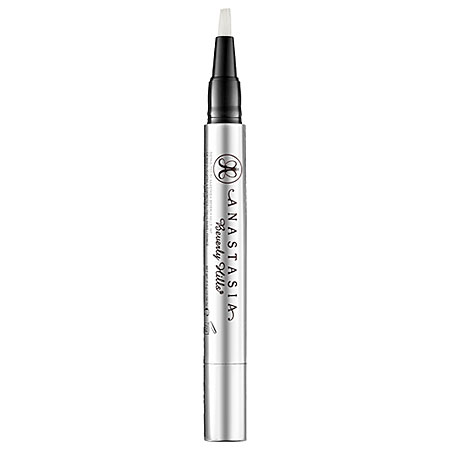 via Ulta

Like eyelashes, eyebrows may need a bit of a boost as well. The Anastasia Beverly Hills Brow Enhancing Serum will help strengthen and condition skin and brow hair. The formula of this advanced brow serum is enriched with peptides, botanical extracts and vitamins that will help you achieve fuller-looking brows with less breakage. The formula is also paraben free and has been clinically proven to encourage thicker and denser brows.
Tweezers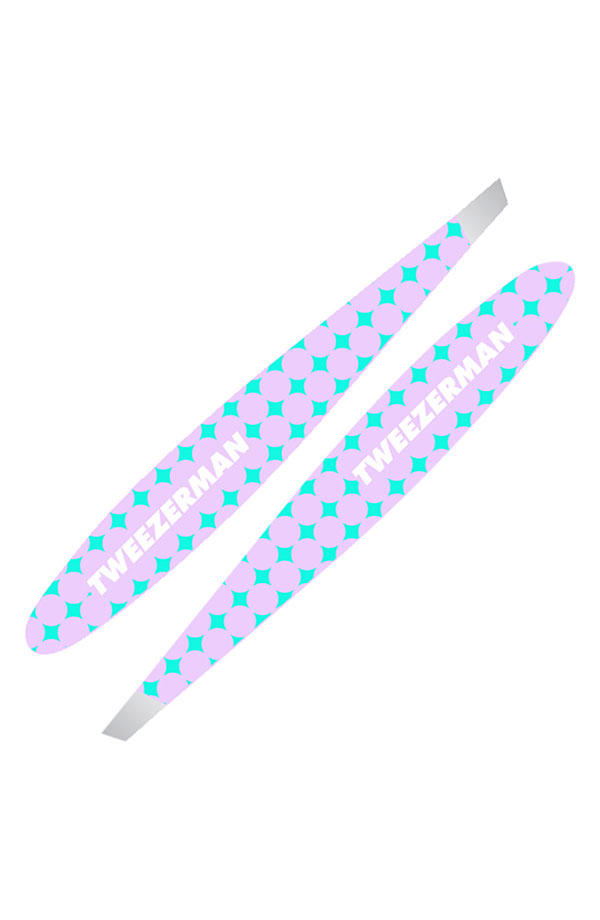 via Nordstrom

As the most essential eyebrow grooming tool, tweezers are your best friend! The Tweezerman Pop-Op Mini Slant Tweezers feature a festive lilac and blue print and can be kept with you at all times for those last-minute hair removal needs. Pesky little stray hairs are not attractive; glamorous brows are, so pluck away with precision!
Brow Box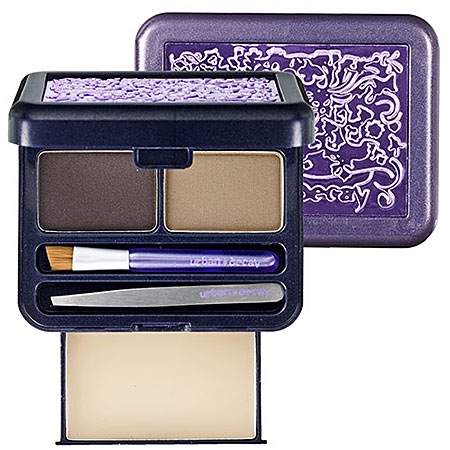 via Ulta

The Urban Decay Brow Box can be kept in your handbag at all times for any needed brow touch- ups. Containing all the brow tool necessities in a petite box withThe petite box contains two shades of powder brow color, high-quality mini tweezers, a mini angled brush and a hidden drawer with wax tucked inside. This palm-sized brow kit is decorated with Urban Decay graphics, contains a mirror and comes in two shades of Honey Pot and Brown Sugar.
On-the-Go Brow Kit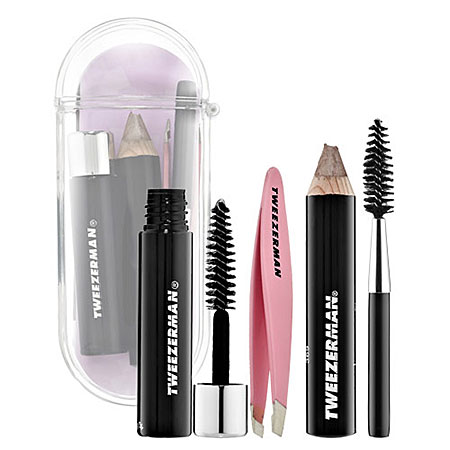 via Sephora

Another noteworthy brow kit is the Tweezerman Mini Brow Kit complete with a miniature slant tweezer, a mini brow mousse, a mini eye highlighter pencil and a mini brow shaping brush. This pint-sized brow quartet is just what you need for all of those last-minute quick fixes and on-the-go applications.

Read more LUX Beauty.
Tagged in: guides, lux beauty, makeup, urban decay, beauty guide, top ten, brow gel, brow tools, brow shadows, eyebrow essentials, anastsia beverly hills, brows,