LUX Style: Crocodile skin
For Spring 2012, skin is in. Crocodile is the latest exotic reptilian to luxe up the runways. The textured scales appeared in neutrals, soft pastels and lively brights, giving outerwear, belts and handbags new life. Lucky for you, you don't have to wait for the new season to add crocodile into your wardrobe. LadyLUX has a jump on the latest trends with these new favorites.
Get ultra glam with Kelly Bergin's croc-embossed pencil skirt. The knee-length number may look intimidating, but can be a fabulous wardrobe staple. Pairing nicely with jewel tone-colored or classic black tops, the skirt can be styled with a button-up shirt for the office or a sheer top for the evening. Ramp up its attitude even more with pointed-toe pumps or open-toe booties.
An envelope clutch is a must-have, and Foley and Corrina's is perfection with a convenient shoulder strap. Able to make any look chic, the croc leather purse can be worn in the daytime for errands using the strap or at a dinner party as an oversized handheld.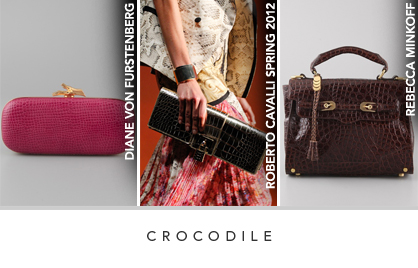 LadyLUX via Shopbop.com and Style.com
There's nothing more beautiful than Diane von Furstenberg's structured-frame, crocodile-embossed leather clutch. Featuring ruby wine skin, the hard-shell piece boasts a twig detail clasp and long shoulder chain in antique gold. The small clutch can add a touch of textural contrast to an evening cocktail look.
A timeless classic, Rebecca Minkoff's rolled handle satchel features gold hardware and tassels. The shiny chocolate handbag is pure sophistication and easily transitions from winter to spring. Incorporate this croc piece into dolled-up skirt looks to enhance the ladylike vibe.
LadyLUX via Shopbop.com and Style.com
With green everywhere on the Fall runways and a favorite shade for Spring, Diane von Furstenberg's jade croc belt with gold turn-lock is a great yet subtle way to include both trends into your outfit. Cinch black, tan or even floral-print coats with the belt, or loop it through your favorite jeans to add a pop of color. For a traditional look, match with green open-toe pumps.

This article was contributed Annette Tang of the Versastyle. You can follow Annette and her fashion adventures on Twitter at @theversastyle.
Tagged in: trends, guides, handbags, accessories, louis vuitton, diane von furstenberg, rebecca minkoff, oscar de la renta, bottega veneta, roberto cavalli, kelly bergin, crocodile skin, foley + corinna,