LUX Style: peppy peplums
After peplums made their debut on the runway a few seasons ago, they've quickly become a staple wardrobe piece. The flirty silhouette has been integrated into tops, knitwear, dresses and skirts, adding a sophisticated element to any ensemble. Nothing is off-limits for the peplum as its seen leather, prints, vivid colors and a full array of materials. In any rendition, the peplum is a must-have for Fall 2012!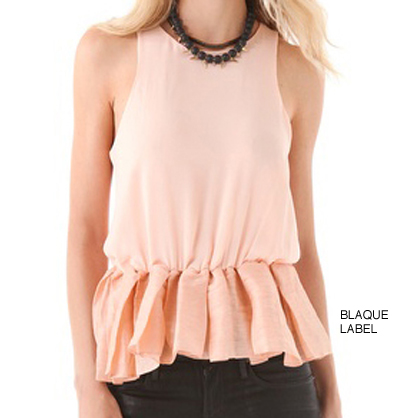 Blaque Label shows its softer side with a delicate pink peplum. The pleats are gathered at the waist of the sleeveless chiffon top. Combine with a pencil skirt and heeled sandals to stay ladylike. Add on an oversized statement necklace and structured tote.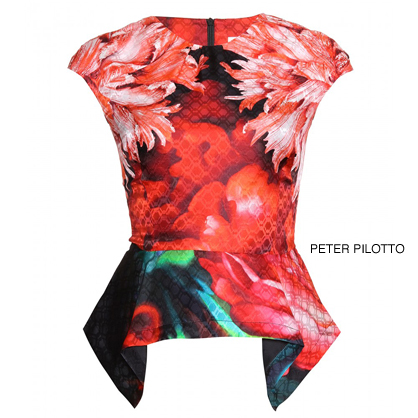 Peter Pilotto makes a statement with an carnation and emerald digitally printed jacquard woven top. The peplum is accented with an angular cut for a contemporary style. Pair with a miniskirt and bright heeled sandals for a kick!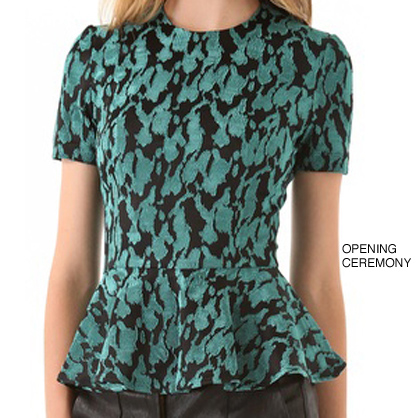 Opening Ceremony's blouse is decadent with a patterned texture in teal and black. The chic piece is fitted at the waist and features cap sleeves. Accentuate the textile with leather pants and gold jewelry.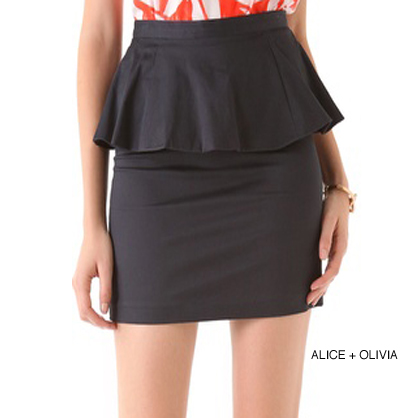 Alice and Olivia get classy with the Carly peplum skirt in navy. Exclusive to Shopbop, the skirt makes for an easy wardrobe staple with the flexible color. Add on a colorful print shell or a camisole tucked into the style. Change up the vibe by going from pointed toe booties to ballet flats.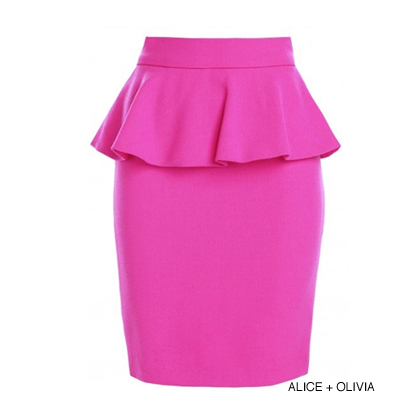 Fun and vibrant sums up Alice and Olivia's roset peplum skirt. The chic pink pencil skirt is upbeat with the extra bounce. Create a sharp look with your favorite blouse or go downtown cool with a sporty sweatshirt knit. Pumps are a must for the skirt!
Just right for Fall, 10 Crosby Derek Lam's sweater takes on the flouncy silhouette. The crew-neck style and long sleeves make the bordeaux knit perfect for the office or everyday looks. Balance the volume with body-hugging cropped pants. Tie the ensemble together with smoking slippers and a crossbody bag.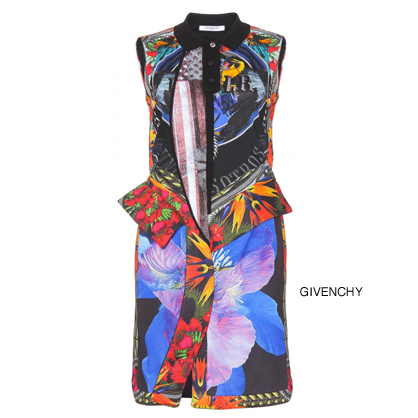 Get runway ready with Givenchy's digital print dress with peplum accents. The knock-out dress boasts an intensely colored floral pattern with a black base. The architectural ruffle is balanced with a traditional collar. Amp up the look further with structured knee-high boots and a brilliant red clutch.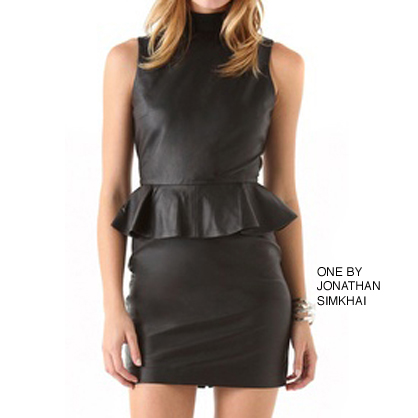 Replace your LBD with ONE by Jonathan Simkhai's leather style. The minidress is exciting with a sleeveless shell and short hemline. For chilly fall nights, toss on a long coat. Heeled sandals keep the dress chic.
RED Valentino offers a peplum tee with a sheer twist. The top is sweeter than ever in a Swiss-dot lace overlaid on a soft jersey tee. The short sleeves and collar leave a trim of grey for accent. Contrast the style with slightly slouchy track pants and pumps.
img alt="image" height="418" src="http://www.ladylux.com/images/articles/HOW_TO_WEAR_PEPLUMS_REBECCA_MINKOFF.jpg" width="418" />
Peplums go edgy in leather in Rebecca Minkoff's Monroe tank. The top boasts tonal jersey insets to contour the sides. The ruffle flair has an asymmetrical touch for a playful appeal, while grommets lining the back zipper gives attitude. Pair the versatile piece with oxblood or navy pants with cuffed hems. Complete with booties.
Tagged in: guides, lux style, givenchy, rebecca minkoff, fall 2012, peter pilotto, opening ceremony, how to wear, peplum, blaque label, red valentino, 10 crosby derek lam, jonathan simkhai, alice + olivia,