LUX Style: Vests
With half the material of coats but quite possibly twice the fun, vests are gaining popularity both on the runways and on the streets. The sleeveless garment has just the right amount of attitude to turn an outfit from plain to exciting. Its roots may lie in formal menswear, but nowadays vests exhibit an array of structured or draped silhouettes and are crafted from everything from fur to wool. Add vests to pump up your wardrobe and create some energy.
Borrowing from the boys, Rachel Zoe's hip-length tuxedo vest in white ecru is a versatile option. Its satin collar and padded shoulders create a bold silhouette. Buttoned-up or undone, pair the tuxedo vest with a blouse and flared pants for a retro glam ensemble. To create a relaxed look, choose a draped camisole and fitted pants.
Displaying a festive orange spice shade perfect for the holidays, Diane von Furstenberg's double-breasted vest pairs nicely with any neutral tone. Cozy up in this wool number by belting the sash and layering over a sweater turtleneck. To balance the vest's zing, pair with slim-fitting pants or a pencil skirt.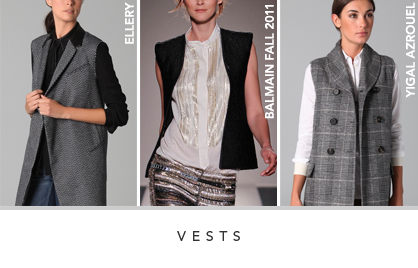 LadyLUX via Shopbop.com and Style.com
Elevating masculine styling, Ellery and Yigal Azrouel created vests using traditional menswear materials. Ellery's long tweed vest features a leather collar and unfinished edges for a downtown-inspired style. Let the vest pop and pair with simple long-sleeved pieces, but change up the tone with different colors. Dark tones are perfect for Fall, then switch to a bright turquoise for a whole new feel come springtime.
Yigal Azrouel's double-breasted plaid gray tweed vest features a fold-over sherpa collar that can be removed to create different styles. Its collar detail adds a heavier menswear sensation. Style this vest with neutral tan trousers for a daytime office look, then for an edgy vibe at night, combine with a pencil leather skirt to emphasize the long layers.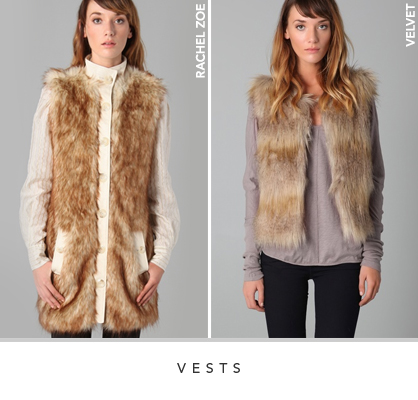 LadyLUX via Shopbop.com and Style.com
Possibly the chicest way to wear vests is to add some fur. Fur vests can bring instant luxe and cozy comfort to any look. Velvet and Rachel Zoe present two options in neutral easy-to-wear shades. Velvet's short, multicolor vest is just the thing to spice up a casual everyday outfit. Pair it with your favorite jeans or a flared skirt for a lunch outing. For a more glam choice, Rachel Zoe's shirt-collar long vest is a top pick. Style this faux fur piece over a tied-collar blouse and wide-leg trousers to channel the celebrity stylist's go-to look. For an easy all-day outfit, ramp up the attitude with leggings, an oversized tunic and a statement necklace.

This article was contributed Annette Tang of the Versastyle. You can follow Annette and her fashion adventures on Twitter at @theversastyle.
Tagged in: trends, guides, givenchy, spring 2012, diane von furstenberg, rachel zoe, balmain, acne, fall 2011, ellery, velvet, vest, yigal azrouel,