LUX Travel: 5 Hawaiian resorts for holiday vacationing
If travelers are looking to get away to a tropical oasis during their holiday vacation, they can never go wrong with Hawaii. The easy-going lifestyle, stunning sunrises, gorgeous sunsets and beautiful beaches make Hawaii a top destination for romantic, family and holiday vacations. Here are some Hawaiian resorts that are the perfect options for a relaxing getaway during a Thanksgiving, Christmas or New Year's vacation to escape the cold weather altogether. Aloha Hawaii!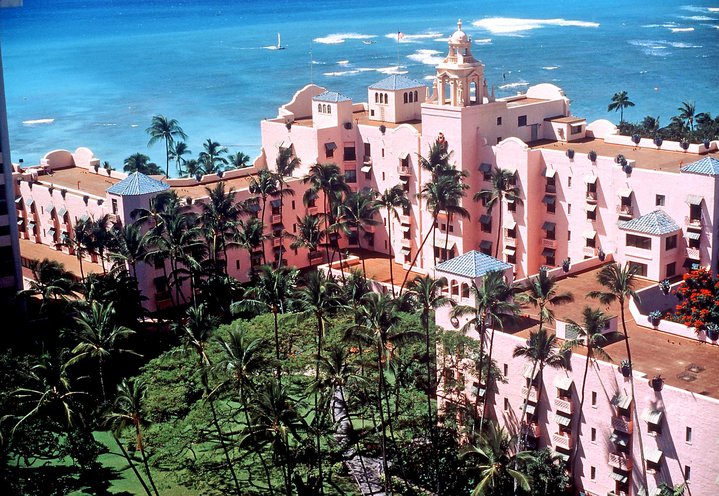 Sitting on a coveted beachfront spot on Waikiki in Oahu, the Royal Hawaiian is an exclusive retreat offering the best of luxury, romance and fun. Visitors can live the high life as they lounge on the private waterfront cabanas of the Royal Beach Club, take in the panoramic views of Diamond Head and sip organic drinks from the Mai Tai Bar. Water activities seem to be endless at this resort, which offers parasailing, catamaran cruises, surfing and snorkeling. Guests cannot miss out on an unforgettable dining experience at the jewel-toned Azure restaurant. Enjoy your evening there with fresh seafood and a picture-perfect sunset.
Grand Wailea Resort Hotel & Spa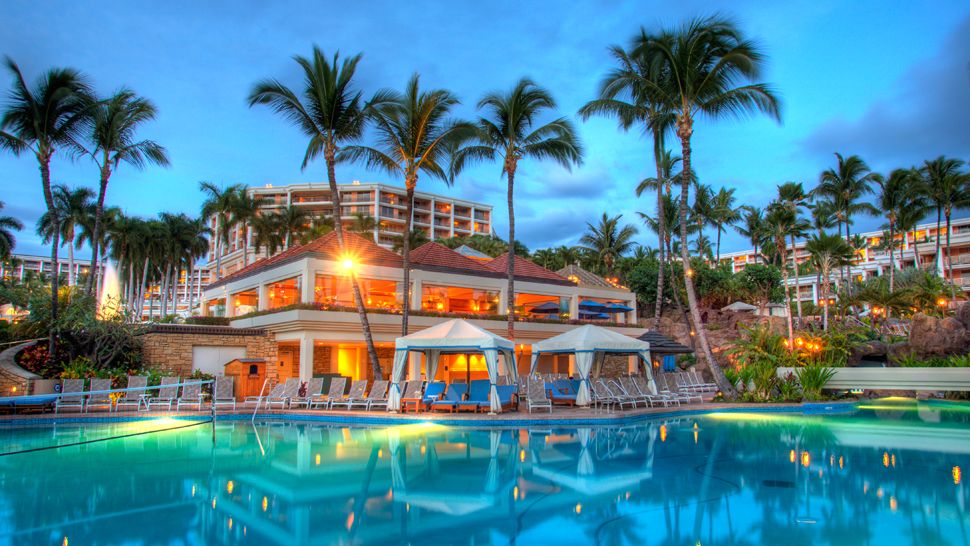 After a $50 million renovation, the island of Maui is home to the newest Grand Wailea Resort, awaiting guests for an exotic hideaway situated on forty landscaped acres. They will be inspired to live like Hawaiians by taking in the blue waters and breathtaking views, and enjoying every aspect of the biggest spa in all of Hawaii. The Spa Grande will be guests' favorite place within the resort because of its award-winning Terme Hydrotherapy Journey and other unique aromatic and Hawaiian-style baths that will soothe the body and soul. Guests can also continue their calming process by floating in the tranquil Hibiscus Pool or playing in the multiple Activity Pools with fun water slides, rapids and even a water elevator.
Four Seasons Resort Lana'i at Manele Bay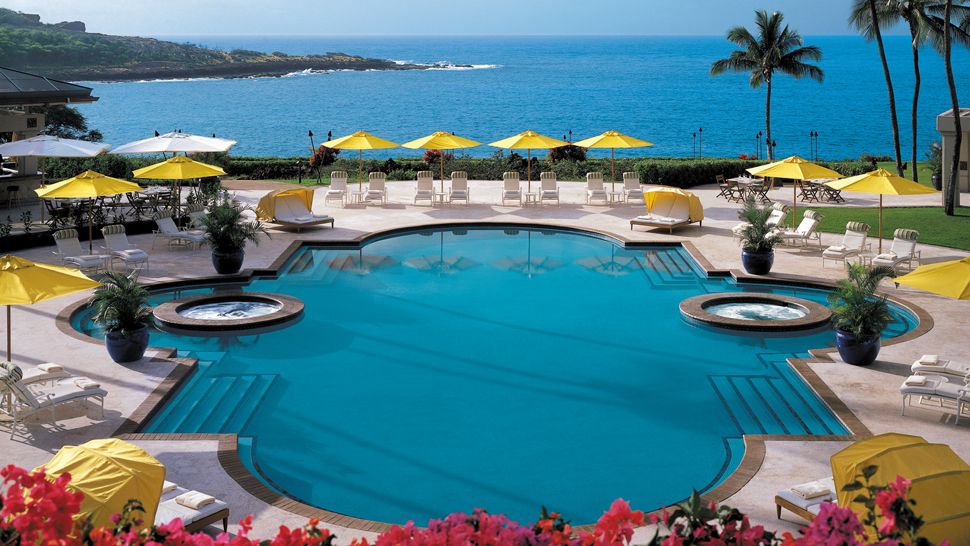 The Four Seasons Resort is a private paradise in Lana'i at Manele Bay that will make guests swoon. This grown-up playground, nestled on a semi-private island containing only thirty miles of paved roads and bordering a marine preserve, is perched atop a rugged red-lava cliff. Visitors can play golf to their heart's content on two world-ranked courses, snorkel in the off-shore waters and laze all day on the white sand beaches. Dinner might be difficult to choose from because there are six different restaurants and four lounges.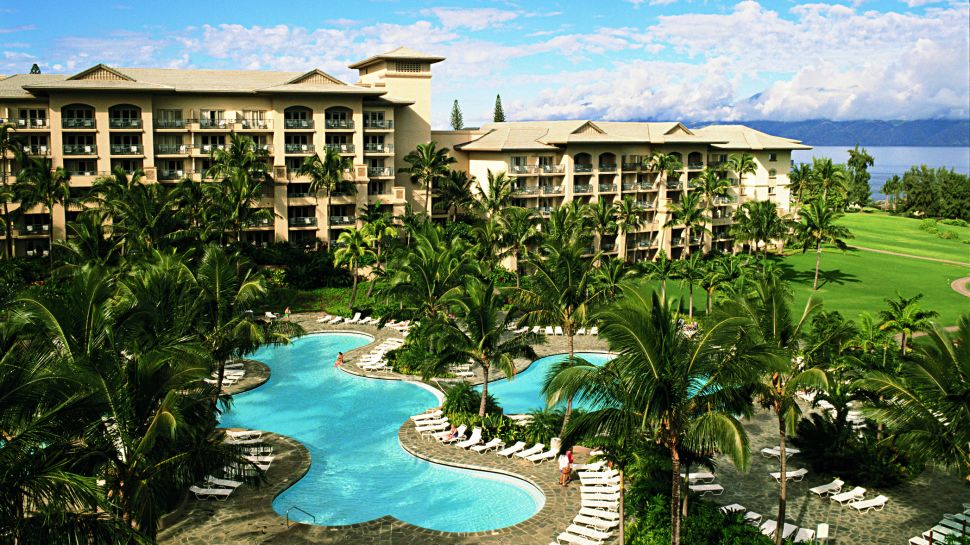 Maui offers another breathtaking resort for holiday vacationers at The Ritz-Carlton Kapalua. This legendary luxury hotel is located on the western edge of the island and is known by locals as the "Island of the Sun." Loosely translated as "arms embracing the sea," Kapalua will help visitors immerse themselves in the casual elegance of the Hawaiian lifestyle by offering unlimited fun in the sun with a 10,000 square-foot, tri-level pool and a 20,000 square-foot sundeck for long hours of lounging. Awaiting exploration are wildlife sanctuaries, lush rainforests and an astonishing number of flowers and trees planted by ancestral Polynesians and Hawaiians.
Four Seasons Resort Maui at Wailea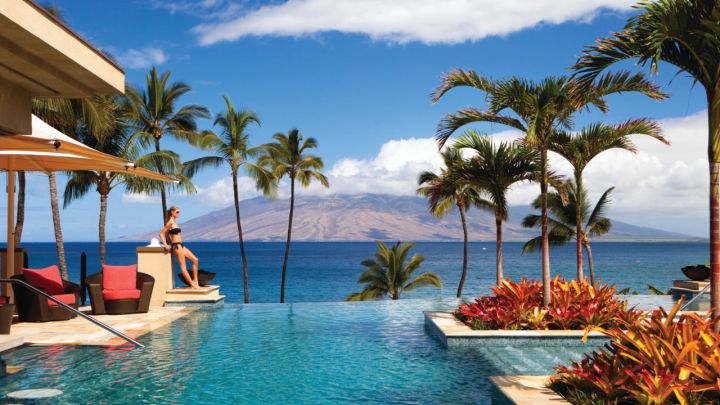 Travelers can discover sunny tranquility at the Four Seasons Resort Maui at Wailea. Located on the southwest coast of Maui, the resort's white sand beaches, lush tropical gardens and the backdrop of the dramatic peak of Haleakala is an environment that no one will forget. Guests will find their balance of leisure, fun and luxury at the Four Seasons when they experience the power of nature at the Maui Spa, dining under the stars, marvel at the panoramic views of the island of Lana'i and West Maui mountain ranges and find seclusion at the Serenity Pool.
Tagged in: guides, lux travel, travel, luxury travel, travel guide, hawaii, holiday vacation, maui, hawaiian resorts, oahu, 5 hawaiian resorts for holiday vacationing,