LUX Travel: 5 Summer Spa Sanctuaries
Your ideal summer vacation might be a long, two-week trip to an exotic location, but there's nothing wrong with a little getaway filled with rays and relaxation. A lovely spa vacation might be just perfect. LadyLUX gives you five summer spa sanctuaries filled with the best treatments, massages and relaxation services. Whatever your spa sanctuary location is, it will be your very own haven. You will never want your luxury summer spa vacation to end.
The Spa at Calistoga Ranch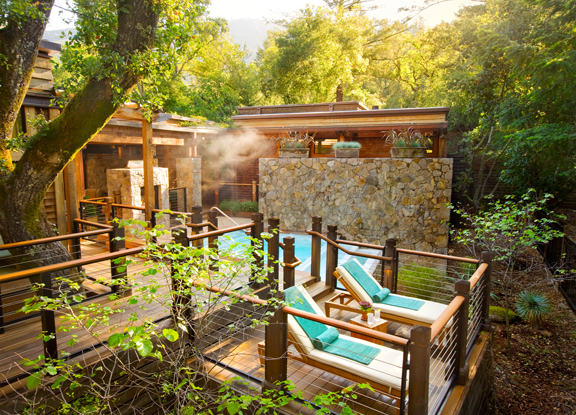 via Calistoga Ranch
Set in Northern Californian wine country, The Spa at Calistoga Ranch is a rejuvenating Napa sanctuary. This natural spa is nestled away in a wooded canyon where spa pools overlook a calm creek and moss-laden oaks. Be prepared to go on a journey of pure relaxation with treatment rooms that feature outdoor garden showers and private soaking tubs to soothe away your worries.
Be as close to nature as possible with tempting treatments including mineral salt scrubs, sensual massages, and healthy skin care while taking in the therapeutic waves of the mineral-rich Healing Waters Soaking Pool. The Spa at Calistoga offers specialty treatments, so don't miss out on the Calistoga Cure, which includes an exfoliating salt scrub followed by a private outdoor mud or salt bath, and ending with a polarity session and the Classic Ranch Massage.
To plan your Calistoga Ranch spa getaway, visit www.calistogaranch.com.
ESPA at Acqualina Resort
via ESPA
Want to attend an award-winning spa already renowned throughout Europe? ESPA at Acqualina is the ultimate spa to indulge in anything and everything relaxing. This Miami Beach luxury day-spa at the Acqualina Resort features many holistic, meditative and restorative treatments based on Ayurvedic principles. Guests can enjoy a full day-spa experience at this elite South Floridian sanctuary filled with quiet lounges, steam rooms, a spa pool and even special spa cuisine. Endlessly unwind in the Relaxation Lounge, the Crystal Steam Room, Ice Fountain, Experience Shower, Jacuzzi, Roman Waterfall and Sun Deck. All brides-to-be should get pampered with the Acqualina Perfect Spa Day, which includes six hours of treatments starting with a foot ritual and salt and oil scrub, continuing with a Swedish Massage, an Intensive Facial, Holistic Foot and Hand Treatments, a Blow Dry and ending with a healthy lunch. Don't miss out on the Stress Releasing Abyhanga treatment, the Refining Enzyme Facial to cleanse, exfoliate and brighten skin, and the Hot Stone Therapy Massage to eliminate muscle tension.
To plan your ESPA getaway, visit
www.acqualinaresort.com/spa.
Solitude Spa at Teton Mountain Lodge and Spa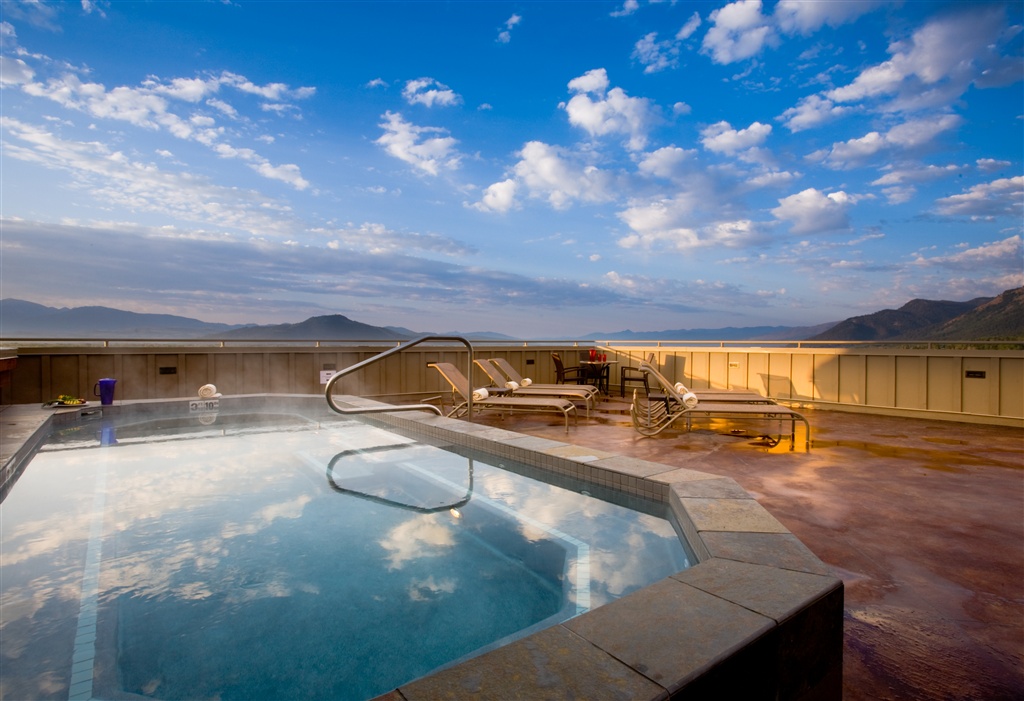 via Solitude Spa
Named after Lake Solitude, one of Grand Teton National Park's most exhilarating high alpine lakes, Solitude Spa at Teton Mountain Lodge will make your day-spa experience as thrilling and natural as can be. Located in Wyoming with sweeping views of the Rocky Mountains, this wilderness spa incorporates natural elements like herbs, salts, mud and spring water into their services. Spoil yourself with the tranquility lounge, steam showers, hot tubs and state-of-the-art fitness center to pleasure your mind, calm the soul and brighten your spirit. Solitude Spa is a three story, 12,000 square foot haven complete with ten treatment rooms, pre and post tranquil lounges, indoor and outdoor heated pools and five separate whirlpool hot tubs. Check out the Herbal Poultice Ritual infused with turmeric, lemongrass and mint. After some sun, disinfect, brighten, tone and hydrate your skin with the Signature Triple Peel Facial.
To plan your Solitude Spa getaway, visit
www.tetonlodge.com/solitude-spa.
Mii Amo Spa at Enchantment Resort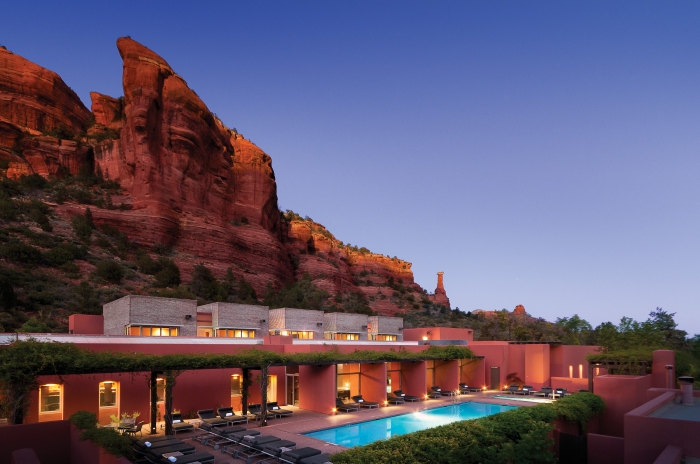 via Mii Amo
If you adore wide open wilderness and mountains, then trek out to Mii Amo Spa located at Enchantment Resort in the heart of Sedona, Arizona. With surrounding views of the famous red rock mountains and encircled by the beauty, energy, balance and harmony of Boynton Canyon, this Southwest spa is inspired by the rich wisdom and traditions of the Native Americans. Create your own one-of-a-kind experience with the numerous facials, therapeutic healing services, baths, body treatments, massages, fitness sessions and couples services. Connect with your true spirit and cleanse your aura with the Reiki Healing Attunement, receive acupuncture for well-being, relax with a Sedona clay wrap and soothe in a hydrotherapy bathtub equipped with twenty underwater jets positioned to massage the entire body.
To plan your Mii Amo Spa getaway, visit
www.miiamo.com.
Spa Gaucin at St. Regis Monarch Beach Resort and Spa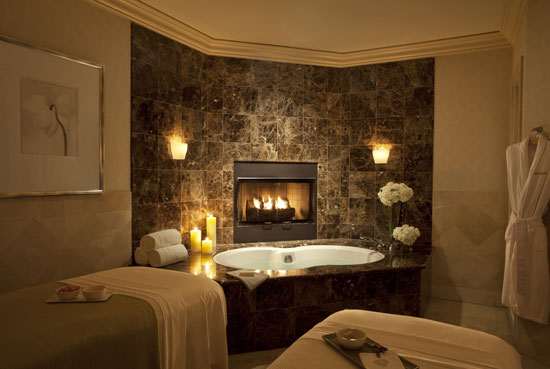 via Spa Gaucin
Celebrate love, life and wellness at Spa Gaucin at St. Regis Monarch Beach Resort and Spa in Dana Point, California. Inspired by the town of Gaucin, Spain, the spa offers a warm welcome with a soft breeze delicately scented with orange blossoms. While a guest at the spa, calm yourself with the healing sound and view of Monarch Beach waves, which lie just across the street from the resort. Between the spa, wellness and fitness center, and even a salon, indulging in any service will make your trip worthwhile. Take part in Spa Gaucin's Signature Mediterranean Massage complete with Chardonnay massage oil, an invigorating Red Currant Body Scrub, an anti-aging CoffeeBerry Natureceuticals Facial, or the nourishing Pristine Waters Facial for an unforgettable spa sanctuary spree.
To plan your Spa Gaucin getaway, visit
www.spagaucin.com.
Tagged in: lux travel, vacation, travel, treatments, massages, relaxation, espa at acqualina, solitude spa at teton mountain lodge, spa gaucin at st regis monarch beach, calistoga ranch, mii amo spa at enchantment, 5 summer spa sanctuaries, day-spa,