LUX Travel: Most luxurious hotels in the world
It's finally time to begin planning that summer vacation of your dreams! You want the premier location, exciting activities and, of course, the picture perfect resort. Why not have it all at one of the most luxurious hotels in the world? We found 10 hotels that fit the bill for you to enjoy a truly lavish trip. Bon voyage!
The Sheraton Grand Hotel & Spa in Edinburgh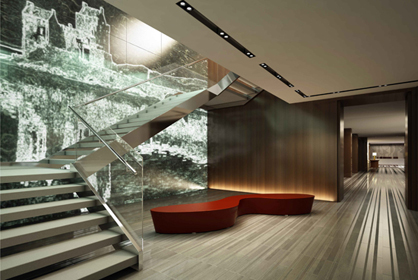 via Sheraton Edinburgh
After undergoing a near-total multi-million pound refurbishment, the UK's flagship Sheraton Hotel offers fully refurbished guest rooms, more than 14,000 square feet of newly renovated event space, and a brand new restaurant and bar. Located in the heart of Edinburgh, the hotel is adjacent to the Edinburgh International Conference Centre and the shops of Princes Street. The new look creates a warm, welcoming atmosphere with a stylish and contemporary feel accented with elegant Scottish finishes. Treat yourself to a Thermal Suite heated water treatment at One Spa and be sure to stay in a Grand Suite with spectacular views of Edinburgh Castle.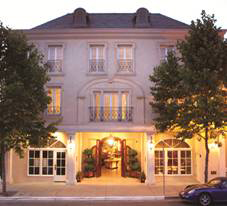 via Hotel Les Mars
Evoking romantic French charm in Sonoma Wine Country of California, Hotel Les Mars is the finest destination for you to sample amazing wines in lavish comfort. It rests among the hills of the Russian River Valley and evokes the charm of a romantic French maison retreat. The hotel, a member of the prestigious Relais & Châteaux group recognizing the world's best hotels, boasts superior European-style service for your getaway. Opened by the Mars family in 2005, Hotel Les Mars provides elegant spa services from world-famous spa company Francis & Alexander. You can even have a spa service in the comfort and privacy of your classic and elegantly decorated room. Be sure to stock up on your favorite wine!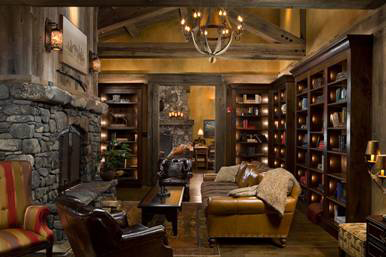 via Rock Creek Cattle Company
Montana's Rock Creek Cattle Company can be your gateway to the American great outdoors. Nestled in Deer Lodge Montana, the hotel rests on 3,000 acres of gorgeous countryside including Rock Creek, an alpine lake, lush forests, rolling hills, an 18-hole golf course and 18 miles of rivers and streams. The hotel features 22 luxurious accommodations situated in 12 cottages, 5 cabins and 1 five-bedroom home. It offers its guests state-of-the-art facilities, including a restaurant with an outdoor terrace on the banks of Rock Creek, private dining room, two bars, outdoor pool, hot tub, fire pit, game barn, fitness center and massage rooms. To have the full outdoor experience, go golfing, fly-fishing, ATV riding, horseback riding, kayaking, white-water rafting and hunting. Rock Creek Cattle Company's fabulous food, wine, activities and special service makes this private club the perfect destination for your luxe summer getaway.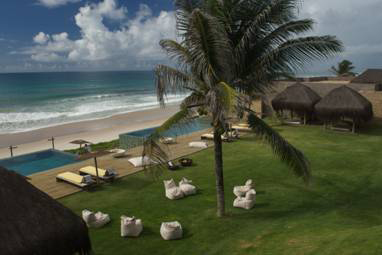 via Kenoa Beach
Enjoy your private luxury in the tranquil paradise at Kenoa Exclusive Beach Spa and Resort in Brazil.
The resort is located 20 miles from the city of Maceio on the eastern coast of Brazil. This private sanctuary of serenity and balance is staffed with consummate professionals to offer exclusive privacy and an exceptional experience. Resting along miles of pure Atlantic outback and the enchanting turquoise sea, you will exult in the landscape's natural beauty. This chic resort is comprised of luxury suites and bungalows with private pools and the Kaamo restaurant supervised by renowned Brazilian chef César Santos. Your escape to this world-class hideaway will be an absolute exotic experience of your life!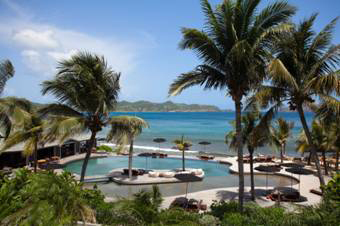 via Hotel Christopher
Experience one of the best locations of the Caribbean at Hotel Christopher in St. Barth. The recently renovated hotel offers two remodeled restaurants, newly redesigned spacious rooms and the largest pool on the island overlooking the Caribbean Sea. St. Barth is a favorite destination for jet setters from America and Europe. It is located at the secluded Pointe Milou, which is only a short flight from St. Maarten. The hotel features 42 rooms and suites comprised of Ocean Poolside, Ocean Garden, Ocean Classic and Ocean Deluxe rooms as well as the Ocean Junior Suite, Ocean Balcony Junior Suite, Ocean One-Bedroom Suite and Aloes Suite. Hotel Christopher's two restaurants, Taino and Mango, provide guests with perfect menus for all meals. Spa treatments, windsurfing, deep-sea fishing, surfing and boat rentals will be on your to-do list right when you arrive.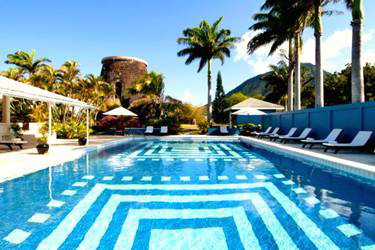 via Montpelier Plantation
The Montpelier Plantation is a sanctuary of beauty set in a 60-acre estate in the hills of Nevis in the Caribbean. The plantation offers sea-views from all 19 beautiful and elegant rooms, where you will find a perfect balance between historic plantation style and modern comfort. A private beach, mosaic swimming pool, tennis court, extensive wine cellar and delicious dining will make your stay complete. The open and airy hotel invites you to effortlessly experience the beauty of Nevis' natural surroundings and the plantation itself. Whether you want to relax and unwind with spa treatments or hike through the rainforest, Montpelier Plantation will take you to your happy place.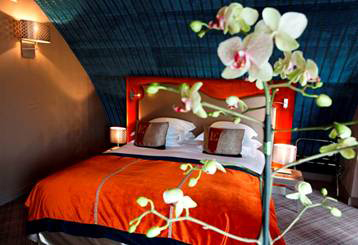 via Hotel Edouard 7
Revel in classic Parisian ambiance at the premier couture Hotel Edouard 7. Located in the heart of Paris in the central Second Arrondissement, the hotel is comprised of 70 rooms and suites throughout seven floors, all of which overlook the Opéra. Its regal furnishings and luxe designs recall a traditional Paris in a modern era. Each room is unique, elegant and intimate with custom carpet, lights and fabric. Its location is within walking distance of many of Paris's main attractions, including superb shopping, world-famous museums, delicious restaurants, renowned cabarets and galleries housing exquisite works of art. Relax in the refined setting of Bar l'E7 and enjoy the talent of the French gastronomy scene with a seasonal menu. Plus, this hotel will definitely be your favorite once you see how close it is to the French fashion district!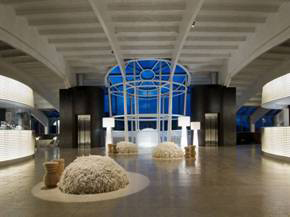 via Hotel Argentario
The Aregentario Golf Resort & Spa, a chic luxury resort located in the heart of Tuscany, is where incredible design meets luxury sport. This resort lies in a protected Mediterranean oasis that offers a unique panorama of iconic Italian beauty. The Argentario offers 73 impressively designed suites, the world-class spa Espace, as well as the methodically planned golf course. Each suite features a terrace view of the golf course or Monte Argentario. The Argentario Golf Club lodges 190 acres of 18 championship holes and a driving range, and has earned an organic environmental certification from BioAgriCert. The course offers a Club House and the prestigious Blue Team Golf Academy. Dama Dama Restaurant offers Tuscan and Italian cuisine, featuring culinary traditions of the Maremma region that Argentario calls home. Take in the resort's beautiful aesthetic with the panoramic terrace, the solarium swimming pool and three tennis courts waiting for your arrival.
Wharekauhau Lodge and Country Estate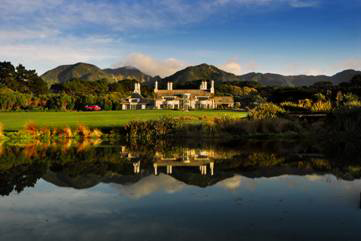 via Wharekauhau Lodge
Indulge in your dream outdoor adventures at Wharekauhau Lodge and Country Estate in Featherstone, New Zealand. Set on a 5,500-acre haven, Wharekauhau flaunts 15 comfortable and luxurious cottages with two additional guest homes, all with exclusive access to activities like hiking, mountain biking, wine tours, jet boating, horseback riding, ATV adventure tours, clay target shooting, archery and an extra green golf course. Special tours will take you to a sheep farm, the wild coastal environment, the Cape Palliser Seal Colony and Lighthouse swimming with dolphins, whale watching and on a guided walk through the immense estate. You won't be disappointed by this resort; It was rewarded for Best Ambience and Design by Condé Nast Traveler magazine in 2011.
via Domaine de la Bretesche
Transport yourself into old-world regality at the Relais and Châteaux Domaine de la Bretesche in Brittany, France. Sitting mere steps from La Baule, the resort has panoramic views of expansive green fields. Rooms are adorned in fabulous fabrics and custom color schemes, with each serene spot meant for repose. The warm setting will help you relax at the spa, Cour Carré, which offers a wonderful range of rejuvenating treatments. The hotel prepares fine cuisine at Le Montaigu, where Chef Ludovic Le Forestier creates gourmet surprises for you. Sheltered by an ancient forest, the majestic 18-hole Bretesche golf course is overlooked by castle towers and ramparts and bordered by beautiful trees. Talk about feeling like a princess!
Tagged in: lux travel, vacation, luxury, travel, summer, hotel, spa, resort, trip, getaway, spring break, most luxurious,