LXR & Co. Offers Designer Vintage Items for Less
Your next fashion find might be a click away, and it might be less pricey than you would expect from the label. From rare Birkins to classic Chanel, LXR & Co. offers a range of vintage luxury products from designer labels at up to 80 percent off retail prices. The members-only website specializes in accessories from leading international brands such as Hermès and Louis Vuitton, serving up new flash sales of carefully curated items each week that would tantalize any fashion lover. You get the brands you love at the prices you can afford, putting your dreams of that perfect Chanel bag – plus an endless assortment of other vintage must-haves – within reach.
"We recognized a need in the online market for a purely vintage luxury player that could offer both the authenticity guarantee, large selection and premium online shopping experience to its customers," Jean-Philippe Robert, co-founder of LXR & Co, said of the launch.
Rooted in quality, authenticity and expertise, the e-commerce site "redistributes" luxury items the previous owner has lost interest in. With new trends hitting the runways constantly, many luxury product owners tire of a certain piece in their closet and decide to replace it with the latest model. This is where LXR & Co. steps in.
"Vintage is very hot right now. What is fantastic about vintage is that every bag is truly unique and has a different story behind it. The allure differs from one bag to another. We have a scale that ranks the condition of the item, and that is reflected in the price," Robert said.
With a wide variety of styles and new pieces introduced daily, the flash sale site continually provides luxury consumers an interesting assortment of luxe for less. A new sale is released each day and then shoppers have one week to scoop it up.
"We sell brands that never go on sale," Robert said. "Like used luxury cars, they lose a good part of their retail value as soon as they leave the original store where they were purchased. We allow our customers to pay half the price on the bag of their dreams."
LXR & Co. is not just a haphazardly thrown together mix. Expert curators bring their vintage luxury industry expertise to carefully pick out each sale.
"We focus on the classic models of the top tier brands such as Chanel, Louis Vuitton, Hermès. That is what we are good at, that is what our customers expect," Robert declared.
Since the site emphasizes quality, each piece passes through a thorough control check so buyers can be confident they are getting high-quality goods that are exactly what they are purported to be.
"First, the most important aspect when talking about luxury vintage products is authenticity," Robert said. "We offer a 100 percent guarantee on all the products we sell on the site. Secondly, our unique supply chain allows us to offer a different selection of premium products to our members."
A spinoff of one of the largest vintage luxury wholesalers in North America, LXR & Co. launched in October 2012 in the United States and 2013 in the European Union to extend its rare vintage sales to a greater range of fashion lovers. Its parent company, LXR International, began as a small wholesale venture that blossomed into a multinational corporation that today reaches luxury shoppers throughout North America and Europe, with plans to expand into other regions soon.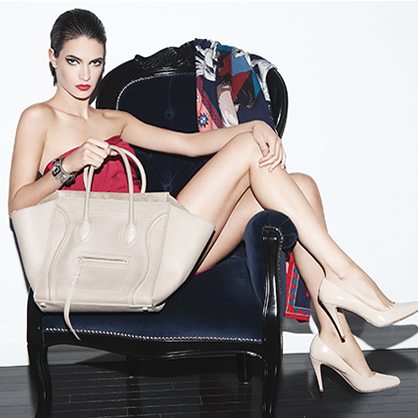 The founders knew there was a huge market niche for their products and they were correct: A few months after launching, the site hit 50,000 members.
"The key to our success lies on two things: the quality of our products offered and our capacity to execute well online," Robert explained.
The vintage sale site caters to younger women making their very first luxury purchase all the way through the older woman with a luxurious wardrobe looking to add a new discovery to her collection.
With its recent launch in the European Union and its flagship retail store in Beverly Hills, LXR & Co. is reaching a wider and wider audience each day. Robert is confident the site will only be growing from here.
"We aim at building a global vintage luxury brand that will be a synonym with quality, authenticity and expertise around the world … There are a few new verticals that we are exploring right now. Once we launch those we want to make sure that we can execute those as well as we do with our accessories," he said.
For those with a vintage item they no longer need, the website is always looking for designer bags, jewelry and accessories. LXR & Co. purchases from its members at competitive prices based on the condition and style of the products. Consumers send in photos of the item for appraisal and the site then makes an offer.
If you live in the Los Angeles area, stop by LXR & Co.'s flagship at 9638 Brighton Way, Beverly Hills, Calif. Otherwise, experience it online at www.lxrco.com.
Tagged in: accessories, vintage, website, e-commerce,