Meg Galligan's jewelry line Margaret Elizabeth is affordable luxury
Destined to create jewelry, Meg Galligan impressed those around her by founding her line, Margaret Elizabeth, when she was still a student at Boston College. Yet, her passion for accessories and design actually dates back to early childhood. Galligan's creative roots began when she and her two younger sisters would spend hours after school and on the weekends crafting necklaces and bracelets with beads.
"I grew up in a small town on the North Shore of Massachusetts and we had a teeny, tiny beadstore called Bokrisy beads. My sisters and I would have to go there and have a field day picking out beads, string and all things colorful. I've always loved designing," Galligan shared.
She has valued this creative outlet ever since and, as a college student, turned to jewelry design to take her mind off her studies. Galligan began innocently crafting pieces for friends and family but it wasn't long before her designs circulated and she began hosting trunk shows from her dorm room.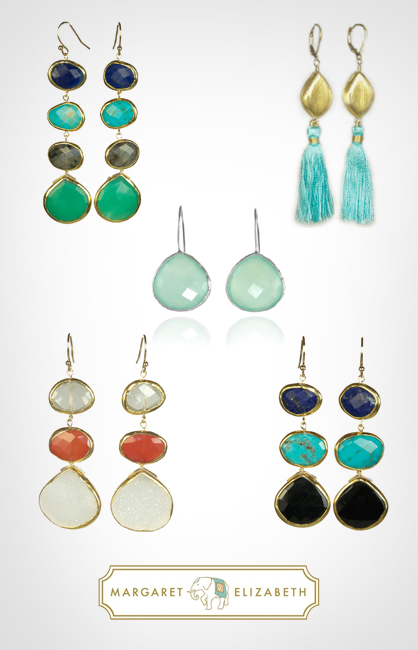 LadyLUX via Margaret Elizabeth
As the collection began to grow at a rapid rate and organically develop, Galligan expanded into local boutiques in the Boston area. The Margaret Elizabeth line was an instant hit as people fell in love with the delicate, charming designs that blended modern simplicity with glittering vintage inspirations. The collection distinguished itself through its ability to offer lavish, quality pieces that are affordable luxury and will last a lifetime. Galligan intends for Margaret Elizabeth pieces to be loved and passed down through generations, which happens to be reflected in the brand's name.
"Margaret Elizabeth is my given name. Margaret has been a family name and passed down through the generations. Margaret Elizabeth Galligan is the 6th in a long line of Margarets! I chose to name the company Margaret Elizabeth not only to represent a namesake collection but as a way to tie-in and honor my mother and grandmother who have always been style icons and mentors for me and to add a level of sentimentality to my jewelry," she explained.
In 2011, Galligan left her position at Google to fully commit to her jewelry design, properly grow the business and share her passion with a wider audience. She now resides in San Francisco, where she carefully designs each visually striking, versatile piece and meticulously oversees production by talented artisans.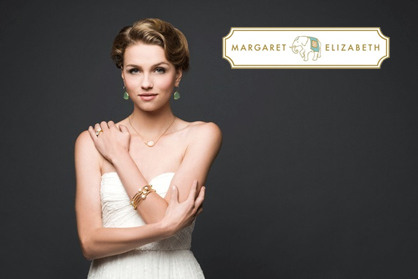 LadyLUX via Margaret Elizabeth
"I try to design staples that will work with any wardrobe and add depth to any look. The combination of color, texture and sophistication is not something you see in many brands," Galligan said. "The Margaret Elizabeth woman believes that every day calls for a celebration. She believes that style is innate, but it's the charismatic pull of eye-catching jewels that truly make the ensemble. Bold colors, timeless silhouettes and that much-needed hint of sparkle brings out the glamour every woman strives to emanate."
This season's collection embraces her design philosophy and the Margaret Elizabeth woman with a vast assortment of dainty floater pendants; delicate stackable rings in oval and square shapes; classic strands of beads in shades of pastels and primaries that wrap and drape with endless possibilities; and bold golden drops with tassels adding a fluid pop of color. With statement styling blending with classic aesthetics, Galligan created stunning hoop earrings housing round and rectangular stones cut in a variety of vivid hues and chunky necklaces that prominently cover the collarbone with rare, covetable antique pins. Each piece boasts stunning semi-precious stones and 24k gold while maintaining modest price points ranging from $78 to $385.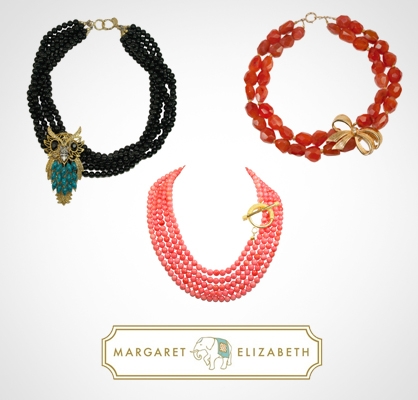 LadyLUX via Margaret Elizabeth
Margaret Elizabeth has experienced an incredible amount of success in its short time with praise from customers and editors. The line has earned features in major publications including Washingtonian magazine and Lucky Mag. Looking ahead, Galligan plans to expand the assortment and challenge her design skills with a more refined category.
"We're hoping to combine our love for brightly colored semi-precious stones with 18k gold and other metals. Perhaps there will be even a few diamonds in our future! Moving toward fine jewelry seems like a natural progression for us. Stay tuned!" said Galligan.
Tagged in: lux exclusives, jewelry, accessories, spring 2012, san francisco, affordable luxury, margaret elizabeth, meg galligan,