Mercedes-Benz Fashion Week Swim Miami 2013: L*Space by Monica Wise
The Mercedes-Benz Fashion Week Swim Miami 2013 audience got an eyeful of haute swimwear from L*Space by Monica Wise on July 22. Swimsuits boasted classic cuts, fringe accents and bold mismatching colors that tied together into a fun and stylish collection presented at the Raleigh Hotel.
Fashionistas laid their eyes on Wise's tight-fitted one-piece suits and bikinis featuring classic cuts with underwire tops, spaghetti halter straps, black and grey trims and color blocking. These simple yet elegant swimsuits screamed effortless glamour.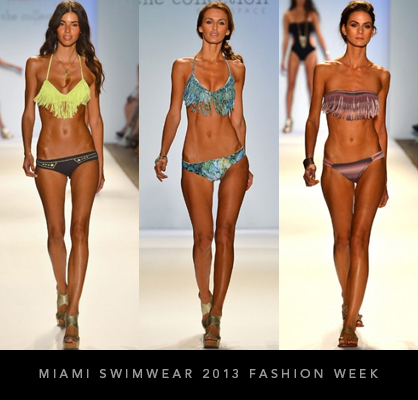 Fringe hanging down from bikini tops added a fun embellishment to the swimwear collection. These funky accents added texture and movement to each swim top as models flaunted it down the runway.
Wise played into the current mismatched trend with bikini tops and bottoms of two different colors and prints. Some suits that stood out featuring this trend were yellow and black, black and pink, and white and yellow bikinis.
Additional swimsuits revealed ruffle tops, cutouts (on both one-pieces and bikini bottoms), snakeskin, paisley and horizontal lined prints.
Other swimwear pieces included floor-length and shorter sheer cover-ups. Neutral colored floor-length cover-ups in white and grey looked chic over bikinis and could even be worn by themselves if desired. Shorter cover-ups in see-through orange and brown fabrics draped over swimsuits nicely without taking attention away from them.
Swimwear was accented by various metallic accessories of gold necklaces with rosary-inspired beading and large stones, beaded fringe earrings, thick single gold cuffs worn on models' right wrists and tall metallic platforms. Models' makeup was kept neutral with gold shadows, bronzers and even lipsticks. Playing into the metallic-accent of the show, some models were covered in ultra-bronzed self-tanner that made them look like Brazilian bombshells.
The new L*Space collection by Wise presented a line of fashion forward swimwear pieces that any woman could show off on the sand or in the water.
Read more Mercedes-Benz Fashion Week Swim Miami coverage.
Tagged in: fashion week, swimwear, runway, swimsuits, miami swim, bikinis, l*space, l*space by monica wise, mercedes-benz fashion week swim miami 2013,