Mercedes-Benz Fashion Week Swim Miami 2013: Red Carter
After moving to Miami Beach in 2003, designer Red Carter immediately became inspired by the city's energy and Art Deco style. Carter launched his first namesake swimwear line in 2004, designing swimsuits featuring his beautiful, sultry styles. On July 22 at the Raleigh Hotel in Miami, Carter's 2013 swim collection was revealed at the Mercedes-Benz Fashion Week Swim. Carter's creations demonstrated true glamour and sexiness replete with sophistication.
The first swimsuit to open the show was a rainbow-colored one-piece with halter straps. This bright suit provided the perfect introduction to the eclectic and colorful swimsuits comprising the show. Other rainbow bikinis and one-pieces included vibrant colors, scale-like features and cutout detailing, all on shiny lycra fabric.
Another trend seen throughout Carter's collection was intricately designed black and white prints. A clear mark of Carter's affinity for Art Deco, the black and white prints displayed distinctive geometric shapes and lines that gave a daring edge to the classic color combination.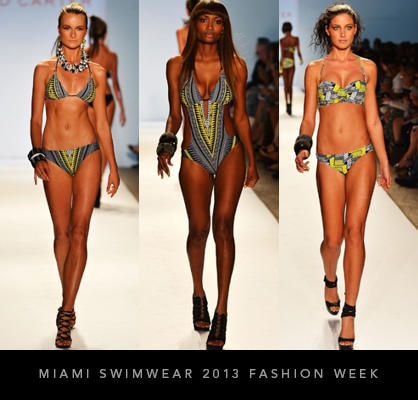 Bikinis and one-pieces with very thin string straps also boasted yellow and black colors with very small tribal-like prints.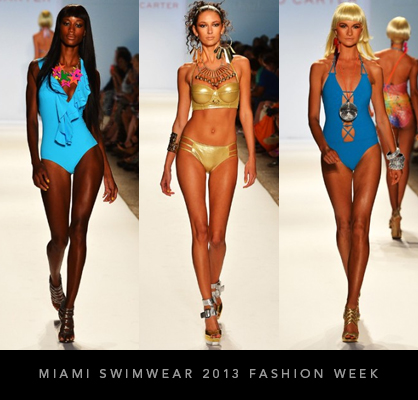 Swimsuits that surely made a statement during the show revealed bright colors and shiny fabrics. Various one-pieces popped in a bright pool blue, while other standout bikinis were made with shiny, stretchy material that gave a glam, yet edgy appearance.
The audience received a surprise as the last few models paraded down the runway with metallic swimsuits and large wing-like features protruding from their backs. Made of black, white and red feathers, the styles were reminiscent of the intricate costumes of the Brazilian Carnival.
Models were accessorized in blonde and brunette bob wigs with short bangs and small disco ball purses with cross-body straps. Jewelry consisted of red, orange and black tasseled and feathered earrings and oversized, uniquely-shaped earrings in lightning bolts and stars in pink, yellow and purple. Models wore chunky metallic necklaces and bangle bracelets in chain links. They strutted down the runway in black, gold and silver platform stiletto heels with woven and ankle straps. Makeup was kept elegant with light lip color but strikingly bold eye shadows and eyeliners.
Carter's 2013 swim collection was filled with vivid colors, popping prints and wild accessories that brought the modern, yet chic collection to life.
Read more Mercedes-Benz Fashion Week Swim coverage.
Tagged in: swimwear, runway, swimsuits, miami swim, raleigh hotel, red carter, mercedes-benz fashion week swim 2013, art-deco,