MFW: Marni and Missoni S/S 14
As Milan Fashion Week wraps up this week, we're loving the bold, boxy silhouettes and abundant use of color on the runways. Both Marni and Missoni brought impressive lineups down the runway. Their color pallets were very different but cohesive to the S/S 14 trends.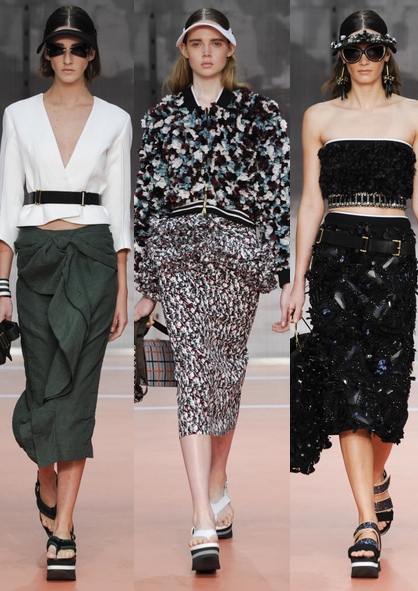 Marni's S/S 14 runway was draped in soft ,floral prints and sharply sculpted silhouettes. There was a sporty edge to the midi-length skirts and dresses. Bomber jackets and skirts were adorned in 3-dimensional petal appliques. Stark white, deep grey and midnight black created a luxurious foundation for the looks. Sketched on floral prints in red, forest green and deep peach gave the neutral pieces depth. Soft tulle ruffles fell against the body, polishing off the collection with a girly kick.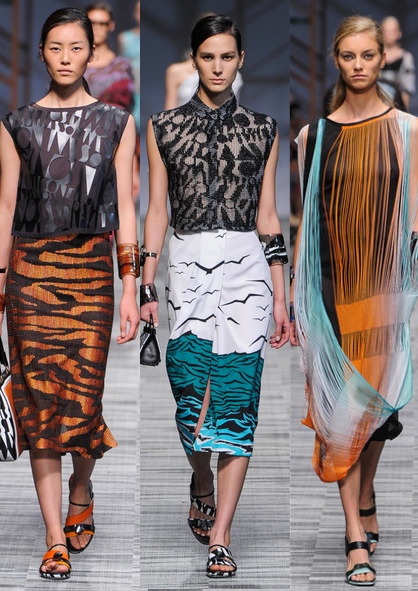 Missoni, known for their use of color and prints, did not disappoint with their bold S/S 14 collection. The runways were popping with bird, mountain and tiger striped motif printed silk and linen fabrics. Knits were printed with geometrics. The silhouettes were boxy on the top and fell to the mid-calf length. Both scoop and asymmetrical necklines highlighted the face. Extended layers of fringe uniquely draped the length of the garments. Missoni used a wide range of colors for this collection. The key colors were cobalt, turquoise, fuchsia and tangerine. Go for the all-over-print with Missoni for your spring wardrobe.
Read more Milan Fashion Week
Tagged in: trends, spring 2014, ss 14, runway, mfw, missoni, marni,