Miami Swim Fashion Week 2012: Accessories wrap-up
Miami Swim Fashion Week 2012 had plenty of fashion events and colorful bikinis to be excited over. Designers showed myriad stylish looks, varying from monokinis to classic one-pieces to reinvented bikinis. But no look is complete without being styled with accessories, even beachwear. So models were accessorized with stunning necklaces, bracelets and headpieces, reported Mercedes-Benz Fashion Week Swim.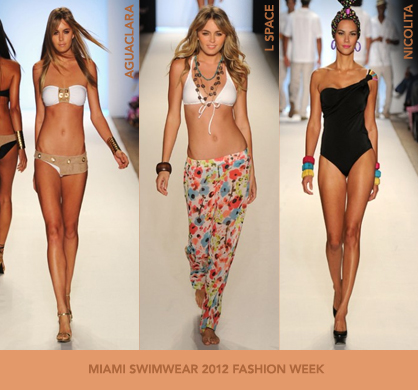 via Mercedes-Benz Fashion Week Swim
You can't really go wrong with necklaces, especially trendy, chunky ones. Oversized necklaces have been exhibited on ready-to-wear runways and retail for several seasons, so it's no surprise that swimwear looks call for that dramatic effect too. Necklaces took inspiration from tribal styles, displaying large geo stones, turquoise, bib pieces and wood beads. L'Space incorporated three-piece geo necklaces in grays and blues to liven their swim pieces. They also mixed and matched a turquoise beaded necklace with tribal pendants on a coral and white bikini, contrasted strands of wood beads against bright florals, and used metal rings to create a large collar necklace.
Poko Pano also showcased wood in large beaded necklaces exuding an ethnic look with shiny cover-ups and braided hair. Shivan & Narresh went the opposite direction and took a modern route with mirrored squares forming a thick choker.
Bracelets were also an easy favorite to add zing. Zingara and Nicolita stacked several chunky, bright bangles on one arm or both for a fun flair. Keeping in its wooden theme, L'Space used wood bangles to match its wood beaded necklace. White Sands Australia went for a DIY look: The models' wrists were wrapped in lace bracelets with messy knots, looking effortless and simply cool.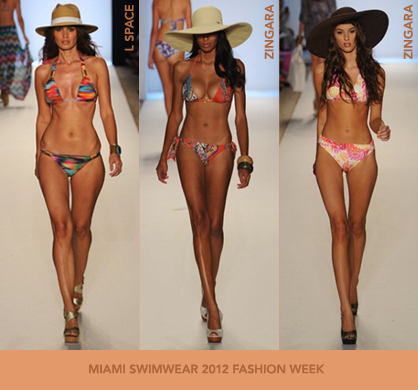 via Mercedes-Benz Fashion Week Swim
For sleek, modern option, Aguaclara, Caffe Swimwear and Sonia Vera styled their bikinis with metal cuff bracelets, which are making a comeback. These cuffs were thick and bold in gold, silver and bronze with patterns that mimicked cage styles.
To add some flair, models sported hats, turbans, headwraps or flowers in their hair. Wide-brim fedoras and rancher style have become popular in the street scene and were the perfect finishing touch for many bikinis. L'Space paired vibrant bikinis with tan, wide-brim felt fedoras, the hatbands matching the collection's prints and colors. Zingara went extra large with their hats. With extreme brims perfect for escaping from the sun, these hats featured off-white and browns, as well as natural straw. Designers also showed traditional floppy hats ready for the poolside.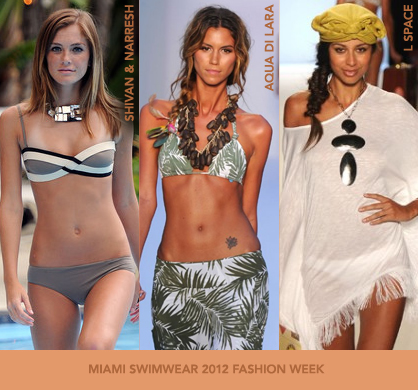 via Mercedes-Benz Fashion Week Swim
Turbans and headwraps were twisted and worn in a variety of styles. Nicolita boasted wraps tied straight up in an ethnic style, while L'Space left scarf-wraps loosely draped. L'Space also showed thick turbans with rosette details, in crochet and thin, Indian-inspired options, reported Mercedes-Benz Fashion Week Swim.
Tropical looks, of course, always calls for floral adornments. Aguaclara and Nicolita added colorful single flowers tucked in flowing hair or braids, while Sonia Vera and L'Space went for a crown of flowers for a more goddess-inspired style.
While swimwear isn't traditionally overaccessorized, small touches can bring beachwear looks alive.
This article was contributed by Annette Tang of the VersaStyle. You can follow Annette and her fashion adventures on Twitter at @theversastyle.
Tagged in: accessories, fashion week, swimwear, runway, swimsuits, swim, miami, miami swim, bikinis, miami swim fashion week, wrap-up,