Miami Swim Fashion Week 2012: Color and materials wrap-up
Miami Swim Fashion Week had plenty of fun in the sun with nearly three dozen runway shows, an army of beautiful bikini-clad models and a great deal of good times at The Raleigh Hotel. Between July 14 and 18, designers from California to Australia showed off their finest swimwear in an array of bright colors and prints of all kinds, displaying fun mixing and matching of materials and colors, reported Mercedes-Benz Fashion Week Swim.
In Miami, swimwear glowed with colors from citruses to nudes to classic black; however, there were a few colors that stood out. Shining bright on the models, orange took center stage in many collections, including Kooey Swimwear Australia, Nicolita, Diesel, Crystal Jin, Zingara and Caffe Swimwear, just to name a few.
Orange tones ranged from a vibrant, saturated hue to a lighter orange-yellow. The color seemed to gravitate toward the itty-bitty bikini for a bold look. Also making waves, blues of all shades were a major color trend. Beach Bunny Swimwear exhibited sparkling, glitter cobalt blues in cutout one pieces and triangle top bikinis with complementing gold chain details. Norma Kamali went bright blue with a one-piece and a retro-fit high bikini bottom, whereas L*Space chose the color for a fun, Western-fringe bandeau bikini. Caffe Swimwear, Aqua Di Lara, Crystal Jin and Diesel used light to dark variations of blue for an assortment of two-pieces.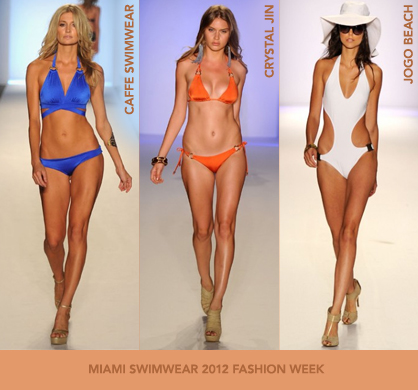 via Mercedes-Benz Fashion Week Swim
Lastly, clean whites were a favorite choice for many designers. White Sands Australia went white with a ruched corset one-piece, while Jogo Beach opted for a white monokini, completed with a white, floppy hat. Caffe Swimwear, Crystal Jin, Zingara, Beach Bunny Swimwear and L*Space showed white bikinis with triangle tops, halters and bandeaus. Whites were accessorized with golds or tans or kept fresh as all-one-color looks.
Dominating the runway this swim season were prints of all kinds. Designers exhibited plenty of florals, watercolors, ikats, stripes and animal prints to liven up their collections. Poko Pano, Caffe Swimwear, L*Space, White Sands Australia and Nicolita showed florals in a variety of colors, from small- to large-size repeat patterns. Florals made an appearance in bikinis and breezy cover-ups, pants and skirts; watercolors were flaunted in Aqua Di Lara's and L*Space's bikini and cover-up options.
The watercolor prints were used as all-overs with popping, contrasting materials. The L*Space collection incorporated nearly every major trend possible, including ikats. Bikini tops, wrap skirts and pants were shown in colorful zigzag ikats. With stripes still popular this season, Beach Bunny Swimwear, Diesel, Nicolita and Norma Kamali worked different black and white stripes into their collections, whether horizontal, vertical, diagonal or zigzag.
Animal prints have been in style for several seasons, but Norma Kamali's black-and-white leopard print jumpsuit and flowing skirt still looked fresh for summer days. Stealing from runway and streetstyle trends, Poko Pano used a python print in a beautiful, strapless one-piece.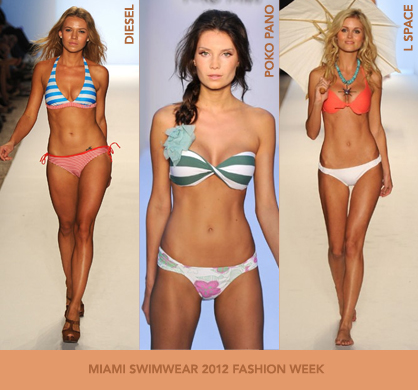 via Mercedes-Benz Fashion Week Swim/em>
With the wide array of prints and colors, some designers didn't shy away from the exciting styling possibilities. They went bold, mixing and matching colors, prints, and colors with prints. Diesel artfully combined a thick blue-and-white striped top with a thin red-and-white striped bottom, while Poko Pano joined in the fun by combining a green-and-white striped bandeau with a floral bottom. The intermingling of tops and bottoms offered endless options and new looks.
Overall, this swim show left us with vibrant, playful bikinis and one-pieces perfect for those hot summer days at the beach or by the pool.
This article was contributed by Annette Tang of the VersaStyle. You can follow Annette and her fashion adventures on Twitter at @theversastyle.

Tagged in: fashion week, swimwear, runway, swimsuits, swim, miami, miami swim, bikinis, 2012, miami swim fashion week,