Michele Bohbot's Electric Yoga active wear is functional and fashionable
Yoga is no stranger to many of our everyday lives, but it has been a stranger to trendy style, until now. Apparel designer and master yogi Michele Bohbot is shaking up the market with the fashion-charged women's active wear line, Electric Yoga.
"A year and a half ago I really got inspired as I immersed myself into new classes being offered. I really saw a niche and void that I could fill in the market by creating an all women-run, women-owned athletic apparel brand that would breathe life into the industry with yoga at the center of it all," Bohbot shared.
The designer and mother of seven discovered yoga in the early nineties just after her fifth child was born. Busy with family life and at the peak of her designing career, Bohbot still found time for fitness.
"I've been practicing yoga since 1992 and it has become a passion of mine. I have practiced various types of yoga from Bikram and Anusara, to Hatha and Iyengar. I found with each practice I learned something different about myself and found new perspective with each one," she said.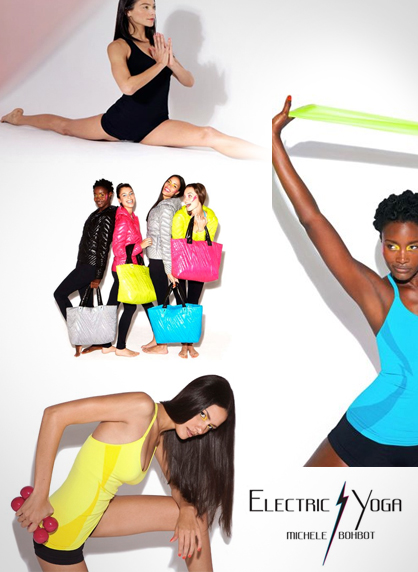 LadyLUX via Electric Yoga
Electric Yoga's fashion-forward yet functional aesthetic began to unfold in Bohbot's creative mind when she noticed younger generations were coming to yoga as a foundation and extension of their active lifestyles. She structured the collection to be efficient as active wear as well as everyday wear, resulting in slimming yet comfortable tank tops and leggings marked with the brand's lightening bolt logo that would not be a distraction during practice.
Each piece is crafted from a high quality seamless material called ELOY wicking fabric. As Bohbot knows from personal experience, this fast-drying fabric is essential for transitioning from a session to lunch with friends.
"The core of Electric Yoga really comes from the understanding of yoga principals as being a foundation for the love of an active and healthy lifestyle. I wanted to create a line that was fun, energetic, fashionable and had functionality for 'on-the-go' women that also have various interests, as well as ensure fit and comfort," Bohbot explained.
The designer completed the collection with the fashionable element of lively colors. In an array of pink, orange, neon, blue and purple, each color evoked a different sensation.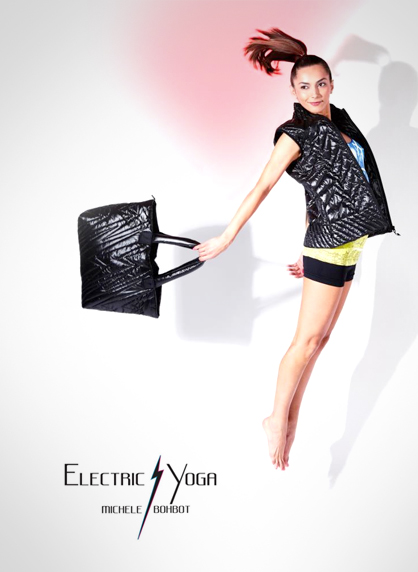 LadyLUX via Electric Yoga
"I am very inspired by the chakras. And I noticed that natural colors were flooding the yoga apparel industry. I was inspired by the bright colors that made me feel happy that I associated with my every day yoga practice, so we added some amazing colors that were not in the yoga market prior. We made it okay to wear electric orange to class, and then put on a bright yellow down jacket to go to the market afterwards," she said.
For the upcoming Fall season, Electric Yoga will expand beyond apparel, mats and accessories with new, innovative products. Adding to the assortment, Bohbot's "Be the Mat" leggings and gloves allow yoga enthusiasts to practice wherever, whenever.
"The 'Be the Mat' products have a special design on the palms of the hands and balls of the feet that will allow you to be your own yoga mat anywhere. Our new line is full of great new yogi-specific, functional pieces that are fashionable as well!" Bohbot explained.
Tagged in: lux exclusives, lifestyle, spring 2012, yoga, active wear, yoga attire, michele bohbot, electric yoga,