Milan Fashion Week Fall 2012: Gucci
Just when we were starting to fall for Gucci's soft shades, gentle silhouettes and refined look from Pre-Fall, Frida Giannini returned to the dark side this season. Perhaps Pre-Fall was just a curveball because Fall 2012 revealed a nineteenth-century decadence theme that embraced a palette of black, plum, chocolate, emerald and navy. The shadowy colors were Giannini's idea of romanticism, but not exactly the sweet kind. Her version was confident and powerful. The designer brought the concept together by fusing strong details with soft elements.
LadyLUX via Style.com
The Fall collection shown at Milan Fashion Week included relaxed, slouchy silhouettes and lush materials of velvet and tapestry jacquards to define romance. It was pure seduction with slinky floral print pajama separates of silk loose trousers paired with sheer blouses, smoking jackets and long skirts that cascaded down the runway. The dresses took a similar flowing aesthetic, making an exciting departure from the body-conscious styles that we're used to seeing from Giannini. Floor-length gowns in velvet, leopard jacquard and floral tonal burnout patterns made for graceful, long-sleeved gowns that embodied romance and opulence.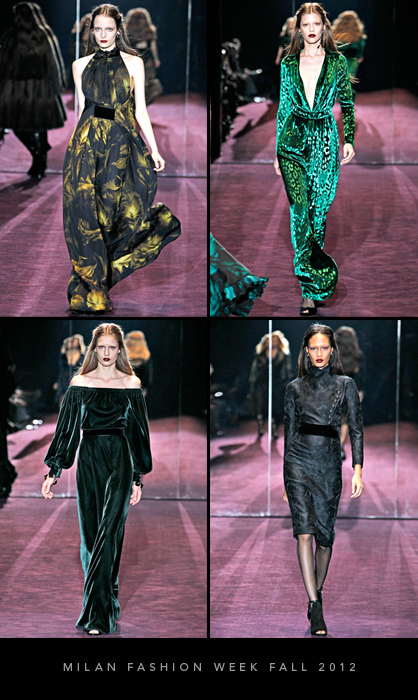 LadyLUX via Style.com
At the other side of the spectrum, confidence was illustrated with a structured military styling that veered towards menswear. Boxy military jackets were slightly oversized while leather peacoats featured a prideful attitude. Brocade jodhpurs were paired with bold wool capes and crocodile riding boots that carried over from Pre-Fall. Giannini's dresses were structured and fitted but not overtly sexy, as seen in the jacquard number that incorporated an asymmetric row of brass buttons on the bodice.
The dark theme worked well for Giannini as the collection was very quintessential Gucci: dramatic, glamorous and alluring. And even with the deviation in Pre-Fall, we expect nothing less from her.
This article was contributed by Annette Tang of the VersaStyle. You can follow Annette and her fashion adventures on Twitter at @theversastyle.
Tagged in: gucci, runway, fall 2012, milan, milan fashion week, ready-to-wear, milan fashion week fall 2012, frida giannini,