Milan Fashion Week Fall 2012: Prada
Last Spring, Miuccia Prada painted a sweet picture with a collection that married cars and women against a 1950s setting. Darling and sassy as it was, the hot rod moment ended there as Miuccia entered a new dimension that was as much futuristic as it was '70s, something only she can quite pull off. Her army of virtual princess avatars embodied a certain power defined through the sharp, crisp lines of each silhouette, the slick ombré hair and the heavy black kohl-rimmed eyes with purple and orange accents.
Strong as the imagery was, Miuccia claimed the collection only focused on one element. "Everyone has a theory about their collections these days, but I'm sick of theory. This collection is about the pleasure of fashion," she said to Style.com.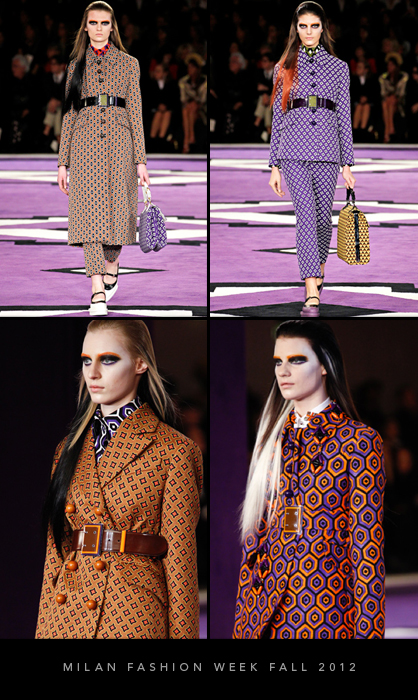 LadyLUX via Style.com
The ensembles in the Fall 2012 collection shown at Milan Fashion Week possessed clean silhouettes that made them so modern, while dizzying prints and oversized embellishments made it so Prada. The noted silhouette shapes came from cutaway sleeveless coats and long vests that created high-low outlines and also set the infrastructure of the collection.
Miuccia alternated miniseries of various versions of coats between thick black wools and a handful of geometric repeats in mustards, tan, avocado, pumpkin and lavender. And fastened onto collars, lapels, bodices or wherever she deemed fit, beaded embroidery, Plexi pieces, spherical buttons and large stones conveyed importance – a characteristic even greater than power, according to the designer.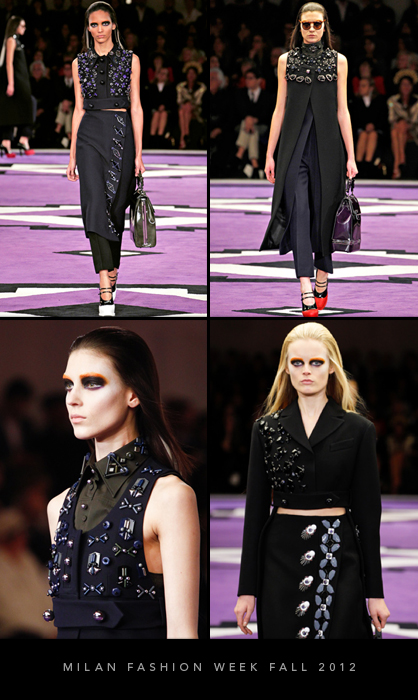 LadyLUX via Style.com
Playing into the high-low theme, vests, tops and jackets were cropped and finished with coattails reminiscent of menswear. The styles were paired with mid-calf wrap skirts layered over cropped trousers with chunky, retro-feeling two-tone platforms, which did an excellent job supporting the silhouettes.
Altogether, it was classic Miuccia. The Italian designer has a way of tiptoeing around the fine lines and playing with opposing concepts. She consistently toys with the idea of ugly versus beautiful and challenges the conventional mentality of the industry – and does so well. She usually comes out on top, as she did with this collection.
This article was contributed by Annette Tang of the VersaStyle. You can follow Annette and her fashion adventures on Twitter at @theversastyle.
Tagged in: prada, runway, fall 2012, milan, milan fashion week, ready-to-wear, milan fashion week fall 2012, miuccia prada,