Milan Fashion Week Spring 2012: Accessories Wrap-up
The runways at Milan Fashion Week ran rampant with accessories and footwear all featuring the common denominator of luxury. This Spring 2012, footwear looks to a calmer season while handbags are getting amped up to once again possibly become the "It" accessory. But whether it was cigarette heels, vinyl material or drawstring bags, designers outpoured fresh ideas to create new must-haves.
Crocodile
Snake has been the trendy reptilian for a while, but this season, there's a new skin in town. Crocodile made its mark on clutches and handbags of all shapes and sizes. The textured scaly material was stunning in colors from black to lime green and in both shiny and matte finishes. Prada, Roberto Cavalli and Bottega Veneta embraced the crocodile skin to rejuvenate classic bag silhouettes.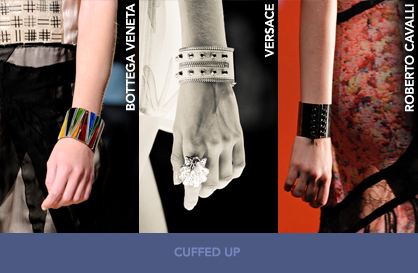 LadyLUX via Style.com
Cuffed up
With a minimal yet edgy vibe, bracelet cuffs are the perfect arm candy to complete any outfit. To spice up cuffs, designers created multicolored, geometric, wide bands; used corset laced-up styles; and combined zipper trims with studs. Try the trend yourself by stacking two cuffs or wearing one on each wrist for a truly bold look.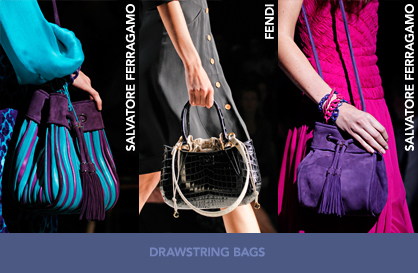 LadyLUX via Style.com
Drawstring bags
The new "It" bag has arrived! Drawstring bags took a cue from the athletic inspiration popular this Spring. Giving a unique luxe vibe, Fendi's interior drawstring sack is a great complement to classic, structured totes. Salvatore Ferragamo brought the bag to life with jeweled colors, pleats and oversized tassels. Also be on the lookout for rucksacks in buttery leathers.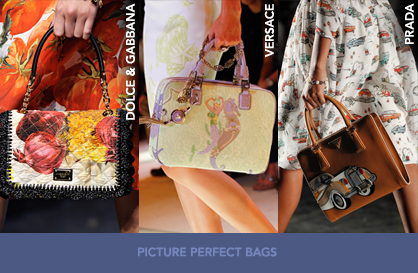 LadyLUX via Style.com
Picture perfect
Once upon a time, straps and buckles ruled handbags, but this season, playful pictures are taking over. Versace's little handheld number featured a mermaid and seahorse, coinciding with the Spring marine theme. Prada's women and cars motif produced flat totes with decals of classic automobiles and strawberries. Dolce and Gabbana's kitschy, oversized vegetable print appeared on apparel as well as quilted shoulder bags. The image of vegetables was contrasted with the black trim and gold chain strap.
LadyLUX via Style.com
Vinyl
With interesting and fresh takes, vinyl made a number of appearances on accessories at Milan Fashion Week. Belts, handbags and footwear employed the material in color and clear looks in a range of ways. For a barely there look, Dolce and Gabbana created simple, thin vinyl belts. The designer duo also used vinyl panels in booties and handbags with contrasting black trim. Missoni's shoes were works of art with cylinder heels and vibrant vinyl straps and flowers. Take a cue from the runway and bring touches of the material into your look for some futuristic fun.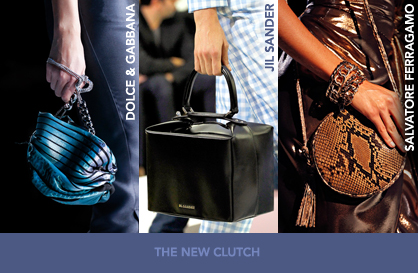 LadyLUX via Style.com
The new clutch
Clutches are taking new shapes and forms with cubes, circles and slouchy puffiness. Exhibiting a "smaller is better" attitude, these fun creations make perfect statement pieces, adding extra oomph to simple outfits. Jil Sander's box clutch with a little handle was clean and minimal and could easily be on the most-wanted list for this season. Salvatore Ferragamo's round snakeskin mini bag, complete with a tassel zipper, is just right to carry daily essentials, while Giorgio Armani's handhelds were full of texture with pleats and folds. Adorned with chain straps, the miniature pieces combined seamlessly with eveningwear.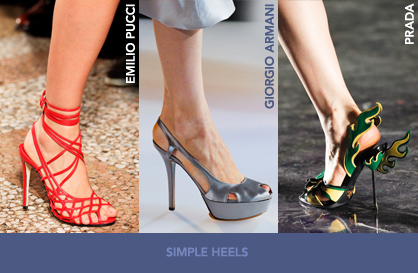 LadyLUX via Style.com
Simple heels
The classic and simple are always in style, and shoes are taking a note. Heels slimmed down with sleek lines, bringing back the easiness of the '90s, and were accompanied by single soles or thin platforms. Designers chose metallic finishes or tonal heels to match uppers. Minimal footwear is definitely making a comeback.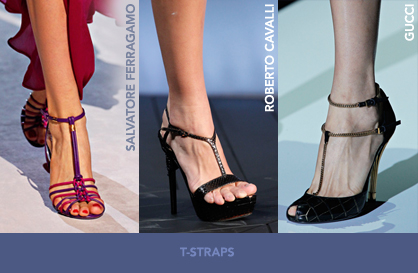 LadyLUX via Style.com
T-straps
Ladylike with 1920s flair, T-strap sandals were a popular choice on the runways of Milan. The feminine silhouette worked well with trousers or skirts, causing the models' legs to appear miles longer. The T-strap style manifested itself in several versions, including Gucci's double-ankle chain straps with peep-toe vamp; Roberto Cavalli's skinny, simple bands; and Salvatore Ferragamo's flirty, dainty patterns.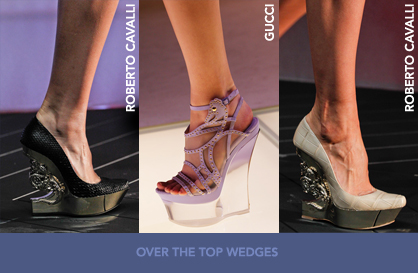 LadyLUX via Style.com
Over-the-top wedges
Wedges are still major must-have footwear and are extra luxe this season. Still-sky high with an architectural influence, strappy patterns and pumps generated an edgy yet glamorous look. Roberto Cavalli's metallic wedges resembled sculptures, while Versace's styles were created with striking Lucite. This Spring is a perfect time to not shy away from avant-garde wedges.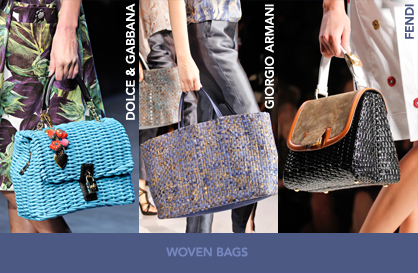 LadyLUX via Style.com
Woven Bags
The arrival of warmer seasons always inspires daydreams about the beach – or at least beach fashion. For Spring, designers brought beachy woven handbags to the runway with style. Suede, front-flap, top handle satchels from Fendi boasted woven bodies, multicolor trims and straps. Dolce and Gabbana's all over woven version was completed with little charms. Two-toned wovens created oversized carryall totes from Giorgio Armani.
This article was contributed by Annette Tang of the Versastyle. You can follow Annette and her fashion adventures on Twitter at @theversastyle.
Tagged in: trends, guides, prada, gucci, runway, spring 2012, fendi, versace, giorgio armani, milan, milan fashion week, bottega veneta, salvatore ferragamo, missoni, roberto cavalli, jil sander, dolce & gabbana,