Milan Fashion Week Spring 2012: Gucci
Gucci has always been based on glamour and style. As the design house celebrates its 90th birthday this Fall, its Spring 2012 collection, shown at Milan Fashion Week, brought back the alluring days of the Roaring Twenties and the Jazz Age. Creative director Frida Giannini looked to the bustling Big Apple for Art Deco inspiration. The iconic decade was reborn on the runway with eveningwear flapper-style dresses, shiny metallics and T-straps shoes.
"I like the architectural shapes, especially the New York skyscrapers of the period," the director reported to Style.com.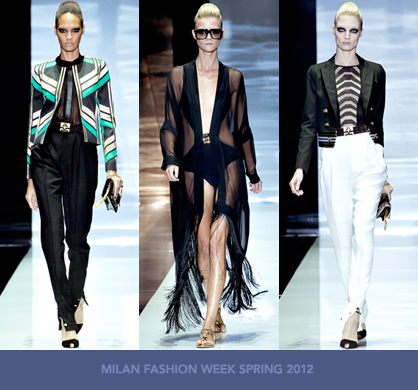 LadyLUX via Style.com
The Gucci collection was, without a doubt, all about razzle-dazzle. Sparkling, drop-waist dresses sashayed down the catwalk, exuding a feeling of modernity – exactly what the rebellious flapper girls once represented. The dresses were infused with graphic Art Deco colorblocked patterns in black, white and bronze, as well as swaying fringe, beads and sultry, sheer mesh. Whether sleeveless, long-sleeved or with a plunging neckline, the dresses brought the days of the flapper girls alive again.
The 1920s also signified a time of masculine dressing for women, who gravitated toward broad shoulders and loose, shapeless fits. Giannini fell right in line with short jackets, boxy shift dresses and high-waisted, pleated tuxedo pants. The androgynous pieces stayed true to the Art Deco motif, showcasing the geometric designs and deco-inspired buttons of the style.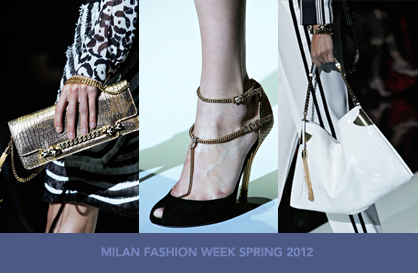 LadyLUX via Style.com
There was no detail left untouched, including era-inspired accessories and footwear. Looks were completed with dainty T-strap pumps and single-sole sandals. The fancy footwear featured thin chain straps, gold Art Deco heels, snakeskin counters and suede vamps with sliver peep toes. Decadent crocodile clutches and hobo bags were accessorized with matching chains from the T-straps shoes and gold tassels.
The Spring collection took on a life of its own, followed its own rules and disregarded the season's traditions of abundant bright color. Giannini not only embraced the flapper's style but also her mind-set. Another success.
This article was contributed by Annette Tang of the Versastyle. You can follow Annette and her fashion adventures on Twitter at @theversastyle.
Tagged in: gucci, runway, spring 2012, milan, milan fashion week, frida giannini, flapper girls,