MUUSE: Bringing emerging fashion designers' collections to life
Considering the surfeit of fashion designers, it can prove very difficult to get publicity when starting out as a new designer. But now there is new hope for fashion school graduates.
Based in Copenhagen, MUUSE is a start-up project that aims to give emerging fashion designers the opportunity to turn their mini-collections into produced and ready-to-wear pieces without being filtered by retailers or policed by trend forecasters.
"Fashion as a business has lost room for the energy and passion of independent designers. We believe people deserve to see and to be able to wear these pieces," said co-creator David Dencker.
Conceived by Dencker and Ditte Jonsdatter, MUUSE represents graduate designers from top fashion schools around the world, such as Royal College of Art, Antwerp Fashion Academy, Istituto Marangoni, Central Saint Martins, Parsons, Ecole de la Chambre Syndicale Paris, London College of Fashion, Bunka Fashion College and Rhode Island School of Design.
"Our dream is to see independent designers connecting to people who love fashion, putting better fashion on the street in a more sustainable way," Jonsdatter said.
via MUUSE.com
Emerging designers are chosen by the MUUSE advisory board. To apply, candidates must submit their designs – including pictures, samples, sketches and/or photographs – together with images describing the collection's focus.
"When we invite a new designer to join the MUUSE community, we look for a mix of different things. We accept designers from the top 20 fashion schools in the world–if their work reaches the right level of presentation and shows original vision. Their work does not necessarily have to be in line with the current trends and style in fashion, as long as it is original and expressive. In fact, we don't look to trends to judge designers, since our designers are the trendsetters of tomorrow," Jonsdatter said.
Once chosen, designers present their concepts and mini-collections on the MUUSE website. Visitors can peruse the designs and select which concepts they would like to see translated into clothing.
Pieces are chosen for sale through a fixed number of website user views and positive feedback. Interested visitors are notified when their clothing picks are ready for purchase. Once customers place their order, they can see the progress of the item as the fabric is sourced and the garment is sewn.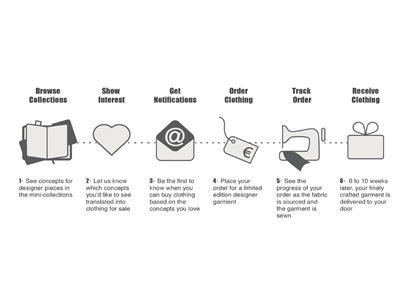 via MUUSE.com
Within six to 10 weeks, the garment is delivered to the customer's door. MUUSE ships to the United States, Europe and the United Kingdom.
"MUUSE believes in slow fashion. Our tailors sew unique, limited edition garments in numbered editions of just twenty. Customers input their measurements to ensure the sizing is just right. This means pieces … are made to last and fit – truly sustainable style," said Dencker.
MUUSE works with its partner, Bandmann and Juul Atelier, also based in Copenhagen. Some collections are more extravagant, featuring stand-out showpieces, while others are classic ready-to-wear items.
"For the designers, MUUSE is a risk-free opportunity, since they do not have to produce anything themselves and only provide us with the sketches, visuals and patterns. When a sale is made, they receive a percentage of the sale sum," Dencker said.
As an outlet for designers to fully express themselves in their work, MUUSE has caught the attention of the fashion media–including Vogue Italia.
"For most of our designers, MUUSE is the first opportunity to see their designs produced and promoted to a wider fashion audience. We receive a lot of positive feedback from our designers. They are very happy with working with us," Jonsdatter said.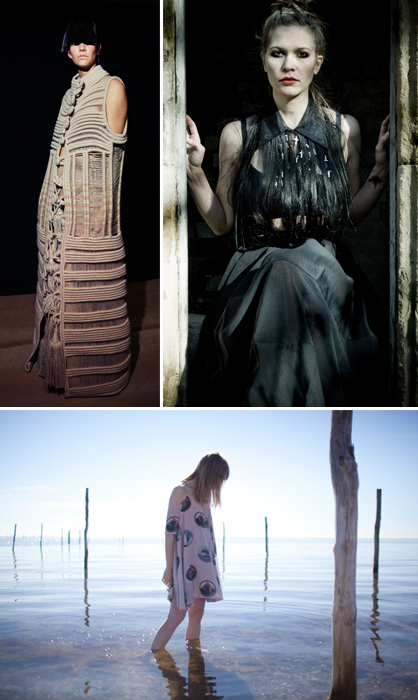 via MUUSE.com
MUUSE's concept is exciting for a great deal of emerging designers.

"Being among amazing fellow young designers on MUUSE is very energizing, motivating and I believe this could just be the perfect beginning for something very big," Tarang Bharti, a student at the London College of Fashion, said.
Although new designers are added to the site frequently—operators try to list five new designers every week—MUUSE yearns to branch out and give more opportunities to young people with a keen eye for fashion.
"We are always on the lookout for more inspiring fashion talent. Our existing designers will continue launching additional collections with us, either inspired by their previous collections, more ready-to-wear or based on completely new ideas. We are also looking into menswear for 2012," said Dencker.
Experience all of MUUSE's designers and collections at MUUSE.com and blog.muuse.com.

Tagged in: copenhagen, ready to wear, fashion designer, fashion college, graduate, denmark, mini collection, muuse,