Neapolitan Collection hosting trunk show to launch Eternamé
Fine jewelry isn't just for special occasions and glamorous shindigs. In our modern world, there's nothing wrong with bringing a little sparkle into everyday occasions, and Sarah Besnainou's elegant high-end jewelry collection Eternamé is proof.
Eternamé, the Greek word for "make me eternal," has three collections – ready-to-wear, couture and haute couture – that offer the perfect piece for any outfit, whether it's brunch with the girls or a red-carpet moment. The collection began when Besnainou designed her first piece while a communications executive at Christian Dior in Paris. Inspired by the gratification she found creating jewelry, Besnainou obtained her GIA Certification degree in New York City a few years later. In 2007, she launched Eternamé.
The beautiful Eternamé collection includes delicate earrings, classic necklaces, statement cocktail rings and bold cuffs. Each piece is handmade by the top craftsmen in the best workshops in Paris with only the highest quality stones and other materials. Because each piece is handmade from scratch, there are no two pieces that are exactly alike, even if they are the same design. Besnainou has continued to design with the same passion and enthusiasm that she experienced crafting the initial masterpiece.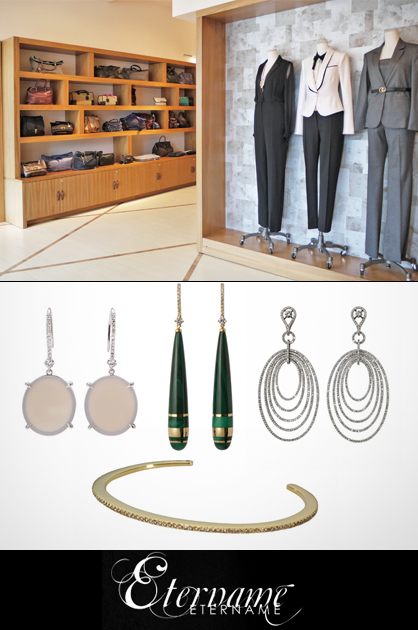 LadyLUX via Eternamé
Since its launch in 2007, Eternamé has only been available in its boudoir showroom in Paris, but now, for the first time ever, the collection will be available in the United States. Neapolitan Collection in Winnetka, Ill. – a luxury shopper's heaven – is thrilled to support the exclusive U.S. retail launch of Eternamé. The fine jewelry line will be available at Neapolitan Collection's North Shore boutique starting Feb. 1 and remain in the store permanently.
Alongside the launch, the North Shore store will be hosting an Eternamé trunk show from Feb. 1 to 4.
This article was contributed by Annette Tang of the VersaStylea>. You can follow Annette and her fashion adventures on Twitter at @theversastyle.
Tagged in: paris, fine jewelry, france, eternamé, trunk show, illinois, neapolitan collection,