Neiman Marcus' fashion director Ken Downing shares secrets of collaboration with Le Metier
Behind every flawlessly dressed Neiman Marcus woman is Ken Downing.
The eyes and ears at all the major runway shows, he ensures she has the finest fashion that luxury has to offer through endless travels to Milan, Paris, London and New York. And if that wasn't enough to keep this man constantly in the air, the talented fashion director manages the New York fashion office from Dallas, his home base.
"Actually, I live on American Airlines and pay taxes in Texas," Downing joked about his dual-city situation. "But my staff is in New York, so I am on the road constantly."
If he isn't sitting front row to view the latest from Gucci, Prada and Chanel or running the show in the Big City, you can find Downing at in-store fashion events. The tastemaker loves to mingle and share his favorites of the season with customers, as he did on Aug. 25 at Neiman Marcus in Fashion Island in Newport Beach, Calif., for the debut collection of his good friend Rachel Zoe.
No one can dispute that Downing is busy man. But he enjoys living an active life and this year, he's come front and center to create a collection of his own. Joining forces with luxury cosmetics company Le Metier de Beaute, Downing produced a limited edition collection of lipsticks and nail colors this past spring. When Le Metier de Beaute first approached Downing to collaborate, the humble fashion expert hesitated at the idea.
"The idea of putting my name on something that can be tracked by sales volume is a little more than what I wanted to take on. But then I thought, what do I have to lose?" reasoned Downing.
Much to his surprise, the first collaboration for Ken's Kolors, Ken's Korals – sets of coral red lipstick and matching nail color – was wildly successful. Calling Le Metier shortly after the release, he nervously asked the how the sets were selling.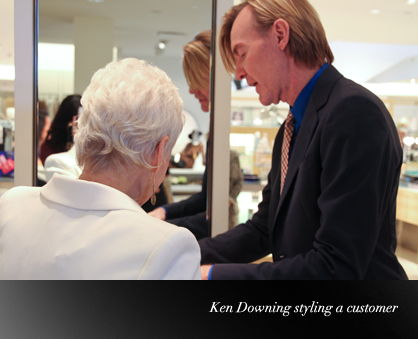 LadyLUX via Annette Tang
The response: "You haven't heard? It's out of control! All the customers want Ken's Kolors!" The sold-out colors paved the way for more colors and new possibilities.
For the Fall season, Downing has created three matching sets of bordeaux lip and nail color: "Bodacious Bordeaux", "I'm Worn This Way" and "Red My Lips." He raved about the perfect tonality of the colors.
Intimately involved in the creation process, the fashion director personally experimented with myriad shades, checking their contrast against different skin tones and various hair colors until he found the most flattering combinations. The matching sets reflect Downing's current fashion belief: "It's all about ensemble dressing, and I love the idea of nails and lips matching. It's so polished and sophisticated."
The color sets didn't stop there. In preparation for the holiday season, Downing revealed metallic colors are on the way. "I'll tell you a little secret: We are doing two quad sets of metallics. They will be called Stock-Ken Stuffers!" he enthusiastically shared.
A limited edition fragrance is also possibly in the works. The scent will most likely be unisex, as Downing said, "I don't believe a fragrance can know its sex."
"My sense says it will be something heady. Not that I don't love light fragrances, but unisex is always light and monotone, but there is nothing light and monotone about my personality. It has to have some drama to it," he explained.
Now having success in the beauty arena, Downing may not currently have an upcoming handbag or footwear line, but might not be shying away from the idea either.
"Stay tuned!" he said. "I am the fashion director for Neiman's and that's my most important role, but I do like to be busy, so there is always room for some more."
Visit Neiman Marcus here for Ken Downing's faves for the season!
This article was contributed and photographed by Annette Tang of the VersaStyle. You can follow Annette and her fashion adventures on Twitter at @theversastyle.
Tagged in: lux exclusives, neiman marcus, fashion island, collaboration, le metier de beaute, ken downing, fashion director,