New book 'Paris versus New York' juxtaposes the two cities
Proving that a picture is worth a thousand words, Vahram Muratyan's "Paris versus New York: A Tally of Two Cities" pays homage to two of the world's most famous cities through fun graphics. Humorously juxtaposing images such as bagel versus baguette or pigeons versus rats, the book takes the reader on a visual journey through some of the most celebrated aspects of each of the metropolises.
"I wanted this book to be a personal guide in a classy form, like a gift to all the people in love with the two cities, and urban life in general," Muratyan said. "The book experience and what we feel when you turn the pages — touching the paper and smelling the ink — was really a way of going further than just bright images on a flat screen."
The book works solely in visuals, featuring 105 vibrant illustrations – 60 never-before-seen – paired with a single descriptive word, all handmade by Muratyan. The book reinvents the experience of the cities while drawing witty parallels and commenting on each city's distinctive iconography.
"The book was more about telling a parallel story of someone living both cities at the same time. The habits, the landmarks, what he will use, who he might think of, what's in the DNA of each street, an image from a movie, a lyric from a song," the author explained.
A freelance art director and graphic designer based in Paris, Muratyan created the book out of his passion for the two cities. While in New York, he found himself obsessed with Paris, and vice versa.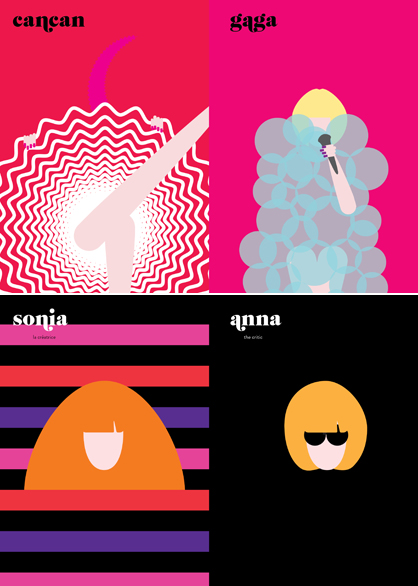 from ''Paris versus new York''
"I like to think of Paris as a private, intimate experience," he said. "You either love or hate to deal with the obvious. Landmarks! Angry waiters! Rude taxis! But you will love her when you will get to know her better, which happens when you become friends with Parisians. As a native Parisian, New York seems more direct, but overall everyone is really friendly. You don't choose NY to relax. You go and you fill your batteries to go back to where you are. Repeat. Again and again."
The book is drawn from Muratyan's notebook, with which he spends many hours daydreaming and sketching ideas. All of his experiences with the differences between New York and Paris are contained within the pages.
"I wanted something uplifting, especially in this economy," he declared. "To oppose and compare, but on a positive note. So it was natural to go from food to street culture to fashion and entertainment. The way of life is also a big part, how you live the urban density, commuting, etc."
The book is available starting Jan. 31 from Penguin Books. For those who do not purchase the book, you can check out Muratyan's blog on the topic, parisvsnyc.blogspot.com.
Tagged in: lux exclusives, book, book review, vahram muratyan, paris versus new york, paris versus new york: a tally of two cities, muratyan,